We may earn money or products from the companies mentioned in this post.
The Best Women's Hiking Pants and How to Choose
Choosing the right hiking pants can be a difficult task. What do you want to look for when you buy a pair of the best women's hiking pants?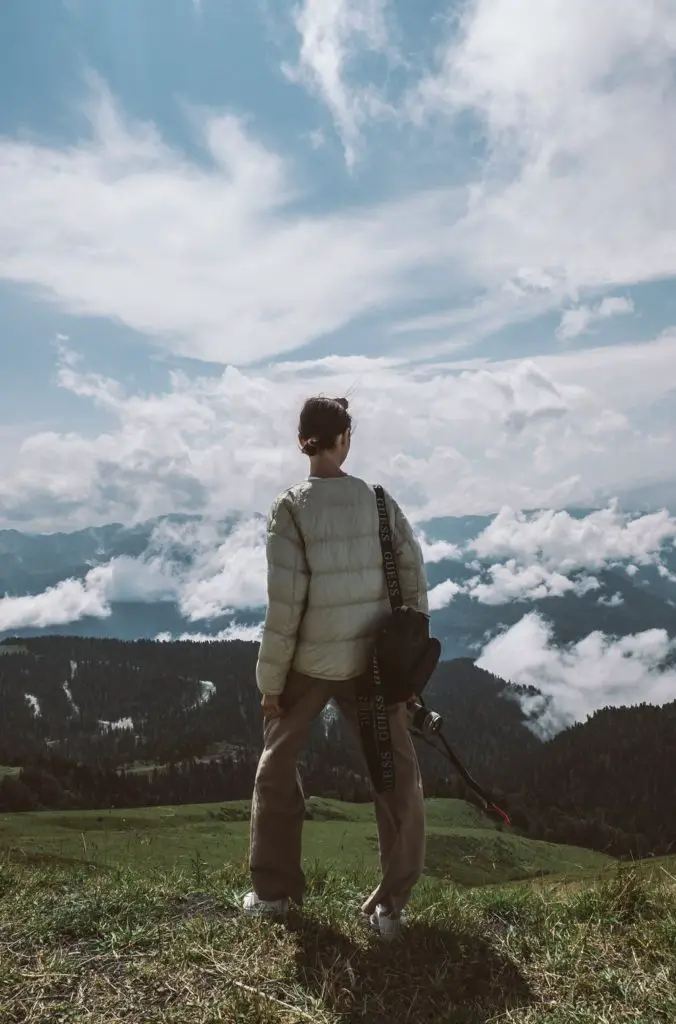 Some key points to consider when buying hiking pants include:
Comfort:

Waistband that stretches
Lower crotch area for mobility, also:
Adjustable straps

Fabric:

Tough
Reinforced stitching especially on:

Pocket corners
Along zipper seams

Resist or repel water
Secure pockets
15 Best Women's Hiking Pants
How to Choose The Best Women's Hiking Pants
With so many pants options, you might have a hard time finding the best hiking pants. Think about these important tips as you choose the best hiking pants for your hike.
What Do You Most Want To Look For?
Comfort
Fabric:

Tough
Breathes
Dries fast

If you plan to hike during cold weather, consider insulated pants or leggings. You might also want to have pants with room for a layer of long underwear under your pants.
Comfortable Pants

When you hike, you want to move freely. Whether hiking down the trail or hiking up an overgrown trail, you want your pants to let you move freely. Stretch fabric, reinforced knees, and crotch gussets all help you move easily.
Be sure you try on the pants before you buy. Fjallraven has pants with straight and curvy fits, and Other brands now offer plus size fits. Be sure you can try on before you buy.
Durable Pants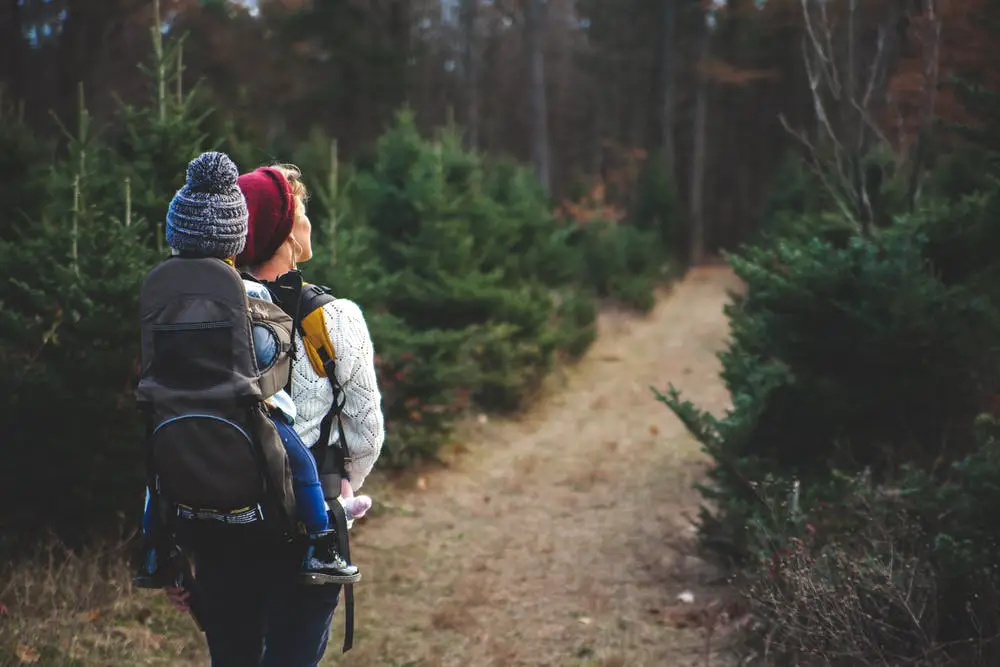 You need a durable fabric. A tough fabric ensure that your pants last through hard hikes and through the years. Look for materials like nylon or polyester. Both are very tough. These fabrics also serve you very well in all kinds of weather.
You want pants with a water-resistant or waterproof fabric. This protects you from the elements while you're out on hikes. You can easily get caught in the rain. Often the morning dew gets you wet too.
Pants Length

When you choose hiking pants, consider three things about pants' length:
Full length – offers protection for your legs. You want vents with zippers for hot weather hikes. Mesh pockets help too. The pockets help move air as you hike.
Roll up – As it sounds, they roll-up using a button, draw cord, or tab.
Convertible – double as pants or shorts. You can zip the legs off as needed. This can be handy for cool mornings and hot afternoons.
What Else Do You Want In The Best Hiking Pants?

Roomy, easy to reach cargo pockets for convenient storage
Pockets with zippers for safe storage
Belt loops or a built in belt for a custom fit
If you need a backpack designed just for women, read this.
Women's Hiking Pants (15 Great Choices)
Arc'teryx – Gamma Lt For Women
Even though these pants cost a lot, they offer a lot. These highly technical hiking pants give you all the features and benefits you want with a pair of the best women's hiking pants.
What value does Arc'teryx give you for the price? Quality, the products last for years. The pants have all the features AND benefits you need.
The company offers a lot for what you pay, including:
Quality

Reinforcement
Seam taping
Stitching

High quality, environmentally friendly, tough fabrics
Great product performance
Minimalist design for a clean cut look
Very good warranty
Arc'teryx's value justifies the cost. If you choose these pants, you have a well designed, long lasting product. These pants have the features you want, and you will have them for years to come.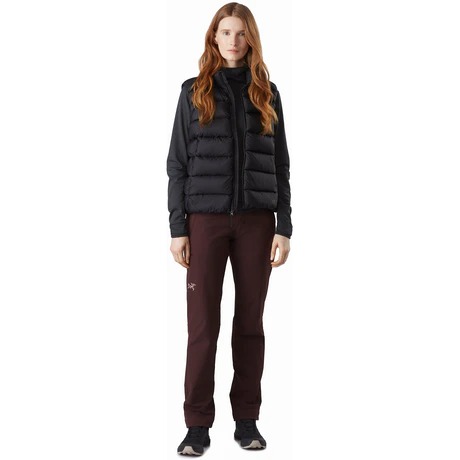 Features & Benefits
Fit better for women at the waist (narrower) and hips (wider)
Lightweight for comfort
Water resistant for more comfort
Breathable for even more comfort
Durable for tough trails
Stretchy for mobility
Articulated patterns (connected sections, for easy movement)
Crotch gusset for free movement
Cuffs with draw cords keeps trail trash out
Thigh pocket with zipper; two mesh lined pockets hand pockets with zippers; lots of storage
Built in belt for better fit
88% Nylon; 12% elastane for toughness and mobility
MSRP $180
Columbia (2 Pairs):
1) Just Right For Women
These outdoor pants have a two way comfort stretch. This stretch gives dynamic movement and all day comfort.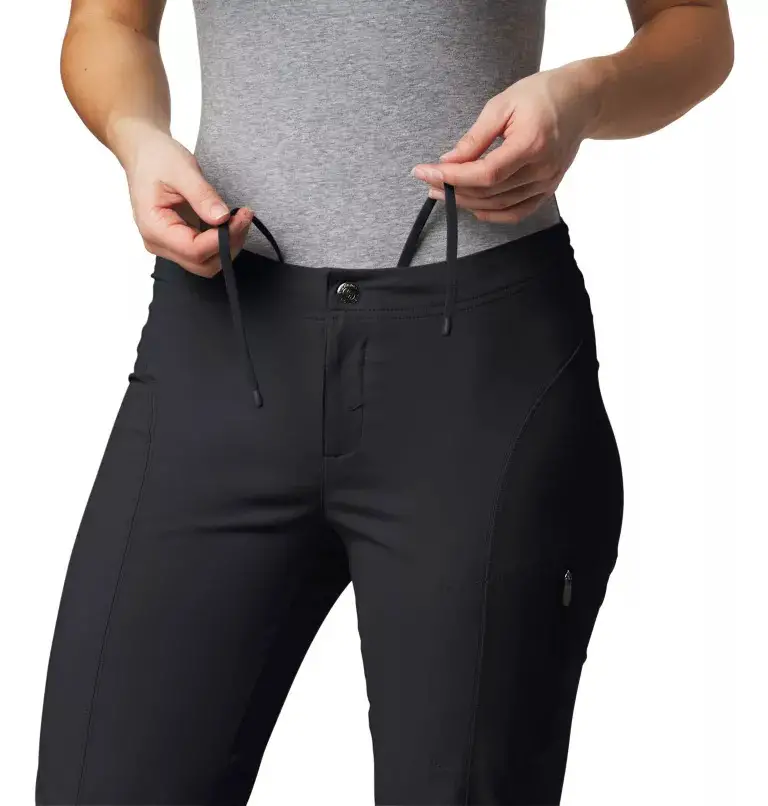 Features & Benefits
Resists rain and dirt so you stay dry
Stretches for comfort
Blocks harmful sun for protection
96% nylon; 4% elastane; durable and comfortable
MSRP $60
2) Saturday Trail Stretch Pants For Women
The Saturday Trail Pants give you an affordable, well made pair of hiking pants. Wear these pants as you hike, every day with friends, or running errands. The pants have a comfortable, active fit.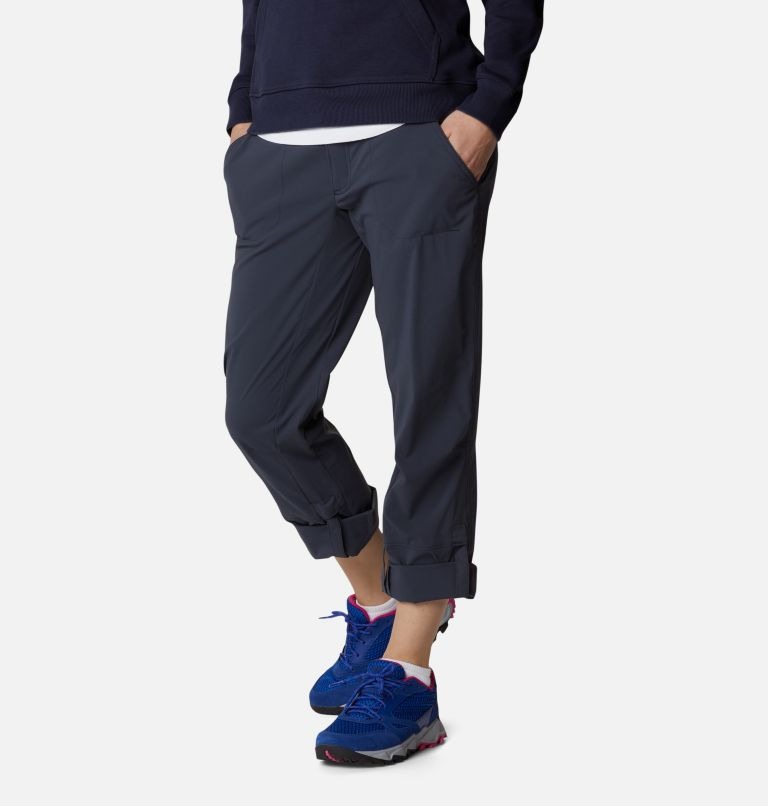 Features & Benefits
UPF 50 for sun protection
Water repellant so you stay dry
Convert to capris with roll up legs for flexibility
Zippered security pocket for secure storage
Gussets and stretch for comfort
Articulated knees for easy movement
96% nylon; 4% elastane
MSRP $60
Decathlon – Quechuo MH500 For Women
These lightweight women's hiking pants were designed to offer the most hiking comfort.
During a recent trip to Italy, that included hikes, we went to Decathlon. My wife bought a pair of the Quecho pants. I lost a hiking hat during one of our hikes in Italy. We went to Decathlon for a replacement hat.
My wife liked the first pair so well, she bought a second pair of these pants! I bought a pair too (men's)!
Modestly priced, these women's hiking pants offer a lot of value. The pants have three, easy to reach pockets with zippers. The pockets are easy to reach and roomy for storage.
Off the trail, these pants have value too. We needed IDs and proof of Covid-19 vaccination for entry to most places. Our documents were easy to reach and secure.
These are also comfortable pants. They stretch for easy movement. They have a built in belt for a better fit. Also, they have a drawstring at the cuffs to tighten the cuff. This keeps trail trash on the trail, not in your boots.
Modestly priced, these pants offer a lot of value. They are comfortable, easy to move in hiking pants. These pants have three easy to reach, zippered pockets. They have a built in belt for a better fit. In the U.S., you can now buy these pants through Walmart online. They size a little small.
Do you want a good pair of affordable women's hiking pants? Consider a pair of these pants!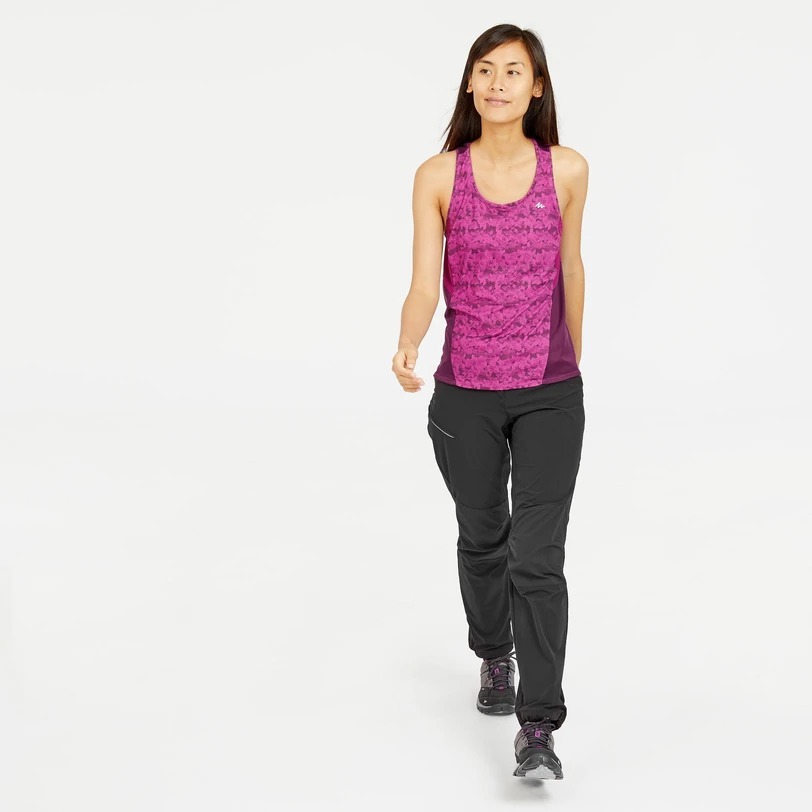 Features & Benefits
Two hand pockets, one thigh pocket; both with zippers for secure storage
Moisture wicking to help you stay dry
Quick drying so you stay dry
Lightweight for hiking comfort
Preformed knees for a better fit
Easy movement for more comfort
Just wash, no iron for easy care
85% Polyamide;15% Spandex – durable and comfortable
MSRP $44.99
Fjallraven – Keb Curved Trousers For Women
Updated for even better performance, you will love these technical women's hiking pants. Fjallraven made these pants with a tough stretch fabric for durability and a better fit. The leg endings have a design that lets you easily adjustment them. The Keb pants have large pockets. They also have vent zippers.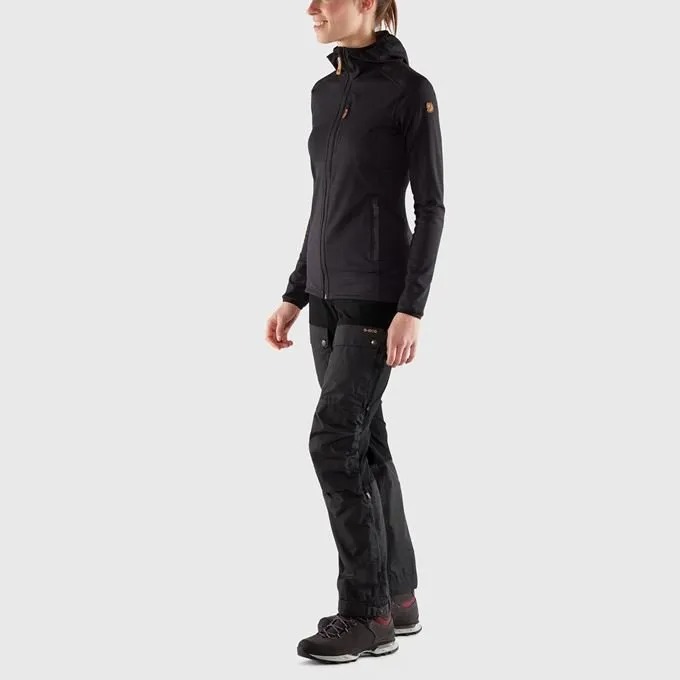 Features & Benefits
Cuff adjustments for a better fit
Roomy leg pockets with flaps for storage
Pocket with an inside mesh pocket for secure storage
Suspender attachment for custom fit
Vent zippers for comfort:

Hips to knees
Down the calves

Material

Stretch: 63% Polyamide; 26% Polyester; 11% Elastane for easy movement
Eco: 65% polyester, 35% cotton

MSRP $235
KÜHL – Freeflex Roll-Up For Women
For sunrise to sunset hikes, KÜHL made a great pair of lightweight hiking pants. The quick dry fabric stretches so these hiking pants do not sag or bag. The wide pull on waistband makes the pants very comfortable. The waistband has an external draw cord so you can make adjustments.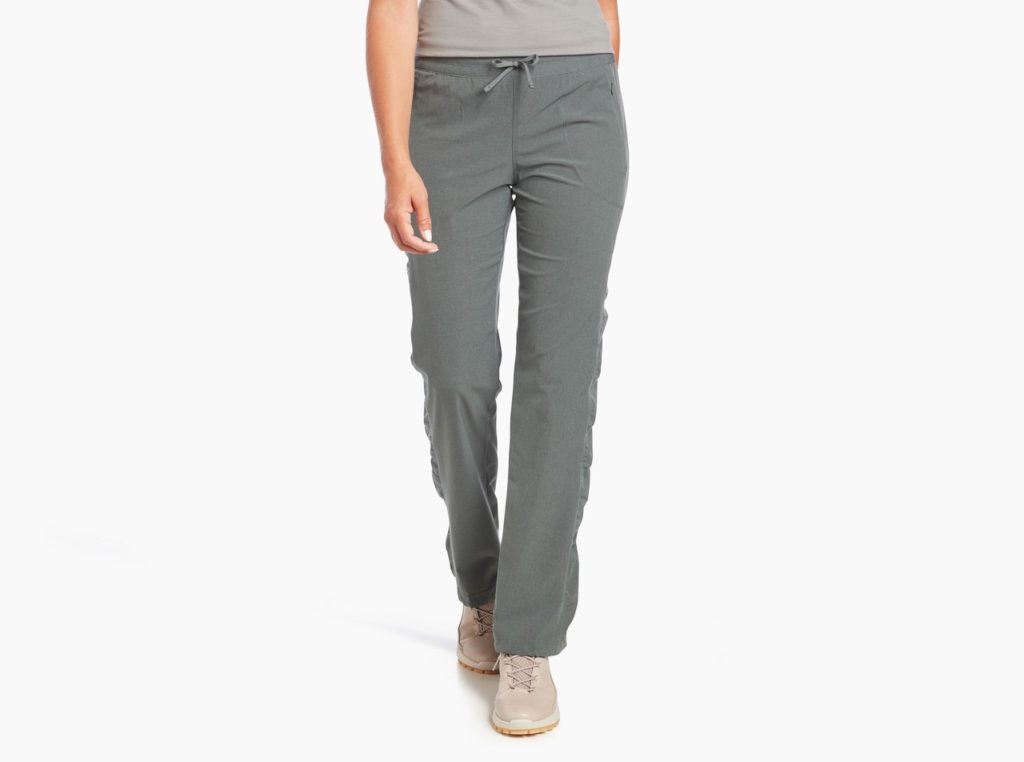 Features & Benefits
Draw cord waistband for a custom fit
Adjust bottom legs with hidden draw cords
Fitted through hip for comfort
Relaxed leg from thigh to hem for added comfort
Two hidden front pockets with zippers for secure storage
50% Polyester; 50% New Polyester
MSRP $89
Mountain Hardwear (2 Pairs):
1) Chockstone/2 Hike For Women
The Chockstone/2, Mountain Hardwear's most technical pants, have all you need in a pair of the best hiking pants!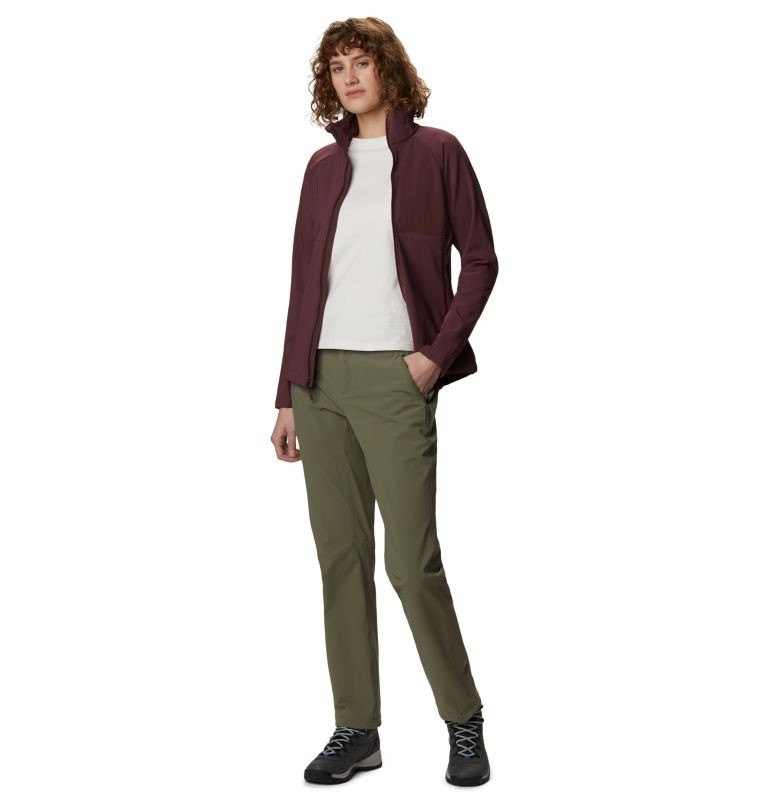 Features & Benefits
DWR finish to repel water
Zip up, secure hand pockets for storage
Right thigh secure, zip up pocket for more storage
Hems have adjustable cinch cords for custom fit
Articulated gusset for a lot of mobility
88% Nylon; 12% Elastane
MSRP $120
2) Dynama 2 For Women
The Dynama 2 pants have a fit designed for women. Women have broader hips than men. The pants have more room for a woman's hips. Also, women have a narrower waist than men so the pants have a narrower waist.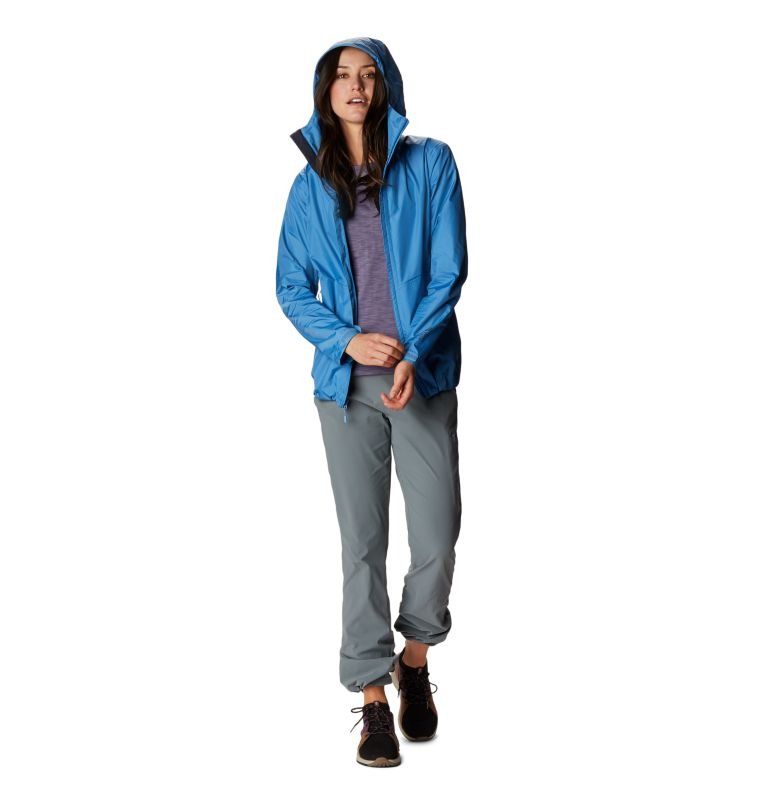 Features & Benefits
Lightweight for comfort
Stretch waistband for more comfort
DWR finish repels water
Zippered thigh pocket secures your items
Deep hand pockets for storage
94% Nylon; 6% Elastane
MSRP $75
North Face – Aphrodite 2 For Women
The North Face made these pants ultra-durable and quick drying. With a touch of stretch, plus draw cords at the waist and ankles, these women's hiking pants were made to fit.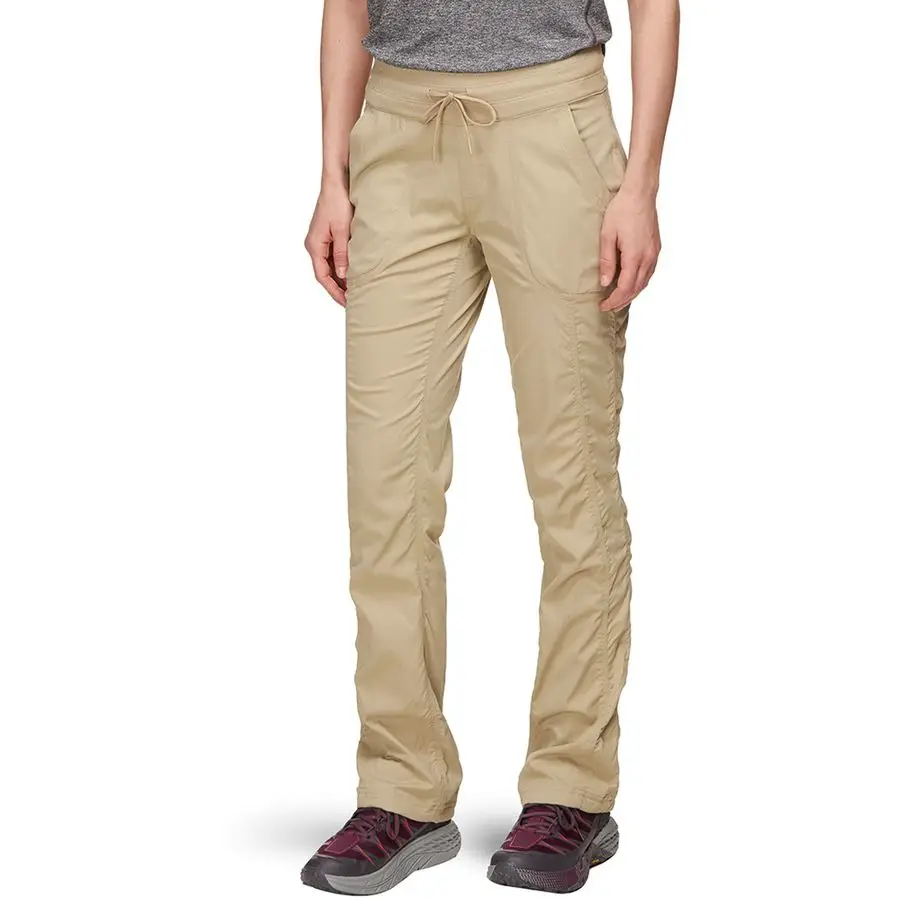 Features & Benefits
Guarantee: Lifetime Warranty for your peace of mind
Durable and breathable for your comfort on the trail
Moisture wicking for quick drying
A stretch draw cord to cinch the leg openings and keep out trail trash
External draw cord for a custom fit
Triple needle stitching adds durability
Front hand pockets, easy to reach
Zip pocket to securely store your essentials
94% Nylon; 6% Elastane
MSRP $69
Outdoor Research (2 Pairs):
1) Cirque II For Women
You have a new version of a favorite pair of women's hiking pants. The Cirque II Pants have a waistband that adjusts to your body temperature. The waistband adjusts to help keep you cool and dry.
The Cirque II pants come with a water resistant, double weave stretch fabric. The fabric protects you from the rain. Multiple pockets give you lots of room for your essentials.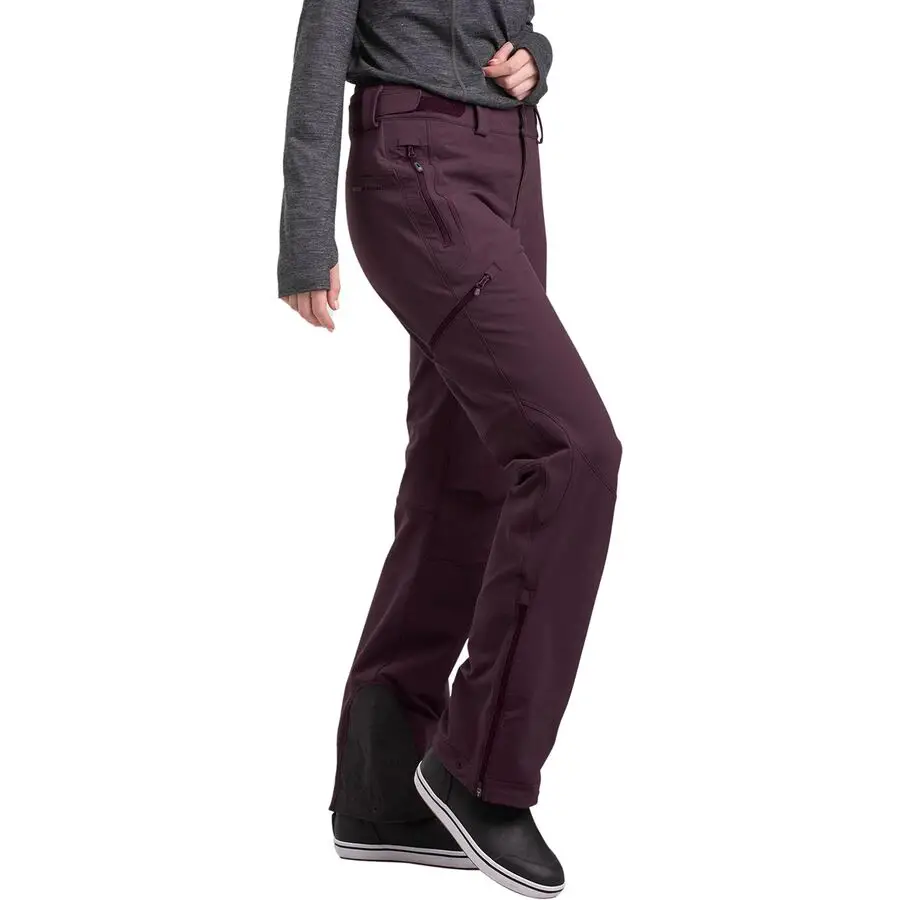 Features & Benefits
Soft shell pants keep you warm during cold weather hikes
Stretch fabric lets you move easily
Breathable for comfort during a hot weather hike
Gusseted crotch and ankles, and articulation help you move
Tough scuff guards for durability and longevity
Zippered hand and thigh pockets keep for easy access to important items
50% nylon; 43% polyester; 7% spandex
MSRP $150
2 ) Ferrosi For Women
A long time best seller, the Ferrosi pants have a LOT to offer. The pants' soft, stretch fabric lets you move freely. Still, the tough fabric easily takes a lot of wear and tear. The cuff cinch makes these pants handy for days on the trail that start cool then warm up in the afternoon.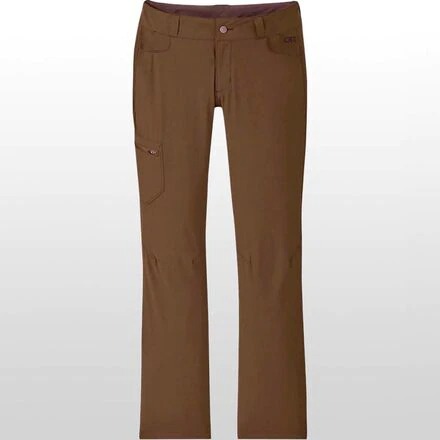 Features & Benefits
Cuff cinch closures make it easy when the day turns warm.
Ripstop nylon protects your legs when you hike a rough trail.
A cargo pocket keeps your valuables secure.
The pants dry quickly when wet.
86% ripstop nylon; 14% spandex
MSRP $80
Patagonia – Quandry For Women
Patagonia uses recycled material for the Quandry pants. The company uses recycled nylon made from
Post industrial waste fiber
Discards from weaving mills
Post consumer fishing nets
Built for comfort, the Quandry hiking pants give you unconstrained movement. They are water repellant and offer a 50+ UPF protection.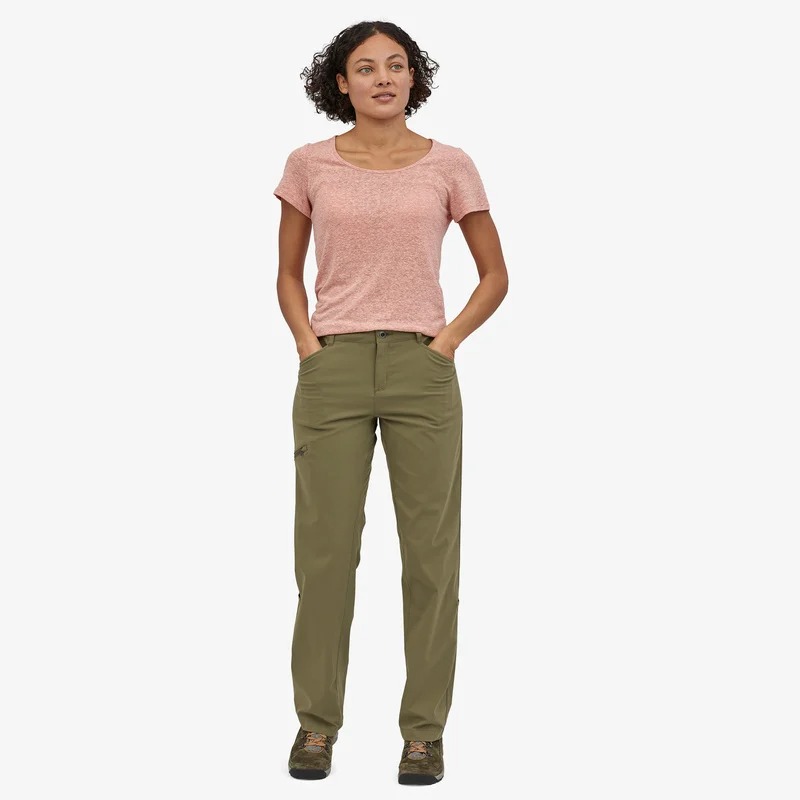 Features & Benefits
Convert to capris using the tabs, loops, and metal snaps for flexibility.
Also, keep cuffs in place with the tabs, loops, snaps.
Stay mobile with the inseam gusset.
Lots of storage:

Two front drop in pockets
Two back drop in pockets
Right rear has a zipper
Cargo pocket with secure zipper on right thigh

Waist has belt loops, a metal button, draw cord and fly with zipper for a great fit
Water repellent so you stay dry
95% nylon (65% recycled); 5% spandex; long lasting, environment friendly, stretch pants
MSRP $79
prAna (3 Pairs):
1) Briann For Women
The Briann pants make great trail pants. You look good in them too! The stretch fabric dries fast, and resists wrinkles. The fabric also gives you UPF 50+ sun protection. These pants are also tough but give you a lot of freedom to move.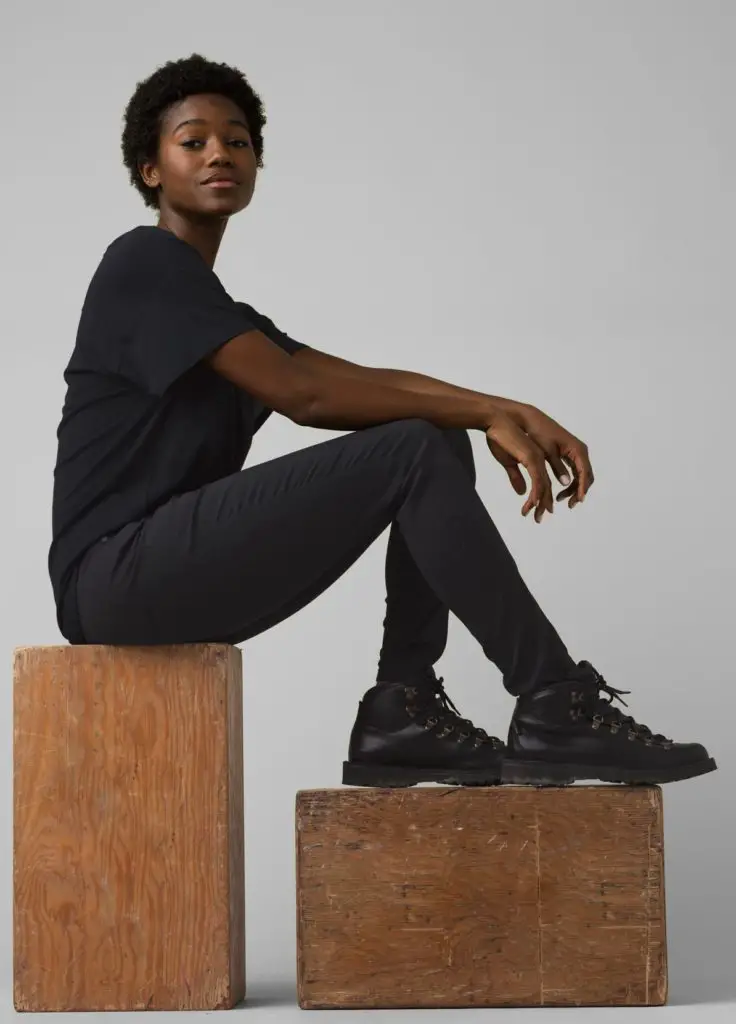 Feature & Benefit
Five pockets for ample storage
UPF 50+ for sun protection
Water repellant keeps you dry
97% Recycled Nylon; 3% Elastane
MSRP $79
2) Halle For Women
prAna made the best selling pants even better with the Halle Pant II. The pants have a green update that features a stretch recycled fabric that lets you move easier on the trail.
The updated pants also have:
Higher rise for comfort and a better fit
More upper thigh room for a secure fit and more comfort
Flat button closure at the waist for more comfort with your backpack hip belt
Deeper pockets for more storage
Enjoy the Halle women's hiking pants on all kinds of hikes … easy AND hard. When they made these pants, prAna used a durable, stretchy material for these pants. You have tough pants for easy movement.
These are quick drying wrinkle resistant pants. They protect from the sun with UPF 50+ sun safety.
The Halle's also have articulated knees with snaps. This gives you free movement. They serve as full length trousers, or roll them up into capris in hot weather or when you cross water.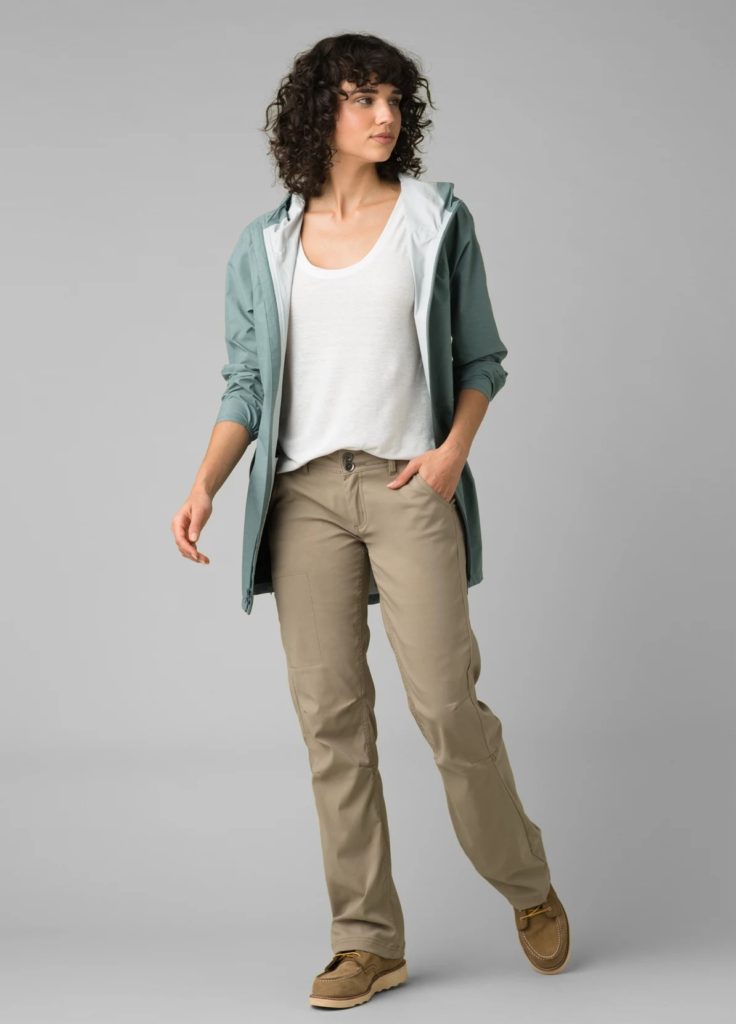 Features & Benefits
Green update; recycled stretch fabric for extended mobilityCross functional pant for hiking or the streets
Trouser styling with button front
Articulated knees for easy movement
Welt stash pocket at upper right leg for a stylish look
Mid rise for comfort
PFC-free water repellent
95% Recycled Nylon; 5% Elastane
MSRP $95
3) Sky Canyon For Women
Add style and some urban chic to the prAna Sky Canyon Jogger. Jogger? Yes, but they make great hiking pants too. The cropped leg and knit cuffs look great with hiking shoes, mid boots, or high top hiking boots.
The Sky Canyon's have SIX easy to access pockets. The pants also protect you from the sun with a UPF 50+. They dry fast too.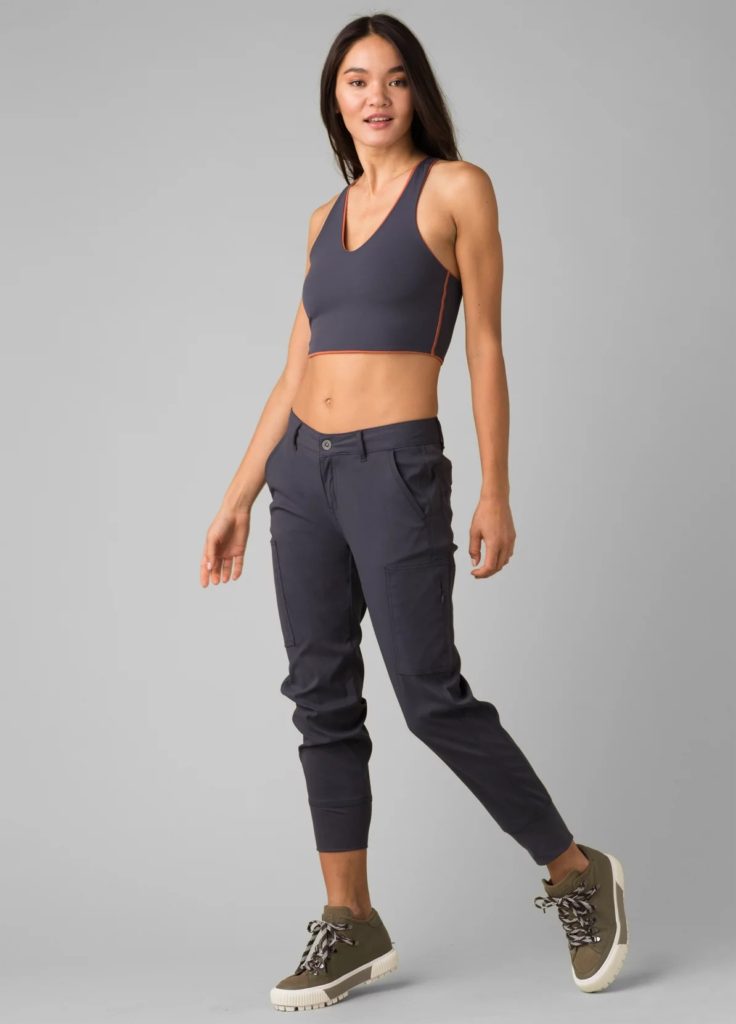 Features & Benefits
Tapered leg; great look on or off trail
Internal adjustable tie front closure for a better fit
Front slash pockets; good looking back welt pockets
Flat cargo pockets side zip entry for easy access and safe storage
Quick dry when you get wet
UPF 50+
Water repellent
97% Recycled Nylon; 3% Elastane
MSRP $89
Summary – Do You Want A Pair Of The Best Hiking Pants?

Hiking specific pants offer increased comfort and utility on the trail.
If you're just going for a quick outing, having the right pants is still important. If you're backpacking for a week, the right pants could make or break your adventure.
Value does not equal the final price. Value includes the cost and more. If you have quality pants, with the features and benefits you need, you have value. The pants might cost more, but the value means you have pants that last with the features you need.
It's better to spend more on something that's built to last than to spend less on an inferior product. These pants offer quality, and some offer quality at an affordable price.