We may earn money or products from the companies mentioned in this post.
Why Do You Want Lightweight Hiking Boots?
The three most important features to consider when buying women's lightweight hiking boots include: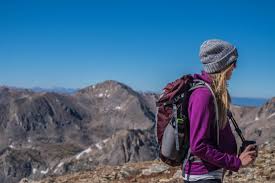 Durability – Handle tough trails.
Weight – Avoid feeling weighted down.
Comfort – Take care of your feet!
Consider your personal preferences when it comes to the fit and style of women's lightweight hiking boots. Also, make sure that your boots have all the features you need.
Durability
A good pair of women's lightweight hiking boots should be durable enough to handle tough trails. Even on a day hike, your boots need to be tough enough to hold up against rocks, sticks, and other trail debris.
They should have an outsole made from either rubber or synthetic materials. You want a sole that protects your feet from the impact of rough trails and provides traction on slick trails.
Weight
Also, you want boots light enough to keep your feet from feeling weighted down. For every pound of boot, it feels like you added several pounds of weight on your feet.
Women's lightweight hiking boots do not need to be heavy or bulky. You want boots light enough that all day wear does not make them heavy on your feet.
Comfort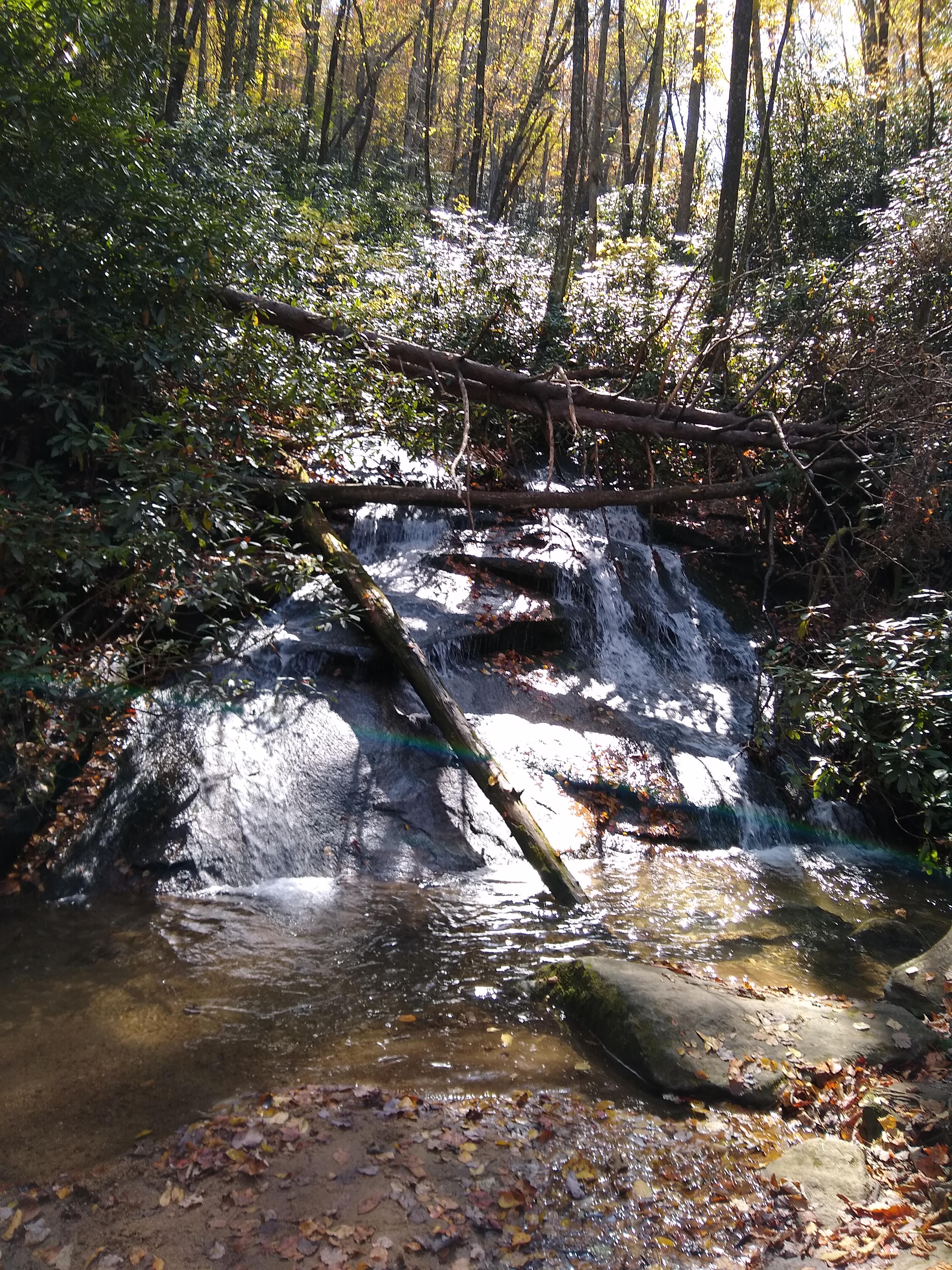 Lightweight women's hiking boots come ready to wear. You have the comfort of very little to no break-in when you buy lighter boots. You will enjoy this comfort for the lifetime of the boot.
Lightweight boots can provide support and comfort for your feet during a long hike. Buy boots with good foot and ankle support if you want a comfortable hike.
Your boots should have high ankles to help avoid twisting your ankles. They should also have sturdy foot support to protect your feet from the trail.
Also, you want boots made from lightweight material such as leather or nylon with a breathable mesh lining for extra comfort. Most of these will also be waterproof women's hiking boots.
How Can You Make Your New Women's Lightweight Hiking Boots Last Longer?
No matter how good the boots you buy, they wear out over time. However, they will last last longer if you:
Invest in the right shoe care products. Buy polish and conditioner to keep your boots looking good and make them last longer. Be sure you use the products too!
Be sure your boots have thicker soles, and they will last longer. They will grip the trail better too.
Differences Between Women's And Men's Feet
Do you know the differences between women's and men's feet? To find out the differences, read this to learn how women's feet differ from men's feet. The differences in our feet are why you want a hiking boot made for a woman's foot. Your feet will thank you!
6 Best Women's Lightweight Hiking Boots
What Are The Top Women's Lightweight Hiking Boots' Brands?
Lightweight hiking boots make a great option for many hikers. They are lightweight and provide more protection than day-to-day walking shoes. These boots were picked for day hikes or overnight hikes.
Choose one of these boots when you want a women's lightweight hiking boot:
Altra – Lone Peak 4 RSM Mid Waterproof
Altra made the Lone Peak 4 Mid to take on tough trails. The company uses a new breathable, durable, and comfortable material to make the Lone Peak. The material has billions of tiny pores. That means it breathes in any condition, wet or dry, but the boot still lets sweat out. The boot's upper has a new look with an updated mountain design. The updated outsole has multi-directional lugs that give you better footing on the trail.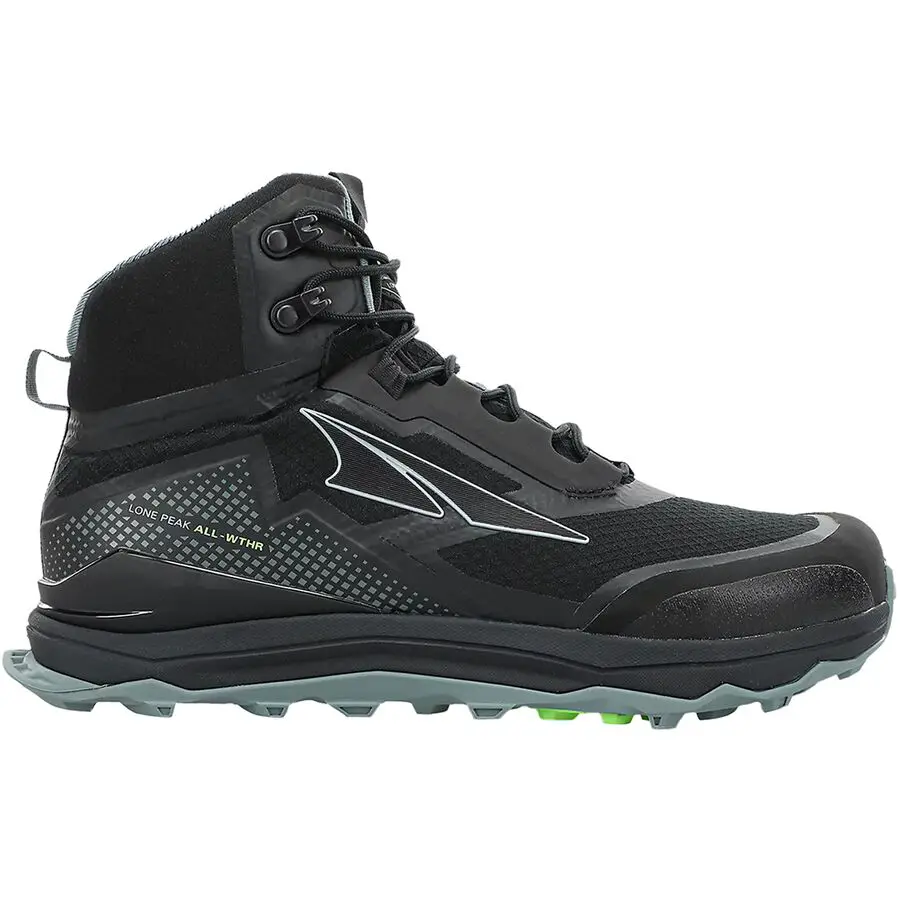 Features & Benefits
Fit4Her – Fit just for a woman's foot
FootShape – More space for your foot to sit naturally since the design is for women's feet
Balanced Cushion – Keeps your heel and forefoot an equal distance from the ground which:

Gives your foot better alignment
Makes your hiking form better
Causes a low impact landing when your foot meets the trail

Lug placement gives you better traction on the trail
Hook and loop tab allows you to attach a gaiter; gaiters keep out rocks and trail trash
Dense rubber sole tread for better trail grip and longer lasting sole
Weight: 1.33 lb.
$170 MSRP
Altra – The Company
Location: Orem, Utah, United States
Culture: A goal for ZERO intolerance, racism, and hate by supporting:
Keen – Targhee Mid III Waterproof
The well known Targhee hiking boot for women brings an updated look to all-terrain hikes. Keen gave the Targhee a better fit, more durability, higher performance, and improved its rugged outdoor looks.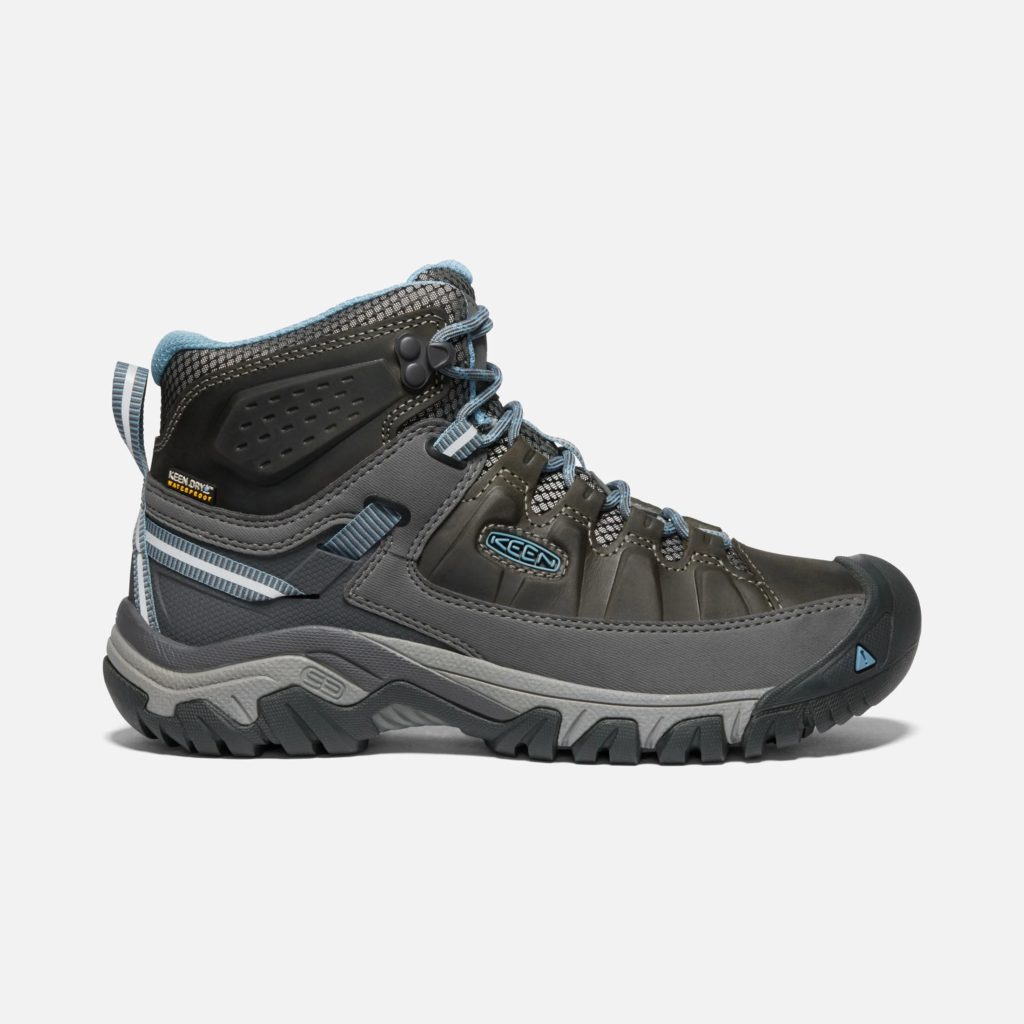 Features & Benefits
Keen Dry waterproof, breathable membrane
Leather mud shield for a tougher and longer lasting boot
Speed hooks for easy lace adjustment
Injected TPU heel system for more stability
Tough internal shank offers sturdy but lightweight support
4mm multi-directional lugs for traction
Keen's Cleansport NXT offers natural odor control
Environmentally preferred, premium leather from Keen's Leather Working Group certified tannery
Waterproof leather and performance mesh upper protects your feet and lets you have a fun hike
Keen's All-Terrain rubber outsole for higher-traction grip
Dual density, compression molded EVA midsole
Breathable mesh lining
Removable, dual density footbed designed around the foot's shape
Footbed design provides great arch support and cradles the natural contours of the foot
Keen's DRYA waterproof, breathable membrane that lets vapor out without letting water in
Weight: 1.75 lb.
$150 MSRP
Keen – The Company
Location: Portland, Oregon, United States
Culture: KEEN has a mission to make the outdoors more available and inclusive for all. Some of Keen's partners include:
La Sportiva – Nucleo High II GTX
The Nucleo High II GTX Women's hiking boot offers best in class breathability in a mid-duty waterproof hiking boot. The Nucleo has La Sportiva's award-winning Gore-Tex Surround technology. The technology lets your feet can breathe while they stay dry. A traditional Nubuck leather look makes the Nucleo a stylish looking, sturdy boot. This hiking boot gives you the best combination of durability, protection, and comfort. Also available in WIDE sizes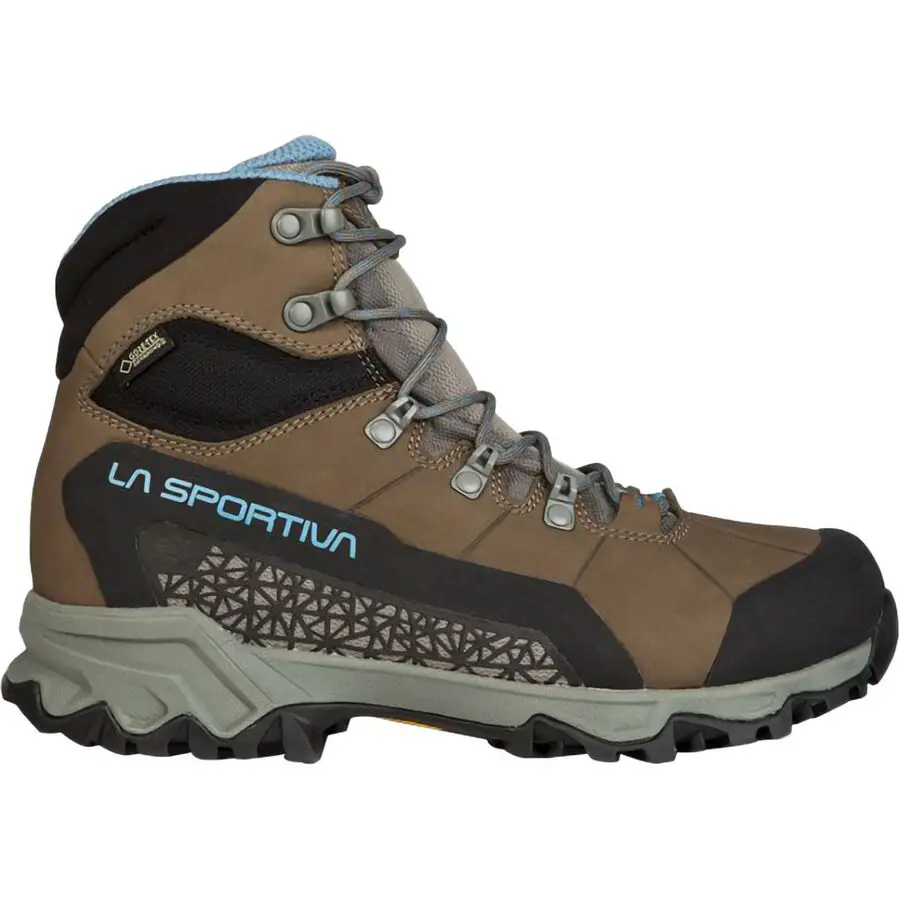 Features & Benefits
A last (shape used to form a boot) made for a woman's foot
Tough, stylish Nubuck leather upper
Rubber toe cap to protect your toes
Gore-Tex lining that lets your feet breathe but stay dry
Breathability comes from underfoot
4mm high performance/comfort insole protects your feet from the trail
Compression molded Vibram sole gives even more foot protection
Great traction and grip for a stable hike
Flex ankle hinge for better mobility
Weight: 1.67 lb.
$199 MSRP
La Sportiva – The Company
Location: Ziano di Fiemme, Italy
Culture: La Sportiva has a commitment to the environment, fair labor, and the community.
Salomon – Vaya Mid GTX
The new women specific Vaya Mid GTX hiking shoe was designed for outdoor women who want to reconnect with nature.
The soft collar and Salomon Sensiflex technology snuggly adapt the Vaya to your foot for more comfort. The Vaya adds comfort with higher ankle support and sturdy mesh.
Salomon's Contagrip outsole gives you a longer lasting sole with great grip. The waterproof Gore-Tex membrane keeps your dry while letting your feet breathe.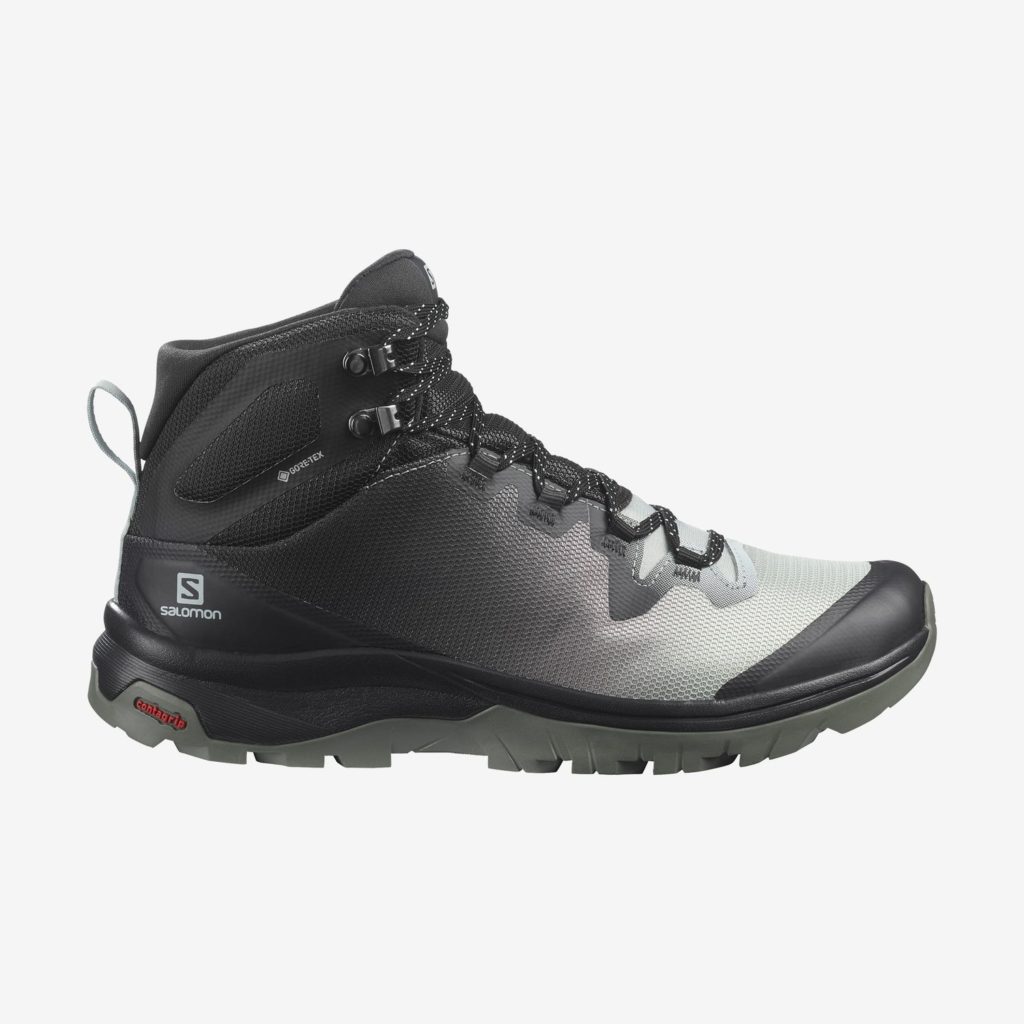 Features & Benefits
Designed for a woman's foot
Soft collar and strong support perfectly adapts to a female's feet
Higher ankle support for extra stability
Simple stylish lines
A choice of colors
Out-of-the-box style, comfort and hiking ready
Sturdy mesh for comfort
Strong gripping outsole, keeps stable on trail
Waterproof Gore-Tex membrane so your feet stay dry on the trail
Weight: 1.45 lb.
$160 MSRP
Salomon – The Company
Location: Annecy, France
Culture: Salomon wants to help people play, progress, and connect with nature by partnering with:
Limited Sizes
Salomon – X Ultra 3 Mid Gore-Tex
With the Ultra X 3, Salomon made another women specific boot. This boot was made just for for women's feet. The boot has a softer cuff that embraces your foot for more stability on the trail. This mid-cut GORE-TEX version of the X-ULTRA 3 keeps your feet dry. Also, a grippy outsole helps you easily hike uphill and easily hike downhill.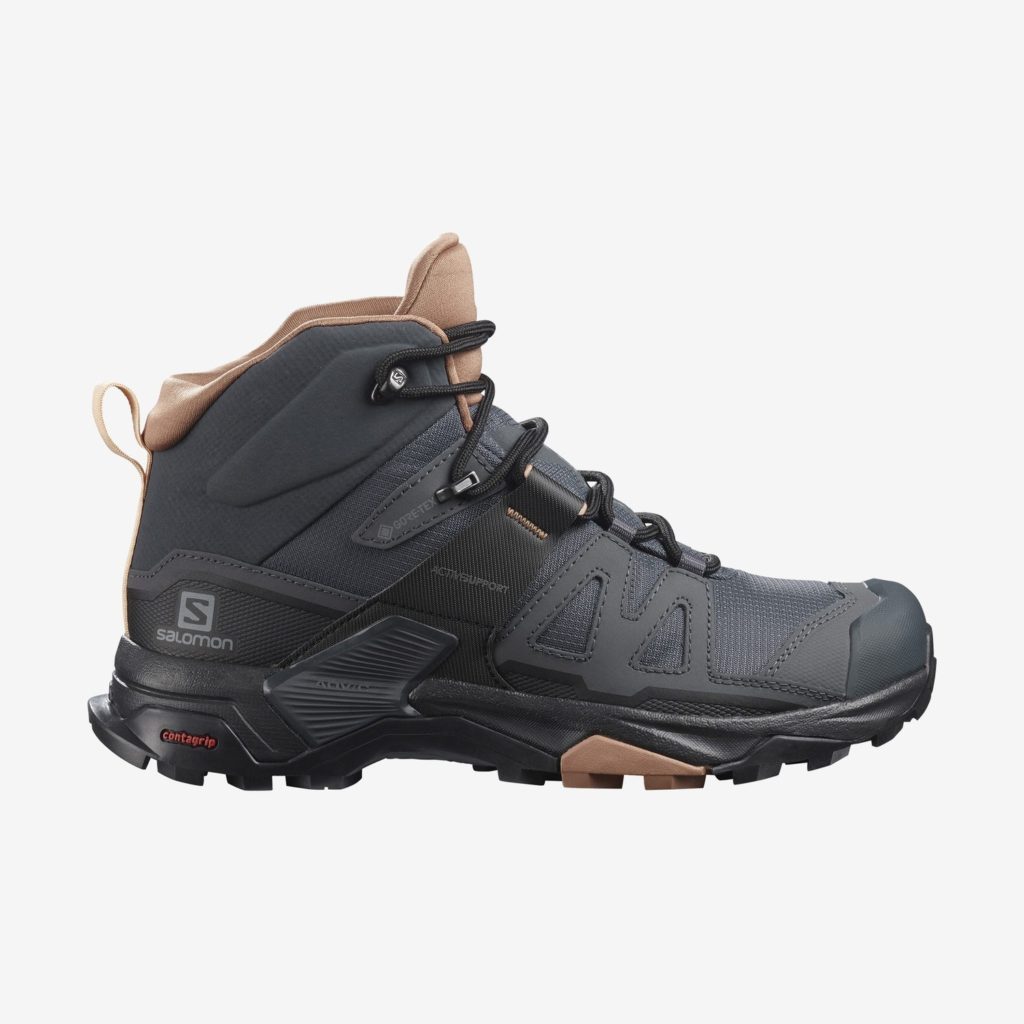 Features & Benefits
Improved stability for a safe hike
All terrain grip to avoid slips
Women specific sole
Textile and synthetic lining for comfort
Textile upper for more comfort
Rubber outsole that lasts
$165 MSRP
Salomon – The Company
There is an X Ultra 4, but the X Ultra 4 is not available online.
Vasque – Breeze AT Mid GTX
As the latest version in the well known Vasque Breeze family, the Breeze AT GTX was updated so you have a better hike. The breeze is more durable and has more support while remaining lightweight. A leather and abrasion resistant mesh upper joins the Vasque Exclusive Vibram Contact Grip outsole. The mesh upper and Vibram outsole gives you a tougher boot with better trail grip.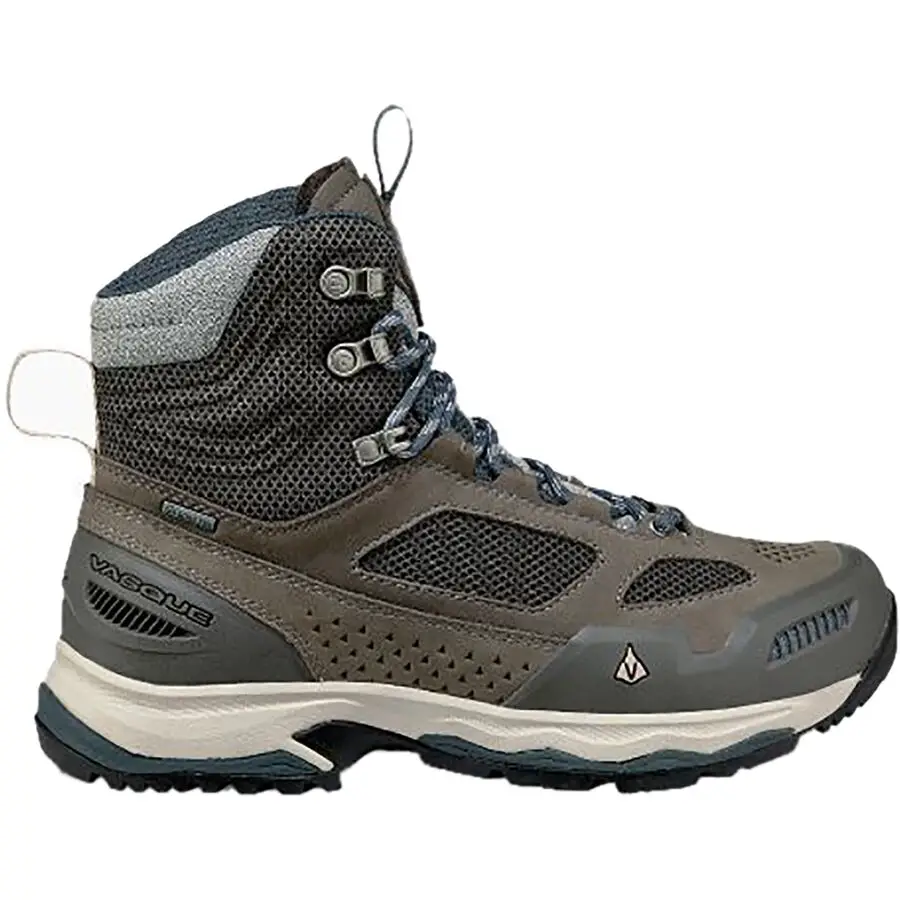 Features & Benefits
Breathable mesh
Waterproofed with GORE-TEX for dry feet
Footbed designed for comfort on the trail
Lightweight sturdy shank protects your feet
All terrain midsole with cushion pods for added foot comfort
Strong gripping soles keep you balanced
Nubuck leather for toughness and style
Weight: 2.25 lb.
$ 189.99 MSRP
Vasque – The Company
Location: Red Wing, Minnesota, United States
Culture: Vasque support increased outdoor access for all and partners with:
Conclusion: You Want Comfortable, Durable Women's Lightweight Hiking Boots
You want comfortable, durable, and good-looking women's hiking boots. Sometimes, due to the low quality of materials used to make some boots, you could get poorly made boots. The companies above make quality women's lightweight hiking boots.
Get a high quality boot that keeps your feet feeling great, and looking stylish. Buy your boots from an established company like one of the brands above. These brands have made boots for a long time, know how to make high quality boots, and make them well!
6 Best Women's Lightweight Hiking Boots