We may earn money or products from the companies mentioned in this post.
Women's and Men's 5 Best Hiking Shorts
You want the best hiking shorts so you enjoy your summer hikes. When the trails become hot, you need a good pair of lightweight hiking shorts. Choose shorts designed just for hiking.
Make a thoughtful and affordable purchase by investing in a well-made pair of the best hiking shorts. When you select the best hiking shorts, you want to think about the following features: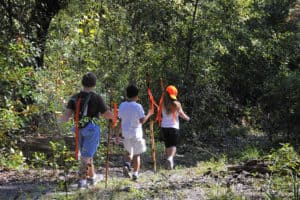 Breathability
Comfort

Stretch
Mobility
Gussets
Weight

Fabric

Nylon
Polyester
Spandex
Cotton

Fit (Length)
Closure
Sun and Water Protection
Weight
Price
That's a LOT to consider! Still, you will be glad you did when you get on the trail.
If you need a Wide Brim Hiking Hat, read this.
The Best Hiking Shorts At A Glance
Best Hiking Shorts Give You – Breathability
Some hiking pant's designs keep heat inside the pants. However, the best hiking shorts provide ventilation that allows you to lose the extra heat from a strenuous hike.
Most hikers agree that you want to avoid overheating during late spring and summer hikes. Overheating slows you down, and makes you nauseated. If you overheat too much, you could even have a deadly heatstroke.
Some synthetic fabrics come with technology that wicks away moisture. If you cannot find or afford moisture-wicking fabrics, natural fabrics also feel breathable when you work up a sweat.
You usually want to avoid cotton when you hike, but cotton feels okay during a hot hike. When you become hot hiking, cotton holds your sweat and helps you cool down.
Comfort – What the Best Hikiing Shorts Offer
Stretch
You also want comfortable hiking shorts. When you take a long hike, you want to wear shorts that stretch. Fabrics with a blend of elastane and spandex offer some stretching capability.
These fabrics keep your hiking pants from feeling too stiff. These fabrics also make your shorts durable so they stand up to wear and tear.
Mobility
Shorts also give you a wider range of motion than pants. When hiking on rough trails, long pants make it difficult for you to stretch your legs completely. This limited movement makes it uncomfortable to hike trails with objects like trees and rocks that you need to step or climb over.
Lightweight hiking shorts let you move your legs freely. Lighter shorts give your body a free range of movement so the material does not make it difficult for you to stretch.
Gussets
A gusset is usually a triangle or diamond shaped piece of material inserted in the place of a seam.
Inseam gussets at the crotch make an excellent comfort feature for men's and women's hiking shorts. The gussets allow you to move your legs around more comfortably.
Weight
The best lightweight hiking shorts weigh 10 or fewer ounces.
Best Hiking Short's Fabrics
The best hiking shorts come in a wide variety of fabrics including:
Nylon
Polyester
Spandex
Cotton (Yep, but a cotton blend is better.)
Nylon
Nylon makes a great hiking short choice. Nylon's benefits include:
Soft on your skin
Lightweight
Breathable
Quick drying
Nylon has a soft, pleasant texture that feels good on your skin.
Additionally, unlike cotton, nylon moves sweat away from your body. Nylon moves the sweat to the fabric's surface.
Your sweat then evaporates from the surface of the fabric. Nylon has the ability to wick effectively. Still, nylon cannot keep up with taking away moisture when you exert yourself on the trail and sweat a lot. Nylon still gets wet.
When nylon gets wet with sweat, it only absorbs small amounts of water. When you slow your pace and take a break, the small amount of water absorption helps dry the fabric quickly.
Nylon repels body oils. So, it absorbs unpleasant smelling body oils caused by sweating.
Nylon also dries faster if you get wet in a sudden rain shower.
Polyester
Shorts makers also use polyester to make the best lightweight backpacking shorts and clothes. Similar to nylon, polyester is a light and breathable fabric.
The fabric also resists water so polyester keeps you drier than nylon when it rains. Polyester offers UV protection so it is often used for outdoor clothes and outerwear.
The material is less durable than nylon and also absorbs body oils. As a result, polyester tears more easily and traps unpleasant body odor.
Spandex
Spandex gives your hiking shorts the ability to spread out. This material has the capability to stretch up to 6 times its initial size! After it stretches, spandex shrinks back to the original size.
Like nylon and polyester, spandex also provides the benefits of breathability, moisture-wicking, and drying quickly. The best women's and men's hiking shorts often use spandex with nylon and polyester.
Spandex gives your hiking shorts a little bit of stretch so you have more freedom to move.
Cotton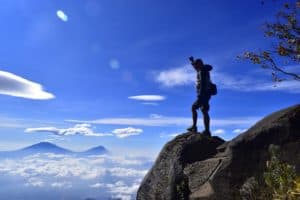 Hikers often say that "cotton kills". Hikers say that because cotton absorbs the water it soaks up.
If you slip and fall into a stream on a cold day while wearing cotton, you might freeze.
On a hot day, cotton has benefits. Since cotton hangs onto the water, it has a cooling effect.
This cooling effect feels good during a hot hike. Still, you might want to look for hiking shorts that include some nylon, polyester, or spandex.
When you hike, you want to avoid these fabrics:
The fabrics look great, and they are durable. Still, they make a poor choice for hiking shorts. These materials breathe poorly. Also, they dry slowly when they get wet.
Fit
Does it matter what kind of fit you choose for hiking, a baggy fit or a slim fit?
Yes, fit matters! If you choose very loose shorts, you risk snagging them on branches and other trail growth during your hike.
Also, avoid low rise shorts. Low rise shorts usually leave the area where your backpack waistband sits exposed. As a result, you might have a raw, chafed spot caused by your backpack's waistband.
High rise shorts make it more comfortable to carry your pack. When you consider the length of your shorts, I recommend 10' or less.
Also, be sure that you keep the inseam length above your knee. Inseams below your knee, cause you to lose some freedom of movement. Many hikers find below the knee shorts annoying and uncomfortable.
Closure
Shorts have a variety of closure systems that include:
Zippers – Choose shorts with zippers if you want convenience. However, zippers can break and leave you exposed until you get a new pair of shorts.
Buttons – Buttons give you a more durable option, but they can be a hassle to button and unbutton.
Stretch waists – Shorts with stretch waists give you a zipper's accessibility and a button's strength.
Belt – Some shorts have a belt. A belt lets you tighten your short's waist securely.
Sun and Water Protection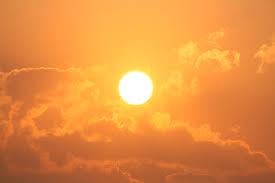 Some women's and men's hiking shorts include an Ultraviolet Protection Factor (UPF) and Durable Water Repellent (DWR). Each of these features gives your shorts more protection from the outdoors. 
UPF rates how well clothes protect you from the harmful rays of the sun. The higher the UPF rating the better protection provided from the sun's harmful rays.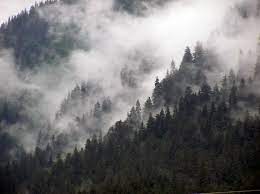 DWR, a coating added during manufacturing, makes fabrics water resistant. Shorts with a DWR treatment stay drier for longer than untreated shorts.
Price
Does price matter? Yes! A comfortable, durable pair of the best hiking shorts costs at least $40 to $75.
Women's Best Hiking Shorts
Choose from the following best women's hiking shorts. Each of these hiking shorts makes a good choice for your hiking trip.
Columbia – Women's Sandy River Cargo Shorts
The Women's Columbia Sandy River comfort stretch hiking shorts with cargo pockets make a great hiking choice. The shorts feature UPF 30 and quick drying material.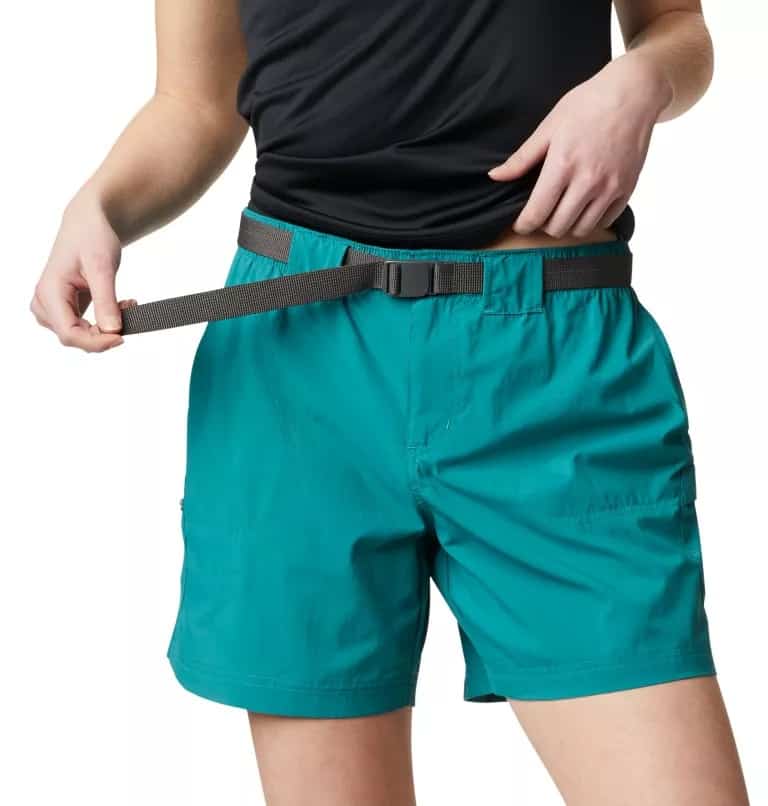 Features and Benefits – Best Hiking Shorts
100% Nylon
Rain repellent
Quick dry
UPF 30 sun protection
Mid-rise cargo pockets
Adjustable waist band
MSRP $50
Columbia – Women's Saturday Trail Long
The lightweight Saturday Trail shorts for women come in a comfort stretch fabric. The stretchy fabric feels good as you hike.
The shorts also feature a UPF 50 sun protection. In addition, you will appreciate the shorts water repellency that helps you stay dry.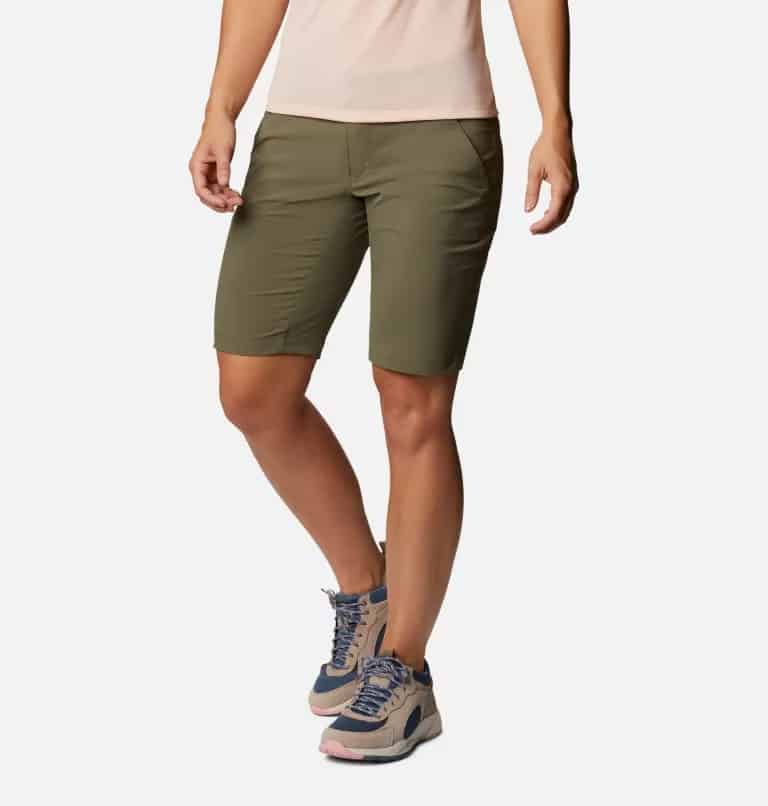 Features and Benefits
96% nylon/4% elastane
Sun UPF 50
Water repellent
Comfort stretch
Gusseted
Zip-close security pocket
Mid rise
Straight leg
10 inch & 12 inch lengths
Active fit
MSRP $50
prAna – Women's Halle Shorts
With the Halle Short II, you do not have choose between function and fashion. They have both!
The PrAna Women's Halle Shorts provide you with a high performance, stretchable pair of the best women's hiking shorts. The shorts have a relaxed fit that feels good as you hike the trails. For a comfortable hike, wear these durable, water repellant, ripstop shorts on your next hike.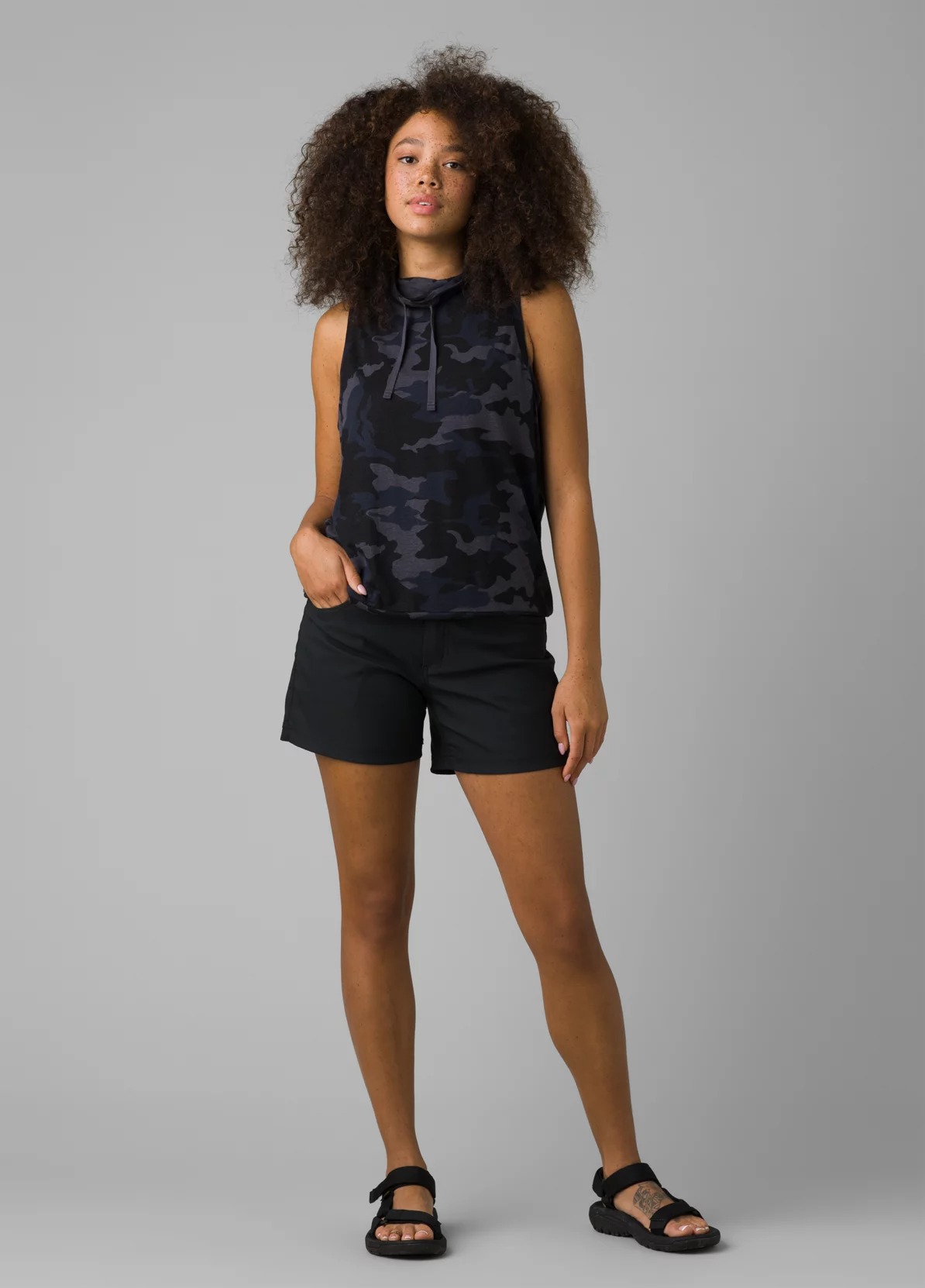 Features and Benefits – Best Hiking Shorts
95% recycled Nylon/5% Elastane for comfort and performance
Quick dry
Mid-rise for a stylish fit below your waistline but above your hips
Vents at each side seam hem for easy movement
Functional zip fly for comfort
Updated button closure lays flat for comfort with your backpack hipbelt
Interior drawstring for a better fit
Back patch pockets with flap/snap closures for secure storage
Front/back welt patch pockets for stonger pocket openings
Deeper and more secure front hip pockets for more safe storage
Left coin pocket for easy reach
Moisture wicking to keep you cooler
Abrasion resistant to last longer
5 inch & 7 inch inseams for a custom fit; (7 inch at prAna.com)
Fair Trade Certified Factory treats workers better
bluesign approved materials protect the planet
SPF 50+ for sun protection
MSRP $69
The North Face – Women's Aphrodite Bermuda – Best Hiking Shorts
The extremely durable, quick drying Aphrodite 2.0 hiking shorts take warm weather hikes to the next level. The wide, knit waistband does not dig in or chafe against heavy packs. Choose 4 inch or 6 inch inseam lengths.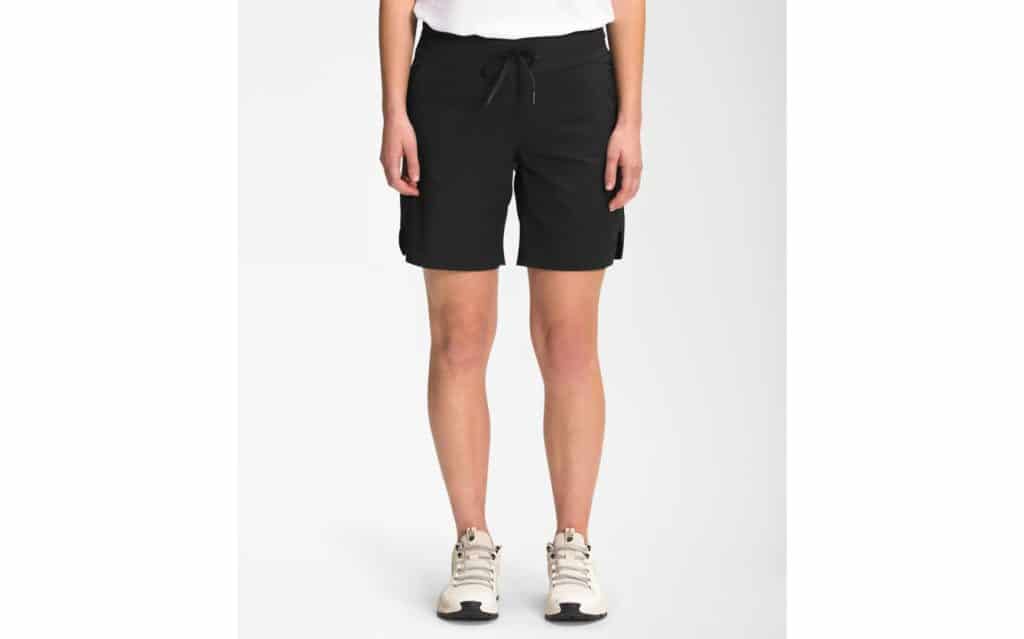 Features and Benefits
95% Nylon/5% Elastane to last longer and for comfprt
Quick drying for your comfort
Breathable for more comfort
Moisture wicking to help you stay dry
External draw cord for a better fit
Front hand pockets; easy to reach
Concealed zip back pocket for secure storage
3.6 oz/102 G
MSRP $45
The North Face – Women's Aphrodite Motion
The North Face women's Aphrodite Motion Short has a lot to offer. The shorts are made from a soft, comfy, four way stretch fabric. Light rain on the trail, sweaty on a hot day, no worry, since these hiking shorts repel water.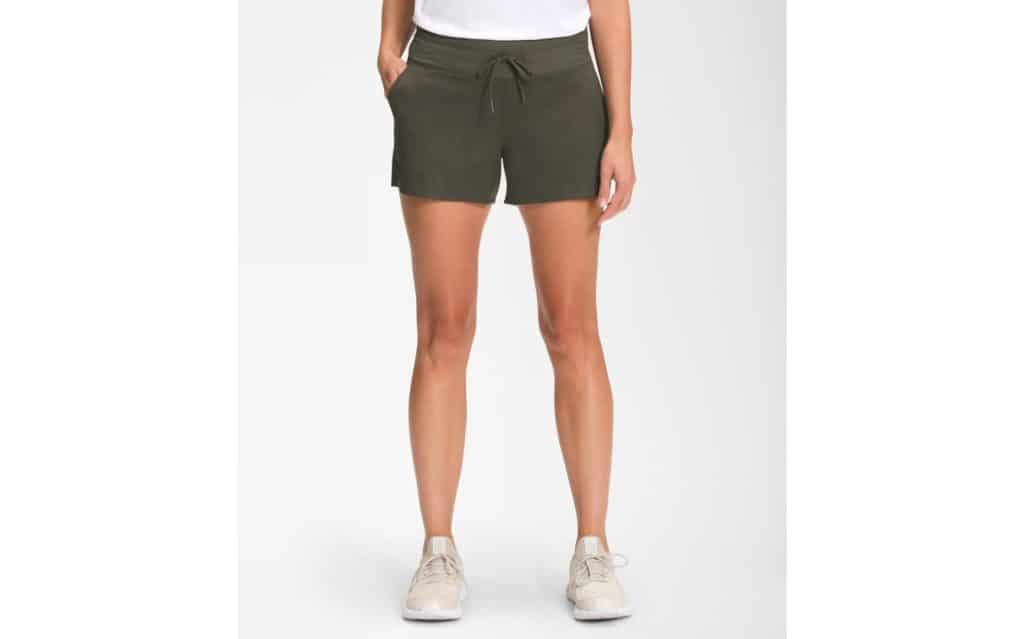 Features and Benefits – Best Hiking Shorts
95% Nylon/5% Elastane for toughness and easy to move
Four way stretch fabric for better mobility 
Standard fit for comfort
Regular and long lengths for custom fit
Packs into secure zip back pocket for easy storage
Drop in hand pockets; easy to reach
Sun UPF 50 protects from the sun
MSRP $40
Men's Best Hiking Shorts
Choose from the following best men's hiking shorts. Each of these hiking shorts makes a good choice for your hiking trip.
Columbia – Men's Hybrid Trek – Best Hiking Shorts
Spend all day on the trail with the Hybrid Trek shorts. Enjoy these shorts made for cool misty mornings to hot sunny afternoons.
Be comfortable with Columbia's fast cooling and wicking tech and UPF 50. These performance shorts let you move easily on the hiking trail.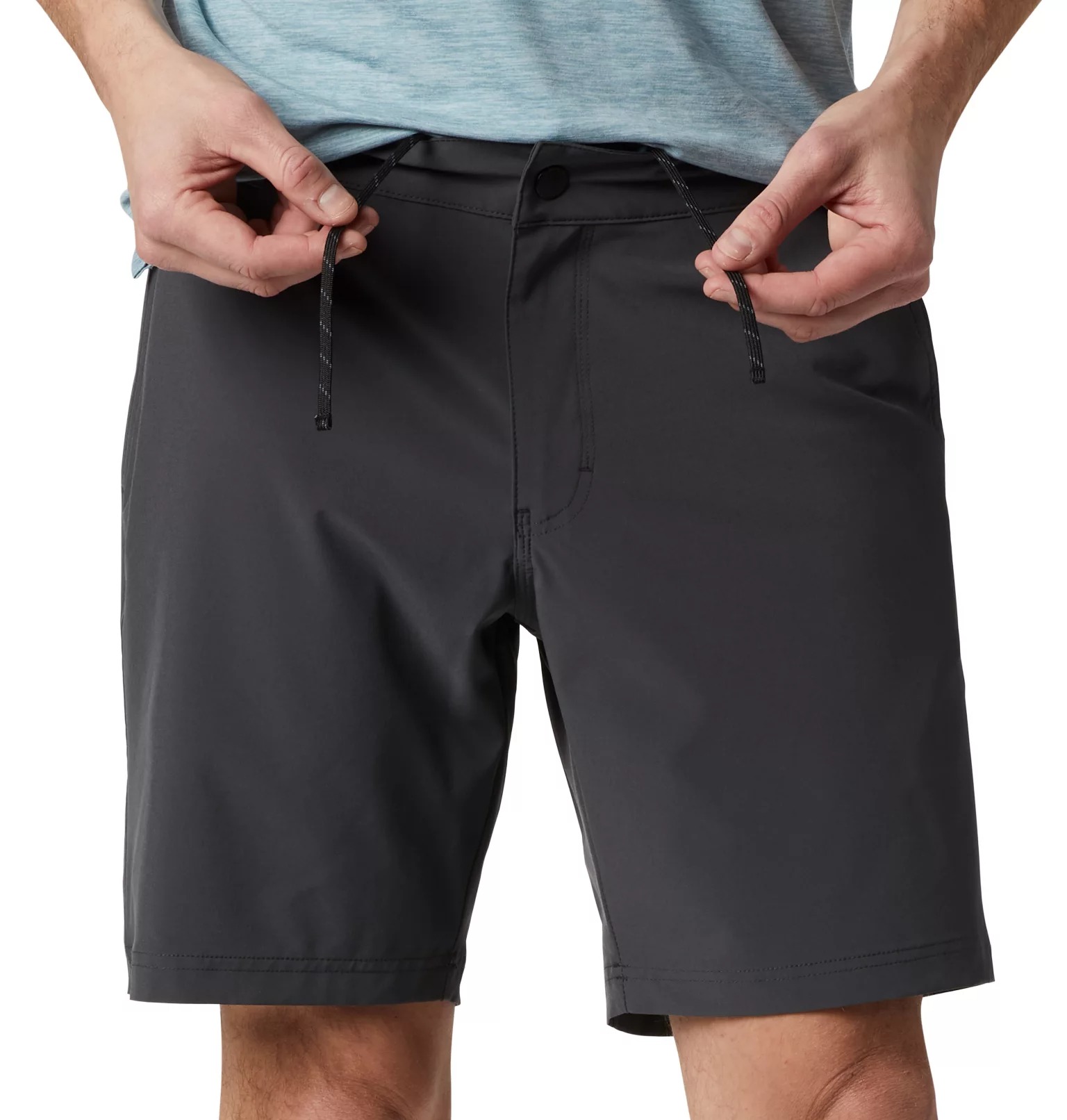 Features and Benefits
86% Polyester/14% Elastane
Machine wash
Easy to adjust waist drawcord for a better fit
8 inch & 10 inch length for more choice
Durable; stand up to rough trails
Breathable for long, hot hikes
Sun UPF 50 protects from sunburn
Back pocket for secure storage
MSRP $45
Columbia – Men's Silver Ridge
These multi-feature cargo shorts keep you comfortable. These shorts have an ultra-wicking fabric.
They also have built in UPF 50. A partial elastic waist gives these shorts an easy fit. The gusset detail lets you have ultimate freedom of movement.
Have a fun hike when you wear the Silver Ridge shorts.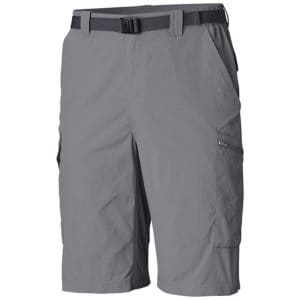 Features and Benefits – Best Hiking Shorts
100% Ripstop Nylon
UPF 50 Sun Protection
Moisture wicking
Classic fit
10 inch & 12 inch Lengths
Side elastic waistband
Gusset detail
Hook and loop closure
Zip closed security pocket
Hand pockets
Mesh pocket bags
MSRP $45
Mountain Hardwear – Men's AP Short – Best Hiking Shorts
The men's AP Short helps keep you comfortable all day. These shorts offer a combination of craft and character.
They are a comfortable, durable pair of the best men's hiking shorts made to stretch and enjoy getting away from it all.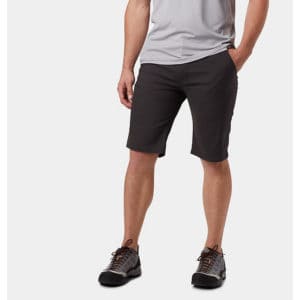 Features and Benefits
75.0% Cotton/23.0% Nylon/2.0% Elastane
Zip security pockets
Front cell pocket
7 inch & 11 inch inseams
7.2 oz/203 g
MSRP $70
prAna – Men's Stretch Zion
The PrAna Stretch Zion Shorts let you meet your adventure head on. These best selling men's hiking shorts let you master your trails with comfort and ease.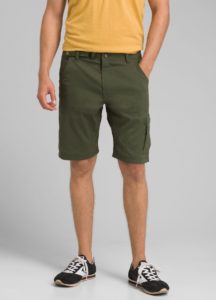 Features and Benefits – Best Hiking Shorts
95% Recycled Nylon/5% Elastane for a healthy plant
Stretchable for comfort
Moisture wicking fabric keeps you dry
Quick drying adds to your hiking comfort
Adjustable waistband system for a custom fit
Cut just above the knee for comfort
Ventilated inseam gusset for more comfort
Mesh pockets for storage
Abrasion resistant to last longer
Standard fit
8 inch, 10 inch, & 12 inch lengths
MSRP $75
The North Face – Men's Paramount Active Shorts
Crafted with a slender looking fit the durable, stretch woven Paramount hiking shorts feature aa custom fit waist that includes a drawcord.
The shorts also have a water repellent finish to shed light moisture. The North Face made these shorts for changing spring, summer, or fall weather.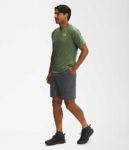 Features and Benefits
90% Recycled Polyester/10% Spandex protects the planet
Easy snap front
Partial elastic waist and easy to adjust drawcoed in waist for a custom fit
Stretchable for comfort
Lightweight for added comfort
Regular & long length for more choice
Durable Water Repellent (DWR) finish to stay dry (nonPFC, cares for the planet)
Ultraviolet Protection Factor (UPF) 50 protects from sunburn
Crotch gusset lets you move freely as you hike
Utility zip pocket on right leg for easy, secure storage
MSRP $55
The Best Hiking Shorts At A Glance
Conclusion
When you hike the trails this spring and summer, you want dedicated hiking shorts! You want the benefits of shorts made just for hiking. When choosing the best men's and women's hiking shorts, think about:
Breathability
Comfort
Fabric
Water Protection
Sun Protection
Choose the best hiking shorts and have a fun, comfortable hike this summer!
You might like to consider one of Amazon's budget options.