We may earn money or products from the companies mentioned in this post.
Black Rock Mountain State Park showcases gorgeous Georgia Blue Ridge Mountain scenery. If you want great scenery, a good workout, with a choice of very good trail, hike here.
Contents
About Black Rock Mountain State Park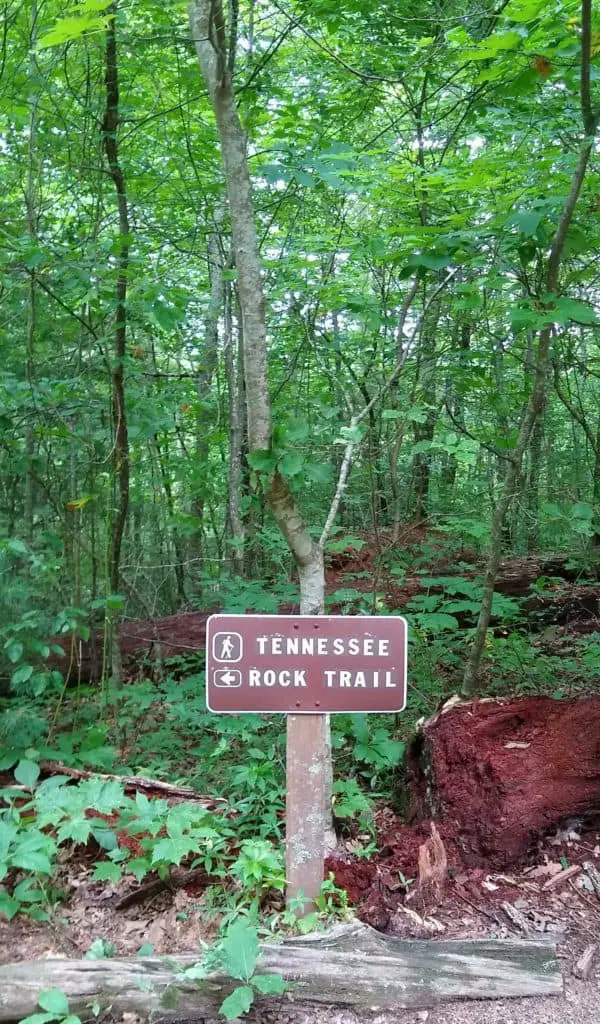 This is Georgia's highest state park with an altitude of 3,640 feet. The park has overlooks where you can enjoy striking Blue Ridge Mountain views. The views allow you to see as far as 80 miles.
Also, the park has great hiking trails! Along the trails, you will see wildflowers, cool streams, small waterfalls, and dense green forests.
The park offers other attractions in addition to hiking. You can rent a cottage, camp, or park your RV at Black Rock Mountain State Park. The park also offers fishing. The lake has easy access from a walking trail around the lake. Due to the park's higher altitude, you will often enjoy cooler weather even in the summer.
What are 3 Great Hikes at Black Rock Mountain State Park?
Three great hikes include:
James E. Edmond Trail (Backcountry)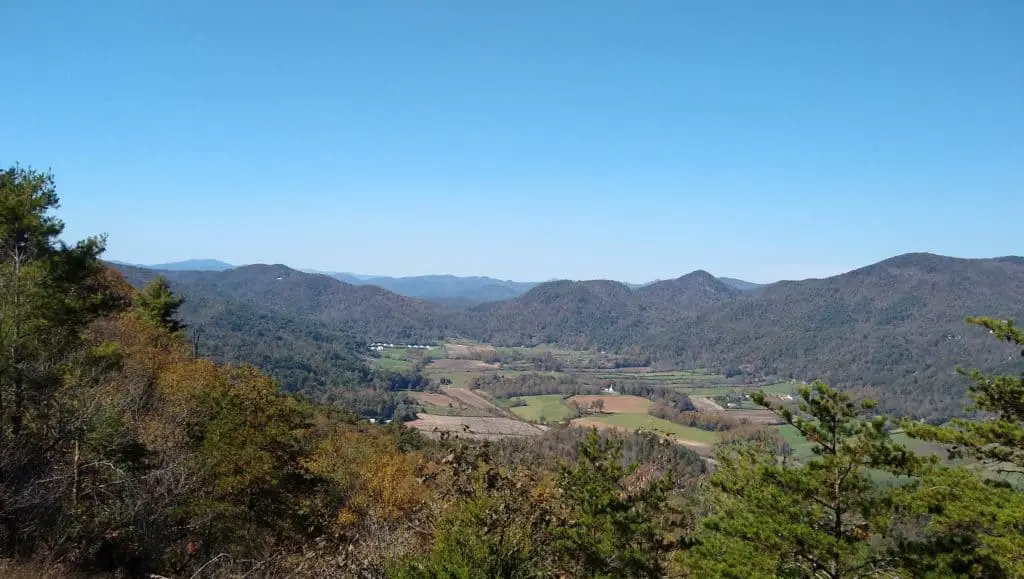 7.2 mile loop – Difficult to Strenuous.
The 7.2-mile James E. Edmonds Backcountry Trail was named to honor one of the park's first rangers. The park offers day hiking and backcountry camping. In many places the trail is very steep. For this reason, the trail has a difficult to strenuous rating.
You will appreciate your hiking poles when you make this hike! Use them to take pressure off of your knees and hips and keep your balance on this steep trail.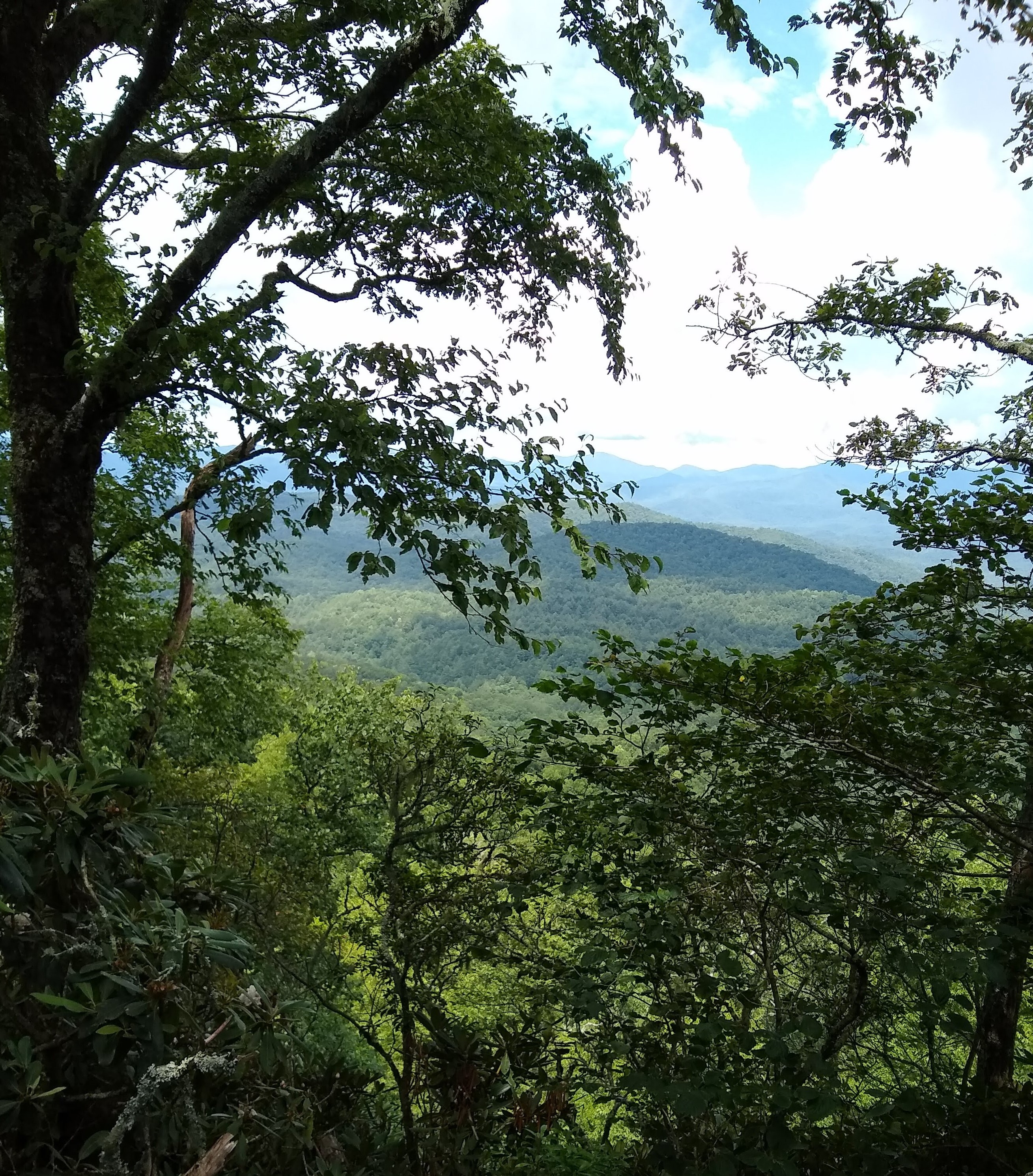 The trail follows mountain streams and has many small waterfalls. You can hike to the top of Lookoff Mountain. At the top of the mountain, enjoy the breathtaking Wolffork Valley view. From there you can also see surrounding mountains.
Tennessee Rock Trail
2.2 mile loop – Moderate to Difficult.
Follow the yellow blazes to hike the Tennessee Rock Trail. The trail takes you through high, lush forests. This is the park's most popular hiking trail.
This trail has a moderate to difficult rating. You can also enjoy expansive views that stretch for miles when you hike this trail. These views let you see parts of 3 states.
An EF-2 tornado damaged the forest on the the trail's western edge. Even though trees were lost, the damage made room for new growth. You can already see new growth as you hike the trail. Also, the lost trees opened several new views along the trail.
ADA Hi Falls Trail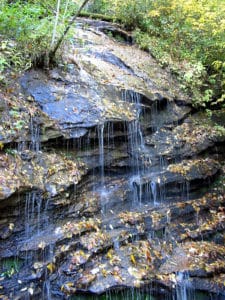 0.25 mile in and out – Moderate to Difficult.
Even though it is a short hike, many hikers will find it a challenging hike. The trail has old hardwoods and rocks covered with green lichen. Enjoy the many different types of green ferns and multicolored wildflowers. You will also like the colorful rhododendron.
At the end of the trail, you might be surprised by the noise. Even though fairly small, ADA Hi Falls makes a lot of noise.
What Gear Did I Use?
Directions From Clarksville, Georgia
Follow Old Historic U.S.441 N to US-23 N/US-441 N – 10 min (5.7 mi.)
Head northeast on Springwood Dr. toward Madison St. – 105 ft.
Take a left turn onto Madison St. – 207 ft.
Turn right onto W Wayne St. – 249 ft.
Turn left onto Old Historic U.S.441 N/Washington St. – 0.2 mi.
Continue straight onto GA-385 N/Old Historic U.S.441 N/Washington St.
Continue to follow GA-385 N/Old Historic U.S.441 N – 5.3 mi.
Turn right onto GA-385 N – 443 ft.
Turn left onto US-23 N/US-441 N
Pass by O'Reilly Auto Parts (on the right in 18.9 mi) – 25 min (21.9 mi.)
Drive to Black Rock Mountain Pkwy. – 10 min (3.1 mi.)
Turn left onto Black Rock Mountain Pkwy. – 0.4 mi.
Continue onto Black Rock Mountain Rd. – 0.6 mi.
Slight right onto Black Rock Mountain Pkwy.
Destination will be on the left
Summary – Black Rock Mountain State Park
Enjoy all the park has to offer. Especially, enjoy the hikes you can take at Black Rock Mountain. These hikes offer stunning scenery and lush forests. The park's high altitude allows you to have beautiful mountain views. Enjoy the deep green forest and multicolored wild flowers as you hike here.
Be sure you Leave No Trace as you relax and hike these trails.
Pin this post for later: