We may earn money or products from the companies mentioned in this post.
Overview – Best Hiking Boots
The 11 best hiking boots for women offer you a selection of sturdy, comfortable, well-made hiking boots. Each boot offers you an affordable choice too. Select a pair of the best hiking boots for women so you have a comfortable and fun hike!
Well crafted boots:
Protect your feet from rugged trails
Help keep you steady
Keep your feet dry
Be sure you invest in a well-made pair of hiking socks too so you have comfortable feet, and you avoid blisters. Learn more about hiking boots!
All of these hiking boot makers follow or are beginning to follow Fair Trade practices.
The posted prices are the manufacturer's suggested retail price (MSRP).
What are the Differences Between Men's and Women's Feet?
The main differences between women's and men's feet include:
Smaller feet
Wider in the forefoot and toe area
More narrow at the heel
More flexible than men's feet
Require more insole and arch support
Know the differences between women's and men's boots. Read this to learn more about how women's feet differ from men's feet. Your feet will thank you!
Columbia Women's Newton Ridge Plus Hiking Boots
The Columbia Women's Newton Ridge Plus Hiking Boots features and benefits include:

Waterproof
Each boot has leather and man-made uppers
The men's and the women's boot each give you very good traction
Both of the boots provide comfortable support
Modestly priced
MSRP – $79.95
Boot's Description
Columbia's hiking boots give you good looking, lightweight, strong boot. The boots have heavy-duty leather and mesh uppers.
These boots have waterproof, sealed seams so rain, mud, or puddles do not get your feet wet on your hike. Columbia gives you a cushioned boot with excellent support and rubber outsoles that grip the trail.
Expect to hike comfortably for many miles over rocks, grass, gravel, and roots.
Columbia – The Company
Columbia Sportswear started doing business as a family-owned hat dealer. The company founders fled Nazi Germany in 1937. The founders moved to Portland where they bought a hat dealership.
The company's name, Columbia Hat Company, came from the nearby Columbia River. In 1960, Columbia Hat Company became Columbia Sportswear Company. Currently, Columbia has its headquarters in Oregon, just outside of the city of Beaverton.
Columbia became a public company in 1998. In 2003, Columbia began acquiring outdoor companies. First, it bought footwear maker Sorel. In 2003, the company bought Mountain Hardwear. Next, Columbia bought the Pacific Trail and Montrail brands in 2006. The most recent purchase was prAna in 2014.
Interestingly, Columbia announced a plan to sponsor Bubba Wallace and Petty Motorsports. Bubba Wallace took a stand against Confederate flags at NASCAR races. Mr. Wallace's stance led to NASCAR banning the flags at races.
Hoka One One Women's Sky Toa GTX Hiking Shoes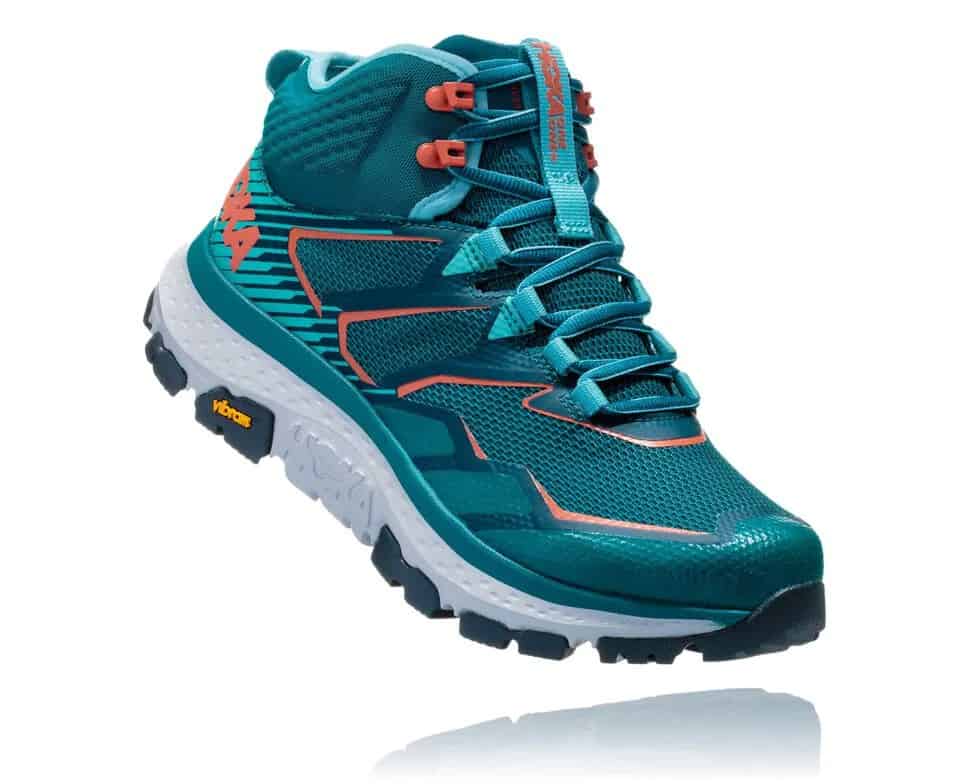 The Hoka One One Sky Toa GTX Women's Hiking Boots give you features and benefits that you expect in one of the best hiking boots for women. Features and benefits include:
Waterproof bootie that keeps your feet comfortable and dry
Technical synthetic upper offering durability, breathability, and light weight
Midsole foam that offers durable cushioning and a responsive feel
Vibram® Megagrip hi-traction outsole
Multidirectional lugs for the best grip on different kinds of hiking trails
$170.00 MSRP
Boot's Description
Speed hiker perfectly describes the Toa. Using the HOKA ONE ONE® trail running expertise and innovations, Hoka built a "lightest in class", waterproof hiker. Enjoy hiking any kind of trail when you wear the Toa.
Everything about the Toa was checked. Toa checks were made from a functional and weight-saving point of view. From the tough, breathable man made upper, to the rubberized foam midsole, and the Vibram® Megagrip outsole lugs, all parts are technically solid and efficiently lightweight.
The cushioned running shoe feel is intensified by an eVent® waterproof bootie. The bootie keeps your feet dry and comfortable. Your feet will love the Toa no matter which trail you choose to hike!.
Hoka – The Company
Nicolas Mermoud and Jean-Luc Diard founded Hoka One One in 2009. Formerly, they worked for Salomon. The founders designed a shoe that allowed them to run downhill faster. The first shoe had an oversized outsole with more cushion than other shoes at the time. The shoes are named after the Maori language phrase that means "fly over the earth".
At first, the shoes were embraced by ultramarathon runners due to the shoe's great cushion and stability. HOKA was purchased on April 1, 2013 by Deckers Brands, the parent company for other well-known outdoor footwear brands.
Hoka partners with a variety of groups that support human rights and improving the outdoors experience. Hoka's partnerships include:
KEEN Women's Gypsum II Mid-Ankle Waterproof  Boot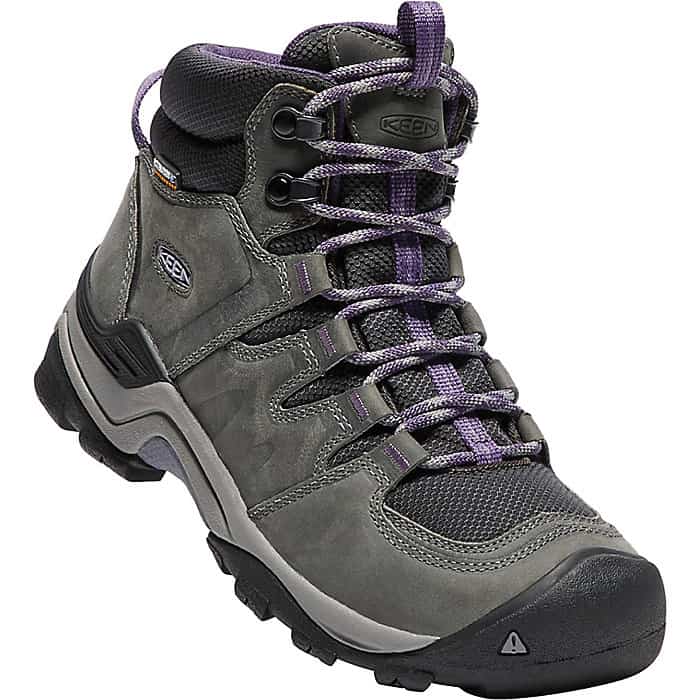 The Women's Gypsum II Mid Waterproof boots features and benefits include:
Nubuck leather and man-made uppers
A soft, comfortable midsole
Waterproof so your feet stay dry
Provides good traction and foot support
MSRP – $114.99
Boot's Description
Enjoy these versatile hiking boots on day hikes or for much longer overnight hiking trips. Keen uses waterproof leather and mesh to keep your feet dry and trail trash free. These stable boots help you balance your backpack. With shock absorption, structured heel support, and a soft, comfortable collar, this trail-tested hiking boot is ideal for day hikes and overnights. The boot's tread keeps you stable on rough trails.
Keen – The Company
A fairly young company, the first Keen sandals, and shoes were made in 2003. At first, Keen found a market in sailing and other outdoor water activities.
Now, they have products for many outdoor activities as well as hiking shoes and boots. Products include casual and cold-weather footwear, bags, and clothes.
Keen grew quickly since it began. Footwear News named the company 2003's "Launch of the Year". In 2009, the company had sales of $130 to $140 million. By 2011, revenue was about $240 million. Now Keen has around $347 million in revenue.
The company values show their interest in improving the outdoors. In 2004, Keen joined a relief effort for the Asian tsunami. They used their $1 million advertising budget to help with the tsunami relief. 
Keen partners with groups who share their vision to improve the outdoors. Groups include:
Keen also helps veterans provide protective footwear for those in need. The partnerships support conservation corps work across America too.
KEEN Women's Targhee II Mid-Ankle Boot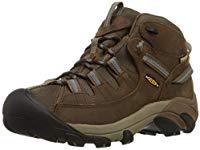 The KEEN Women's Targhee II Mid-ankle boots features and benefits include:
Nubuck leather and man-made uppers that make them sturdy and comfortable
A comfortable, soft midsole
Waterproof to keep your feet dry
Provides good traction and foot support
MSRP – $140
Boot's Description
Another great Keen choice, the Targhee II waterproof hiking boots keep your feet dry while letting your feet breathe. The grippy sole grabs the trail to keep you stable on your hike. This boot gives you ankle support and all-day comfort.
Lowa Women's Renegade Mid-Waterproof
The Women's Renegade features and benefits include:.
Nubuck leather uppers
A GORE-TEX® lining for dry feet
Women's boots made with female-specific features
$240 MSRP
Boot's Description
Lowa uses gender-specific lasts (shoe molds) to construct their women's boots. Lowa makes their women's boots with a  narrower heel and narrower in the ball of the foot area. 
Making their boots for a woman's foot gives you a better, comfortable fit. Lowa was first with boots made for women's feet. Their women's boots are not just a smaller man's boot! Read about why you want a boot made for women's feet.
Even though the Lowa boots have a premium price, you get a premium boot. The Lowa Renegade's comfort, fit, and durability set a hiking boot standard. Made for a woman's' foot, really think about a pair of these best hiking boots for women.
Lowa – The Company
Lowa began doing business in 1923. A Barvarian cobbler made sturdy work boots for his neighbors. Funding for the company came from a side business with his brothers. Their side business was the Wagner Orchestra.
The original founder, Lorenz Wagner, was replaced during WWII since he did not support the Nazis. After the war, the business grew until it slowed in 1953. In 1955, the founder's daughter took over and helped the company begin growing again.
In 1970, Lowa was the first company with a way to use dense foam that allowed high-volume production. Also, the foam has the durability of wood but does not crack or rot. The company was first with tough rubber soles too.
Lowa supports many outdoor non-profit groups. Some of the groups include:
Merrell Moab 2 Mid-Ankle Women's Boot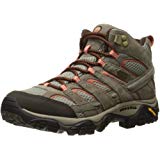 The Merrell Women's Moab 2 Mid-ankle hiking boots features and benefits include:
Waterproof, suede leather and mesh uppers
A comfortable midsole that offers you good traction
MSRP – $135.00
Boot's Description
Out-of-the-box, enjoy a very comfortable hiker. These women's boots offer durable leathers and footbeds with strong support. Include outstanding traction, and you understand why Moab stands for Mother Of All Boots™. Many consider the Moab 2 one of the best hiking boots for women.
Merrell – The Company
Since their beginning, Merrell made hiking boots. Two of the first founders partnered with a custom boot maker. The boot maker was R.I. Merrell. When they partnered in 1981, Merrell made custom hiking boots that sold for $500.
The partners wanted a more affordable boot. So, in 1982, Merrell designed that boot. In 1986, Merrell sold his part of the company so he could return to making custom boots.
Wolverine Worldwide bought Merrell in 1997. Now Merrell also sells trail running shoes, sandals, and outdoor clothes.
Merrell's partnerships reflect the company's values. Merrell supports:
New Balance Women's 1400 Walking Shoe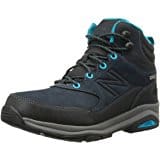 New Balance's popular walking boots feel like a walking shoe built for rough trails. Features and Benefits include:
The shoe's waterproof membrane, leather upper, and tongue keep your feet dry
The shoe also stabilizes your foot
Made in the U.S.A.
$149.99 MSRP
Boot's Description
Take a hike in the New Balance 1400 hiking boots! One of the best hiking boots for women, these boots feel like a walking shoe made for hiking tough trails. The boots have a waterproof lining, leather upper, and a gusseted tongue to keep your feet dry. Exceptional rear and midfoot stability help keep you on the right path.
New Balance – The Company
New Balance began in 1906 over 100 years ago! The company was founded by an Irish immigrant.
The founder, Mr. Riley came up with the name "New Balance" by watching chickens in his yard. He showed how his shoe's arch supports worked by keeping a chicken foot on his desk. He told customers that the chicken's three-pronged foot caused perfect balance.
In 1960, New Balance made the first running shoe with a ripple sole. The shoe, the "Trackster" was also the first running shoe to come in different widths.
For a long time, the shoes were marketed mostly by word-of-mouth or local sports fairs. Sales were slow until 1972. Since the company was based in Boston, sales grew in the 1970s. In the 1970s, Boston was a center for the U.S. running boom.
Now New Balance has sales of $4.5 billion. In addition to hiking boots, products still include running shoes as well as athletic clothes.
New Balance gives back by partnering with worthy groups that include:
Salomon Women's Vaya Mid-GTX Hiking Shoes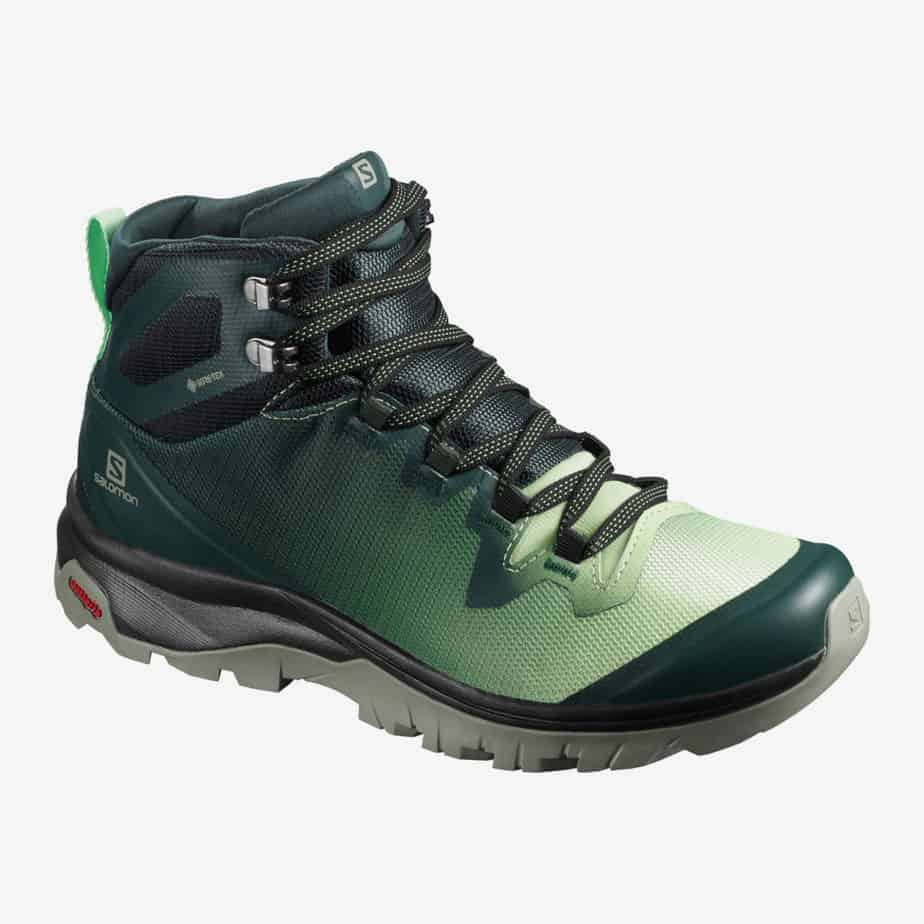 The women's Vaya benefits include:
Women specific with a soft collar and made for a woman's foot
Out of the box comfort
Hiking ready with:

High ankle support that keeps your feet stable
Two stretch panels that allow your foot to expand
Made with long-lasting, sturdy mesh
A strong grip outsole
Gore-Tex waterproofing

MSRP – $160.00
Boot's Description
The new, made for a woman's foot, VAYA MID GTX hiking shoe was designed for outdoor women so you enjoy your hike. The soft collar snuggly adapts to your foot. Higher ankle support, sturdy mesh, strong gripping outsoles, and a waterproof Gore-Tex membrane protect your foot while your foot grips the trail.
Salomon – The Company
Salomon has been playing in the French alps since 1947. A passion for outdoor sports, new technologies, and craftsmanship drives the company to create progressive gear.
Company milestones include:
1947, opened as the Salomon wood saws and ski edges workshop
1966, Salomon ski bindings are used at the Chile Olympic games
1972, became the #1 binder in the world, sold more than a million pairs of bindings
1979, Salomon Alpine boots, immediate success
1985, New headquarters in Metz Tessy, Annecy and 200 million Euros sales
1992, first hiking shoe
2005, acquired by AMER Sports
2019, unveils WMN campaign to empower women in the outdoors
These features and benefits make the Vaya one of the best hiking boots for women.
A few examples that show Salomon's sustainability commitment:
The Salomon Foundation was created in 1999 in order to support mountain professionals and
athletes hurt during their sport activities.
The company manages and updates Restricted Substances Lists specific to core product categories.
Salomon has been a bluesign® System Partner since 2013 and commits to the using more
sustainable textiles chemistry.
Salomon is a Sustainable Apparel Coalition member and an active
Higg Index participant.
Salomon's global headquarters at the Annecy Design Center is ISO14001 and
ISO 50001 certified (energy, water and risks management).
Salomon signed the United Nations Fashion Industry Charter for Climate Action.
Outdoor groups supported by Salomon include:
The North Face Women's Ultra Fastpack IV Mid Futurelight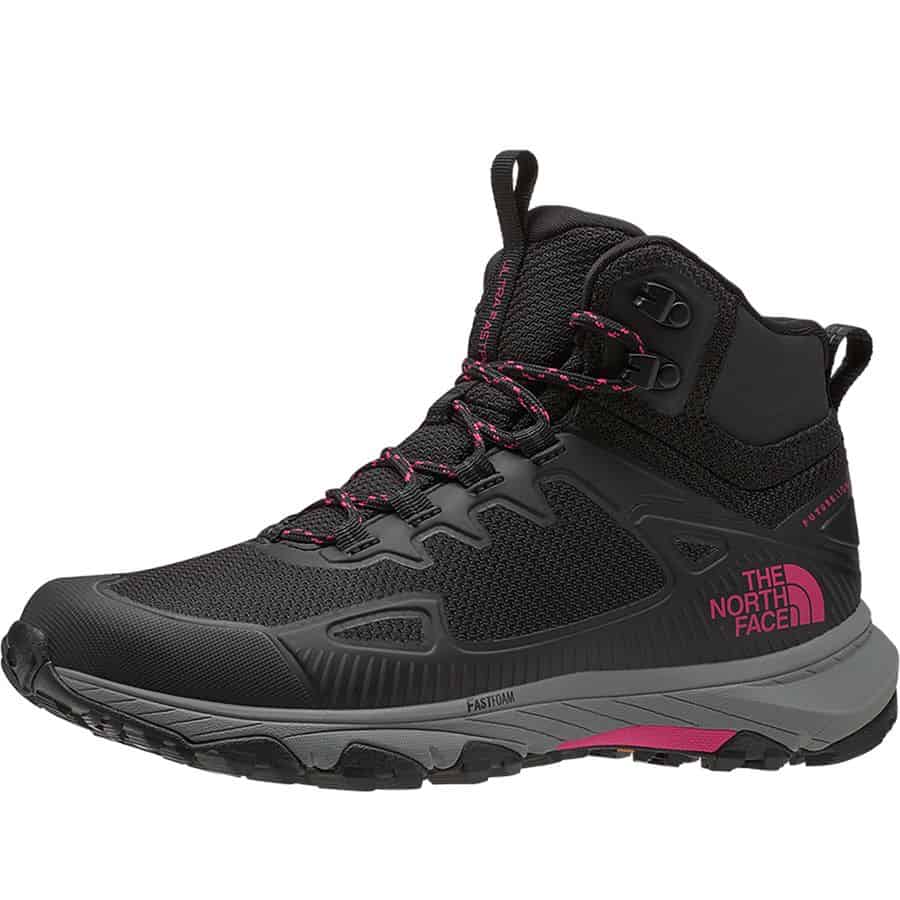 Benefits include:
OrthoLite® X35™ Hybrid™ footbed made with 5% recycled rubber content
Protective toe cap and heel overlay
Upper: Abrasion-resistant performance mesh with no-sew TPU overlays
Integrated ghillie lacing system
Gusseted tongue
Breathable, waterproof FUTURELIGHT™ membrane
Stairstep lug design
Vibram® Megagrip outsole
MSRP- $160.00
Boot's Description
The trail-styled Women's Ultra Fastpack IV Mid FUTURELIGHT™ provides extra ankle support. The boot features a premier waterproof-breathable fabric so your feet stay dry. The surprisingly light mid-top boot has a tough mesh upper that keeps your comfortable on the roughest, wettest trails.
Also, you get a super-grippy outsole and a responsive midsole. Enjoy every step as you hike twisty trails and jagged ridgelines with the Ultra Fastpack Hiking Boots. The midsoles help you navigate with better support and more endurance. The reliable Vibram soles keep your feet on the trail when the footing gets tricky.
The North Face – The Company
In 1966, two outdoor lovers chose to follow their passion. The two started a small mountain climber's retail store. In the beginning, the company wanted to serve all those who desired to explore. The company also wanted to help save our natural wildlands.
The North Face believes that exploring makes a lasting bond with the outdoors. The bond inspires people to protect our shared land. The bond also encourages nature lovers to pass their beliefs from generation to generation. This belief also makes them another of the best outdoor gear brands.
The North Face now has hiking and outdoor clothing that includes:
Jackets & vests
Gloves
Hats
Jackets
Hoodies
Sweatshirts
Pants
Shorts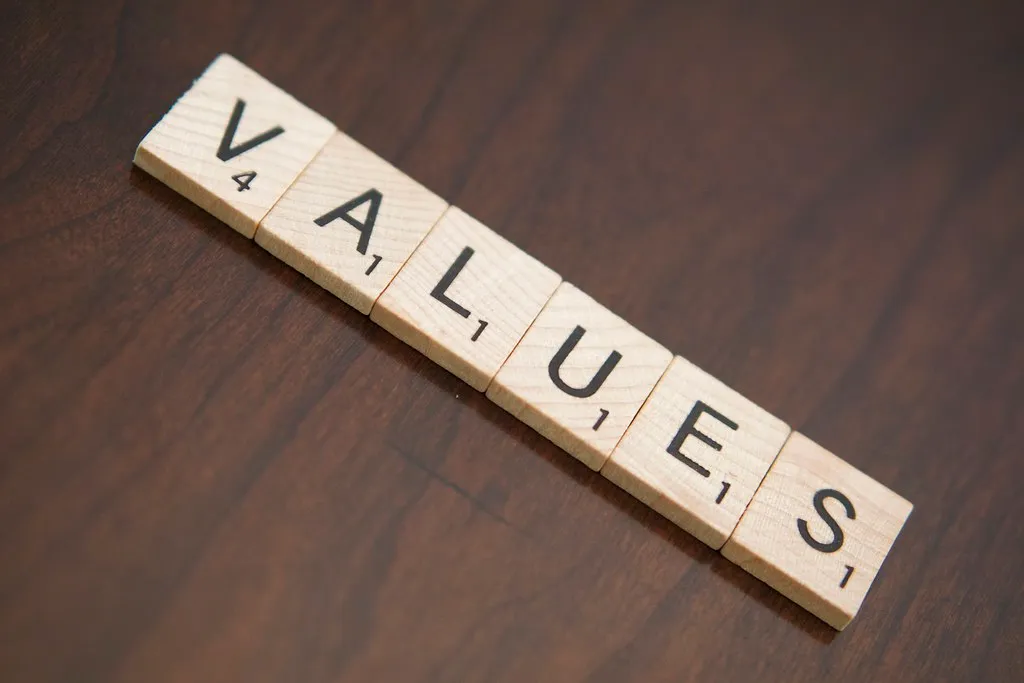 The North Face's values stress:
Using recycled materials
Using responsible cotton
Making long-lasting products
Responsible chemical use:
Partnering with Bluesign Technologies:

Bluesign – safe cloth and fabrics for workers, buyers, and the earth  

Following the Leave No Trace rules
Protecting the Arctic by support for:
Co-founding The Conservation Alliance

The alliance helps protect lands and waterways for wildlife and for people to enjoy.

Climate Change Advocacy with Ceres
Asking our elected U.S. leaders to support:

Low-carbon policies
Invest in a green economy
Timberland White Ledge Women's Waterproof Boot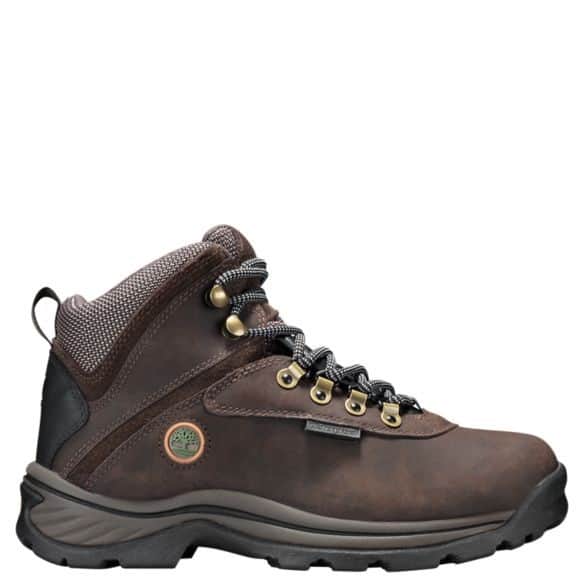 The Timberland Women's White Ledge features and benefits include:
Leather uppers and midsole
A waterproof upper that keeps your feet dry
Good traction on the trail
$79.95.00 MSRP
Boot's Description
The Timberland White Ledge men's and women's boots give you good looking outdoor styling. In addition, the boots offer you complete protection from the rain and from water crossings. When you wear these boots, hiking the trail seems effortless! The leather White Ledges also features a shock-absorbent cushion for your hiking comfort. Rubber soles give you great traction. All of these features come with the well known Timberland stylish look.
Timberland – The Company
The company began as a family business. An immigrant, Nathan Swartz, bought one-half of the company in 1952. He soon bought out his partner and brought his sons into the business.
The Abington Shoe Company, as Timberland was first known, moved to Newmarket, New Hampshire. Newmarket is known for its majestic mountain ranges, rocky shorelines, dense forests, rivers, and lakes.
In 1973, the original waterproof boots called the "Timberland" was invented. The boots were rugged, well-made, and could be worn in all kinds of weather.
Those who loved the outdoors and who needed protection in all weather wanted the boots. Also, trade workers who needed rugged boots loved them. Many people liked the boots just because they wanted a great looking pair of boots!
These boots defined the brand. They were so popular that in 1978 the entire company was named Timberland!
Timberland wants a greener world and wants to help feed the world. The company partners with these groups to plant 50 million trees by 2050 and help feed the world:
Vasque Women's St. Elias GTX Hiking Boots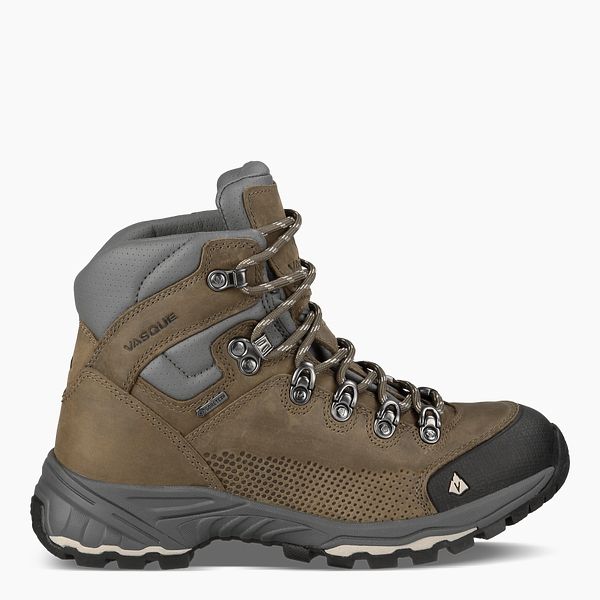 Benefits include:
Speed lace system for improved hiking comfort
Durable Vibram soles
Lightweight, durable EVA cushioned midsole
Moisture wicking textile lining
Waterproof Nubuck Upper
Breathable Gore-Tex for waterproofing
MSRP – $199.99
Boot's Description
The St. Elias Full-Grain GORE-TEX® pushes the limits of hiking boot performance with premium materials. The materials deliver long-distance durability and all-day, waterproof comfort. The updated St Elias FG GTX skips the break-in period. The boot delivers all-day comfort with the first wear. Straight out of the box and onto the trail, the midsole and outsole systems provide athletic flexibility. The systems also provide foot comfort for long distance hikes. A waterproof nubuck leather upper and GORE-TEX membrane stand up to the rigors of backpacking. The leather plus GORE-TEX also ensures peace of mind in wet conditions.
Vasque – The company
Vasque founder William Sweasy traveled to Europe in 1964 and witnessed a hiking craze sweeping the continent. He returned home determined to create purpose-built trail boots for Americans In the decades that followed, Vasque steadily built a legacy of outdoor excellence, one pair of footwear at a time. The company's legacy is stronger than ever today, and they ready to help be ready for adventure in the years to come.
Conclusion – Best Hiking Boots
Boots protect your feet when you hike a rugged trail.  The protection from a pair the best hiking boots for women keeps your feet from feeling every rock and hole on a trail. Boots also support your ankles and help you keep your footing. A good pair of hiking boots keep your feet dry too.
You have a more pleasant hike when you wear a pair high-quality boots. Consider one of the best hiking boots for women!
Learn more about what you want to look for when you consider new hiking boots!
Pin this post for later: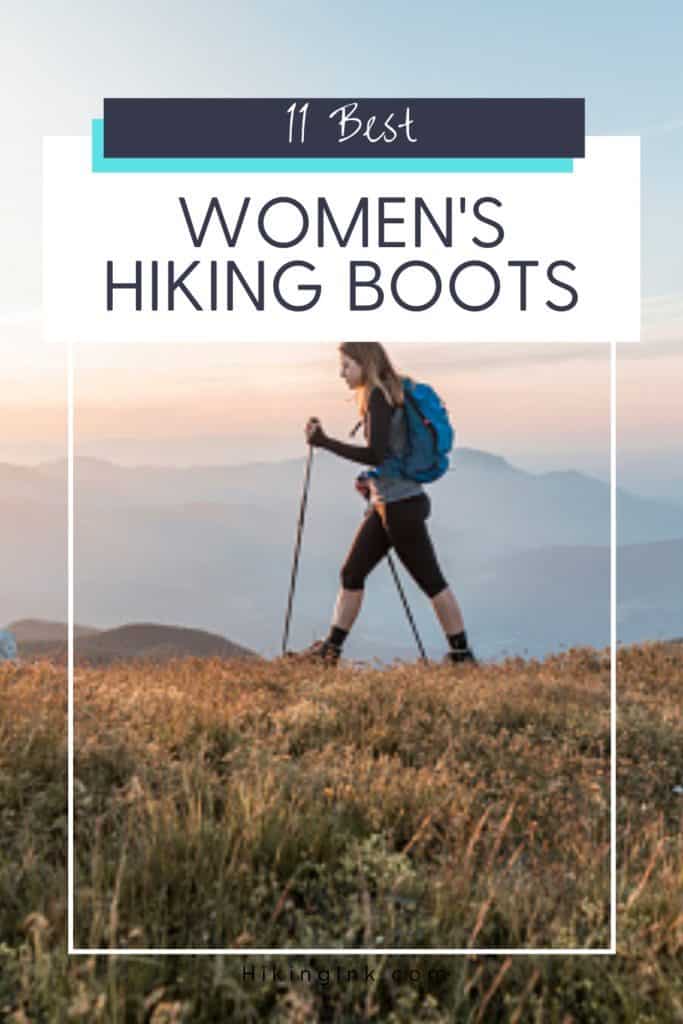 We may earn money or products from the companies mentioned in this post.