We may earn money or products from the companies mentioned in this post.
Why Do You Want Quality Hiking Boots and Hiking Socks?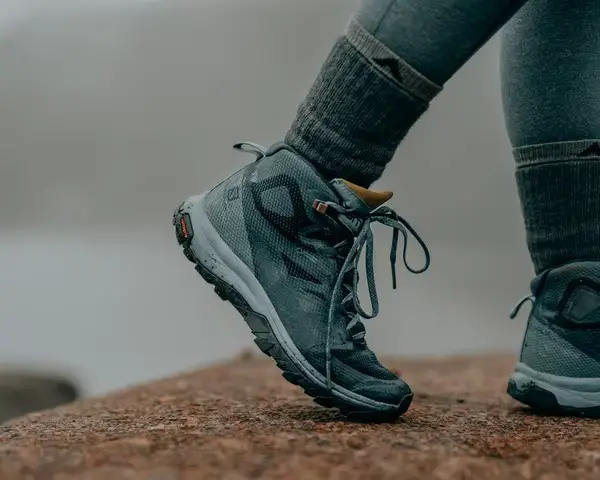 Quality hiking boots and hiking socks are a good investment for several reasons. Generally, you want comfortable feet when you hike.
When your feet are comfortable, you have a more enjoyable hike. Also, quality hiking boots and socks last longer.
Boots 
Simply put, quality hiking boots protect your feet and ankles.
Boots protect your feet on a rugged trail.  A good pair of boots are stiff enough to protect you from the trail.
The boots keep your feet from feeling every rock and hole on a trail. Quality boots also help keep trail debris out of your boots.
Boots help support your ankles and help keep your footing. A good pair of hiking boots keep your feet dry too. Many hikers use mid-weight boots that feel good on most trails.
Be sure to choose hiking boots made especially for men or women.
You have a more pleasant hike when you wear high quality, well-crafted boots!
Parts of a Quality Hiking Boot and Why They Matter:  
Hiking boots have four main parts. The  parts are the: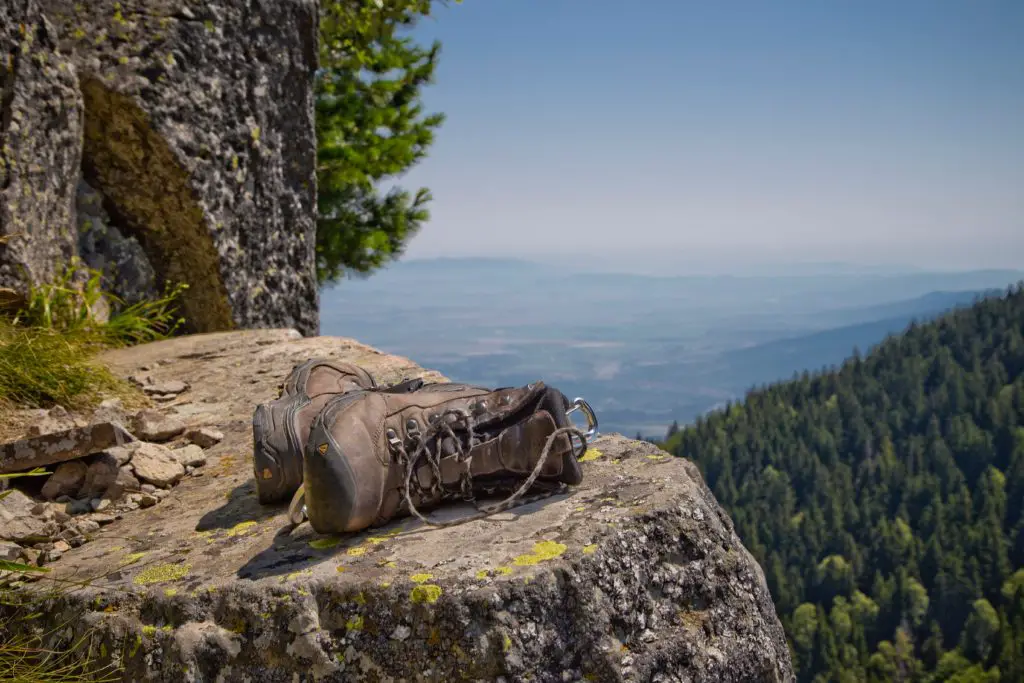 Uppers – This is the part of your boot that covers your foot.
Midsoles – This is the part of your boot between the upper and the outsole. The midsole cushions your foot and helps protect your foot from feeling hard or sharp objects.
Insole – The Insole is what your foot stands on and needs very good arch support.
Outsole – This is the bottom of your boot and helps your feet grip the trail and also helps protect your feet from objects on the trail.
Each part of your hiking boot helps give you a more comfortable hike.
The Uppers
Your boot upper is either:
Leather
Man-made substance
There are three main kinds of leather. The differences in leather depends on the part of the cow's skin used to make the leather. Boot uppers have three main kinds of material too.
Leather Types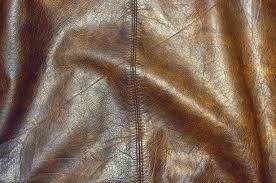 The three main types of leather include:
Full-Grain
Nubuck
Split Grain
Full-Grain and Nubuck leather come from the outside of the cow's skin. These leather types are sturdy. 
Full-Grain leather is the sturdiest leather. This leather was not treated to remove natural marks.
Nubuck leather has a soft finish caused by sanding or buffing. Nubuck is sturdy leather and requires little care.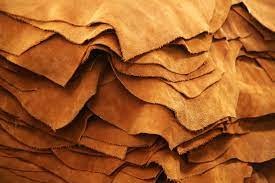 When making boots, cow skin is split into two pieces to make boots. Split Grain leather is the bottom and least sturdy layer.
Sometimes, Split Grain and a man substance are combined to make a lighter boot that breathes better. The combined leather and man-made substance boot do not last as long as Full-Grain or Nubuck leather.
The three main kinds of man-made uppers include:
Polyester
Nylon
Man-made leather that looks like leather.
These man-made boots are:
Lighter
Breathe better
Less expensive
Less sturdy
These boots need a liner if you want your feet to stay dry.   
Midsoles 
Boots usually have EVA or Polyurethane (PU) Mid-soles. Each is man-made. EVA is lighter, softer, and costs less. EVA gives you less support and does not last as long.
PU gives you more support, and lasts longer, but is heavier, and costs more. Also, you need to wear your PU boots often. They can fall apart if not worn very often.
Insole
The Insole keeps your foot stable and supports your foot's arch. The hiking boot's Insole is not soft and not supposed to be soft. The boot's Insole helps your foot by keeping your foot stable and giving your foot arch support.
Outsole
The Outsole has pieces that jut out. These pieces are lugs. Lugs help you keep your footing on loose, wet, or uneven trails. The Outsole also helps protect your foot from the trail.
Why Do You Need Quality Hiking Socks?
Hiking Socks are easy to overlook, but they are important! When you choose your Hiking Socks, you want to think about:
How high your socks are
What kind of fabric are your socks
How much your socks cushion
How your socks fit
Invest in a pair of quality hiking socks. Quality socks help keep your feet comfortable on the trail by cushioning your feet. Also, as you hike, well made socks help your feet stay blister free.
Sock Height
When considering what height hiking sock, consider crew socks. Crew socks are the most common height socks.
Crews are a few inches above your ankle. They keep your foot from rubbing your hiking boot. Crew height socks also cushion your heel and the ball of your foot. Crew socks are a good choice for warm weather as well as cool weather hiking.
Sock Cushion, Fabric, and Fit
Wool is a good fabric choice. Wool socks last a long time, and they dry quickly.
Your sock should be snug but not too tight. Socks that fit well help you avoid blisters. A medium cushion sock makes a good choice. 
Sock Brands
Two very good hiking sock brands are: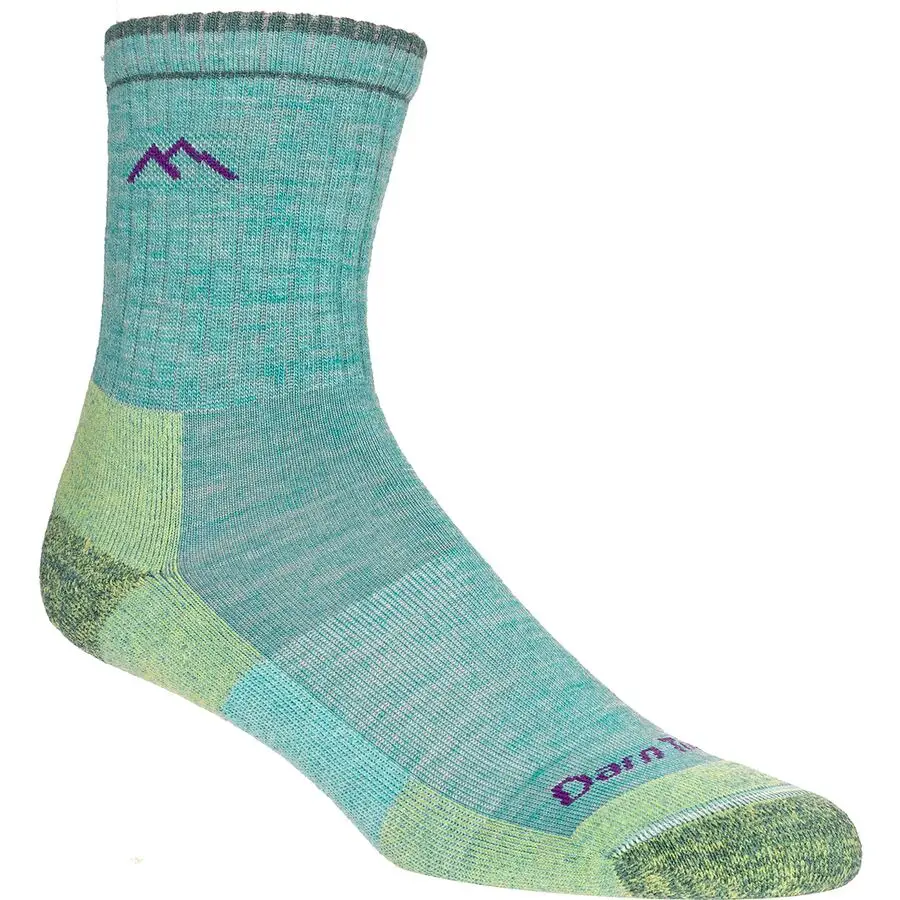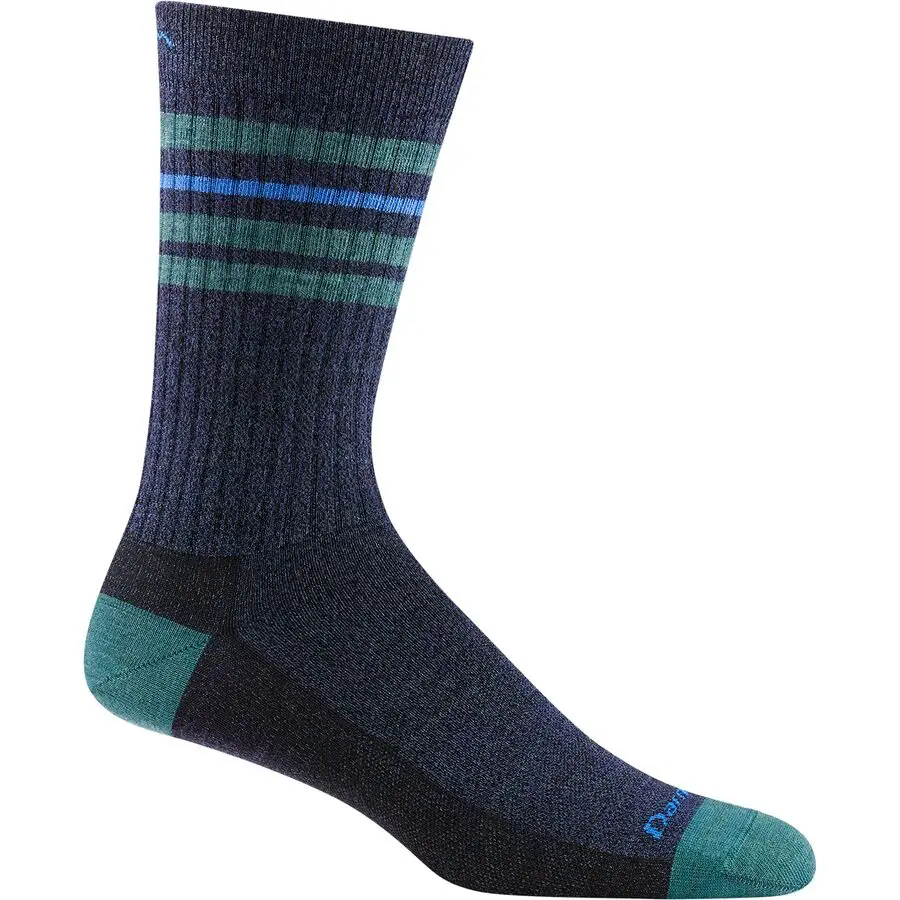 Smart Wool For Women And Men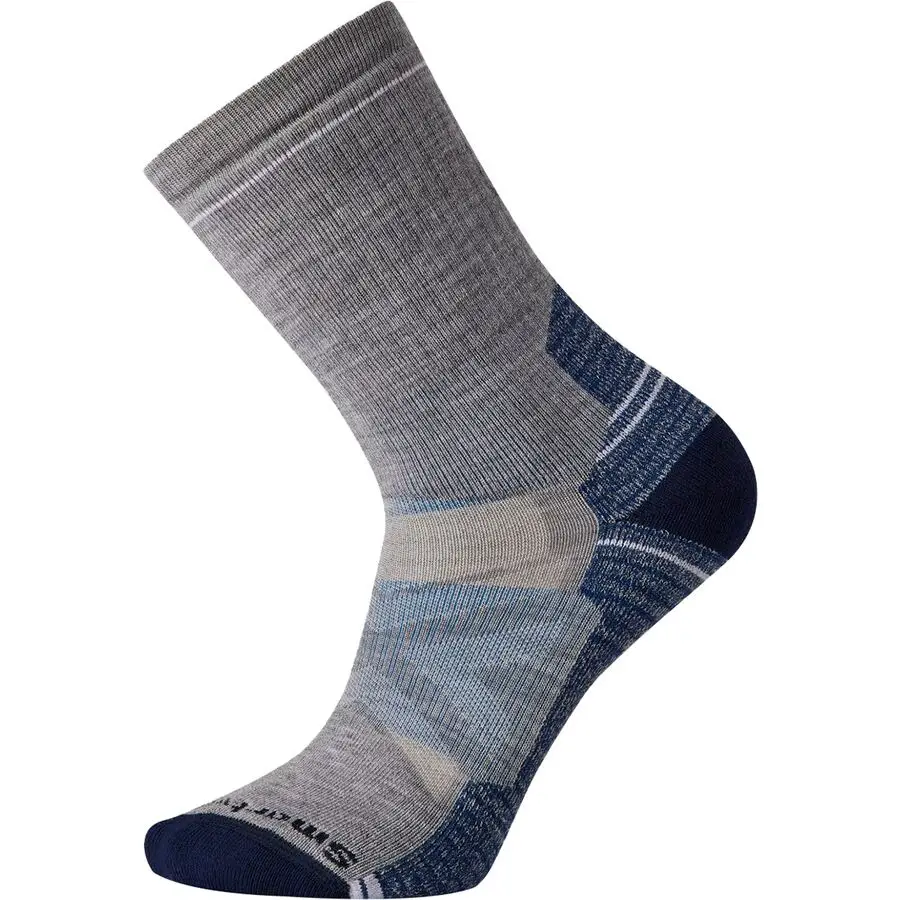 You might think a pair of these socks cost a lot. They do cost a lot. A good pair of hiking socks are worth it though!
Read for more information about Darn Tough and Smart Wool socks.
Summary – Best Hiking Boots And Socks
You want sturdy, high quality hiking boots and socks for a comfortable and fun hike!
Quality boots protect your feet from rugged trails. A good pair of boots keeps you steady on the trail. Also, a good pair of boots help keep your feet dry.
In addition, be sure you invest in a quality pair of hiking socks so you have warm, dry, more comfortable feet, and you avoid blisters.
You want both quality hiking boots and hiking socks!