We may earn money or products from the companies mentioned in this post.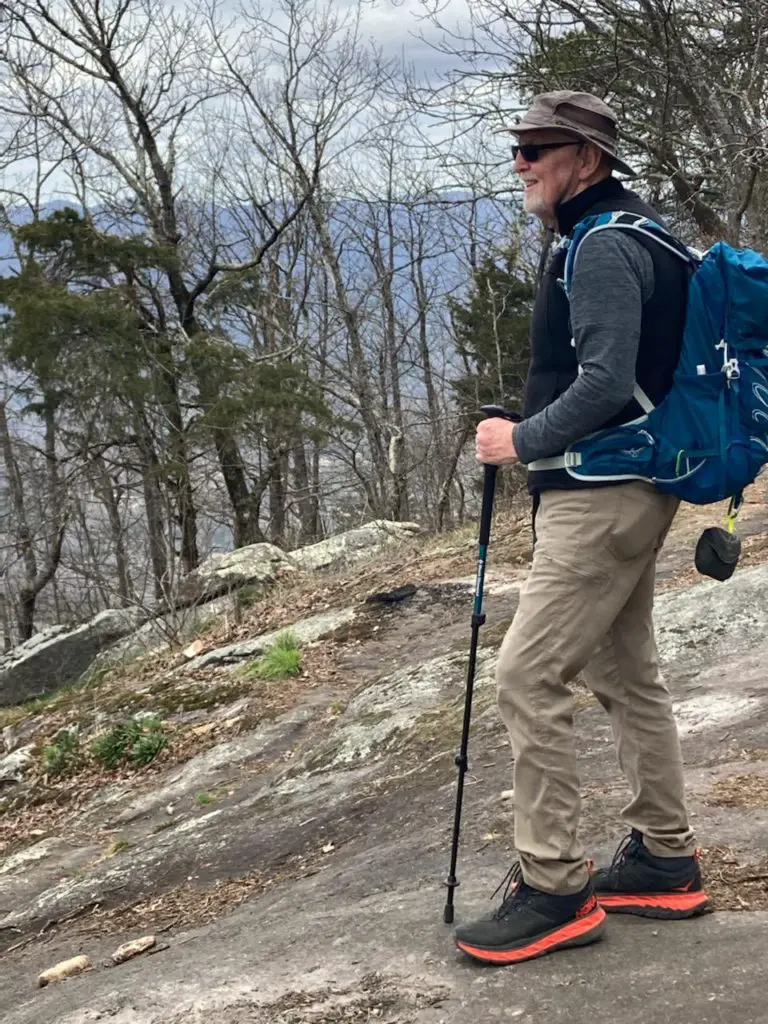 Overview – Best Hiking Boots
These 7 best hiking boots for women and men offer you a selection of sturdy, well made boots. Select a pair of these boots so you have a comfortable and fun hike!
Well crafted boots protect your feet from rugged trails. A good pair of boots also help keep you steady on the trail. A good pair of boots keep your feet dry too.
Quality costs. Still, boots should be affordable. Prices listed for these boots are the manufacturer's suggested retail price (MSRP).
All of these hiking boot makers follow or are beginning to follow Fair Trade practices. Fair trade means the workers behind the products get a fair deal.
Select a pair of boots, and get on the trail!
Altra – Women's & Men's Lone Peak All Weather Mid
Description
The Lone Peak All Weather Mid is ready for adventures of all distances. Enjoy the Lone Peak on all kinds of hikes. Wear these boots on day hikes, overnighters, week long hikes, and even multi month hiking trips.
Altra used their eVent weather resistant bootie construction to make the Lone Peak boots. eVent protects your feet from all kinds of weather. The Lone Peak All Weather Mid also features a tough outsole and a responsive midsole for a durable more durable and for your hiking comfort. Wear this boot when you want to get on the trail, and go as far as you like.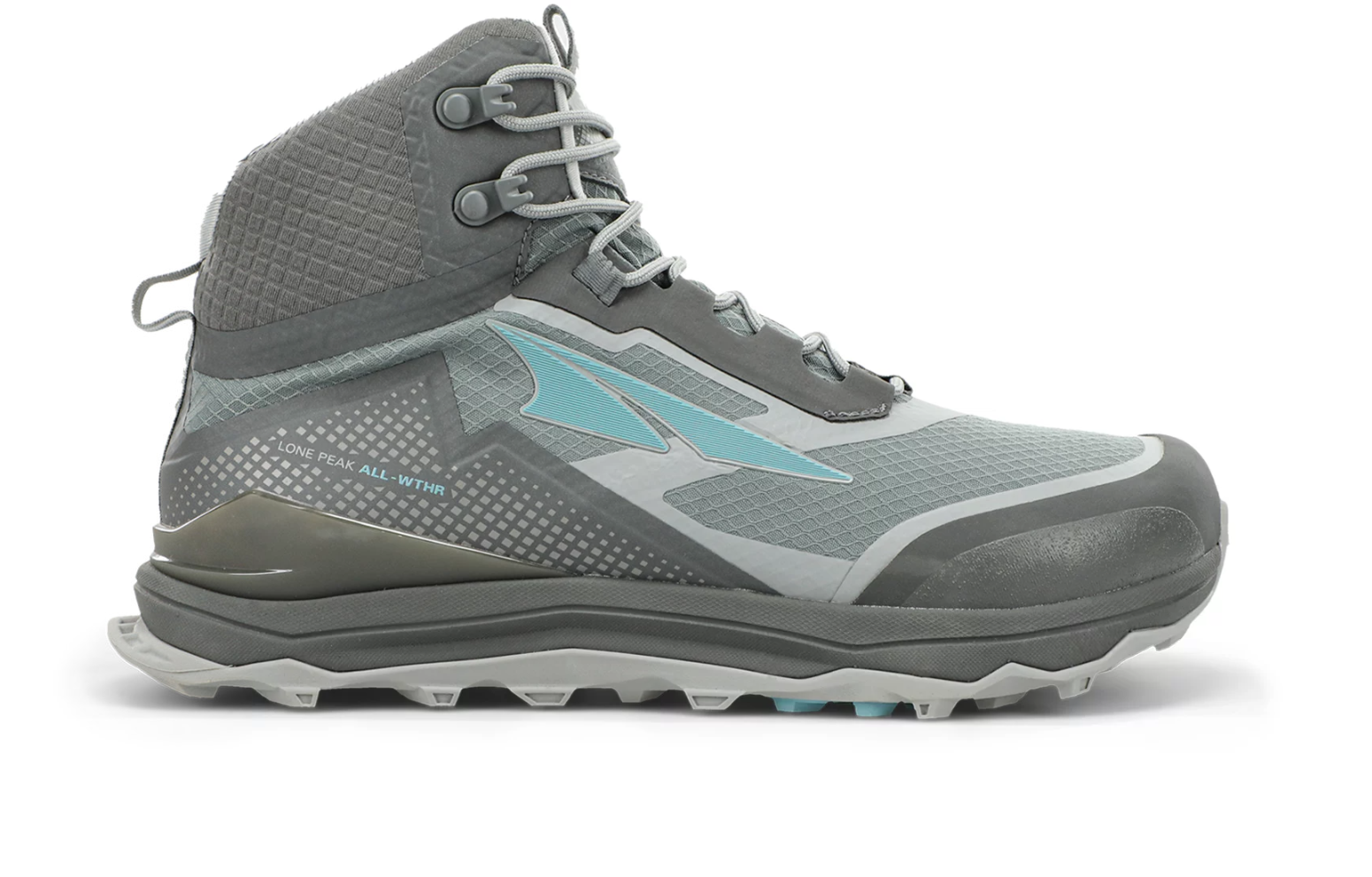 Features & Benefits
Rugged, lightweight trail hiking and running boot for going fast and far on any kind of trail
Flexible synthetic upper allows your feet to move easily
Mid height protects and supports on rough trails
Waterproof membrane keeps your feet dry; remains very breathable
Zero mm drop lets you walk naturally with forefoot strike
Soft, shock absorbing cushioning takes care of your feet on the trail
Durable rubber sole gives you a firm grip on different types of trails
Forefoot lugs give you better traction
MSRP $180
Altra – The Company
Altra Co-Founders Brian and Golden met on the first day of cross country practice as sophomores at Orem High School in Utah.
The first Altra innovation happened when Golden put a pair of shoes in a family toaster oven. The shoe heated enough to remove the heel. Using the heel, he formed what would later become the Altra Balanced Cushion platform.
Altra's values include:
Have a healthy lifestyle
Unlock everyone's potential.
Discover ourselves and our world.
Find joy.
Be responsible.
Zero:

Intolerance
Hate
Racism
Excuses
Limits
Altra partner's include:
Columbia – Men's & Women's Newton Ridge Plus Waterproof Hiking Boots 
Description
With Columbia's hiking boots, you get a good looking, lightweight, strong boot. The boots have heavy duty leather and mesh uppers so you get a tough, comfortable .
These boots have waterproof, sealed seams so rain, mud, or puddles do not get your feet wet during your hike. Columbia gives you a cushioned boot with excellent support and rubber outsoles that grip the trail.
Columbia makes these boots in a factory that supports BSR's HERproject. The project empowers women working in global supply chains by offering them health, finance, and gender equality training.
Expect to hike comfortably for many miles over rocks, grass, gravel, and roots when you hike in a pair of Newton Ridge boots.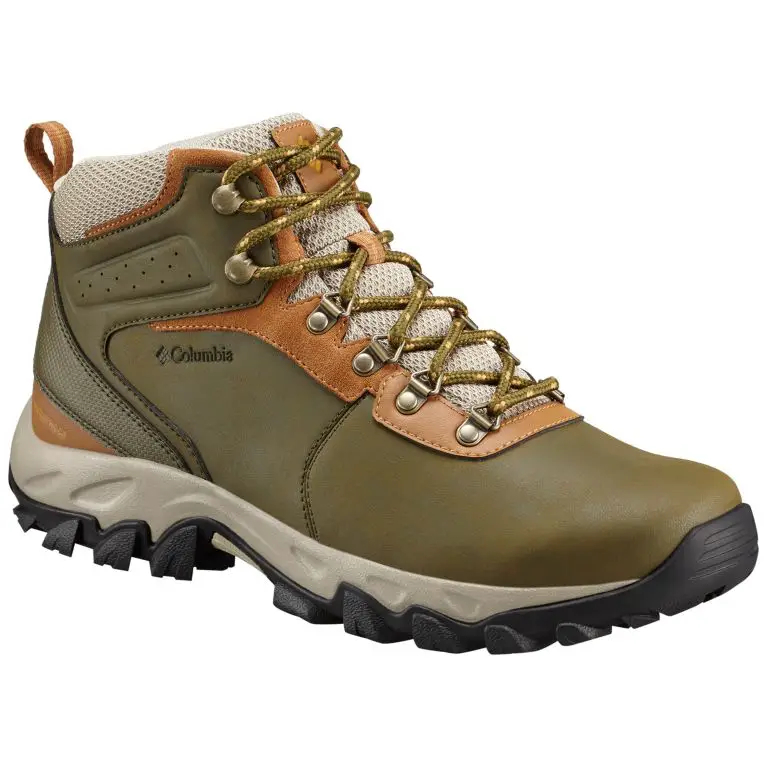 Features & Benefits
Waterproof so your feet stay dry.
Each boot has leather and man made uppers for a durable comfy boot.
The men's and the women's boot each give you very good traction for sure footing on the trail.
Both of the boots provide comfortable support so your feet feel better.
Modestly priced so they are affordable
$110 MSRP
Columbia – The Company
Columbia Sportswear started doing business as a family owned hat dealer. The company founders fled Nazi Germany in 1937. The founders moved to Portland where they bought a hat dealership.
The company's name, Columbia Hat Company, came from the nearby Columbia River. In 1960, Columbia Hat Company became Columbia Sportswear Company. Currently, Columbia has its headquarters in Oregon just outside of Beaverton.
Columbia became a public company in 1998. In 2003, Columbia began acquiring outdoor companies. First, it bought footwear maker Sorel. In 2003, the company bought Mountain Hardwear. Next, Columbia bought the Pacific Trail and Montrail brands in 2006. The most recent purchase was prAna in 2014.
Interestingly, Columbia sponsors Bubba Wallace and Petty Motorsports. Bubba Wallace took a stand against Confederate flags at NASCAR races. Mr. Wallace's stance led to NASCAR finally banning the flags at races.
Keen – Women's & Men's Targhee III Mid Ankle Boots
Description
Another great Keen choice, the Targhee III, keeps your feet dry while letting your feet breathe. The grippy sole grabs the trail to keep you stable as you hike. This boot supports your ankles so you hike in comfort all day.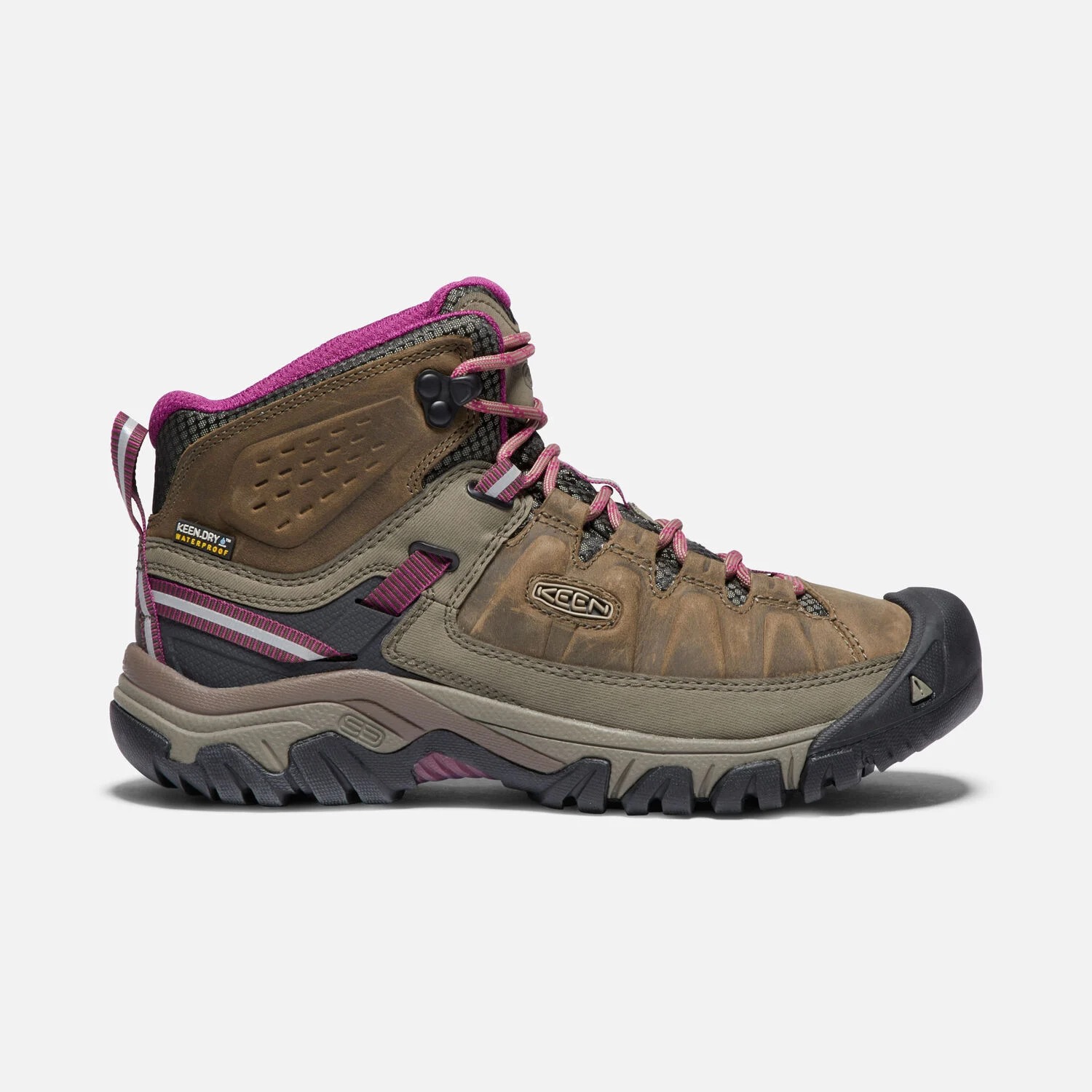 Features & Benefits
Nubuck leather and man made uppers that make them sturdy and comfortable
A comfortable, soft midsole your feet will love
Waterproof to keep your feet dry
Provides good traction and foot support to keep you steady on the trail
MSRP $165
Keen – The Company
A fairly young company, the first Keen sandals, and shoes were made in 2003. At first, Keen found a market in sailing and other outdoor water activities.
Now, Keen has has great hiking boots and shoes as well as products for many different outdoor activities. Products include casual and cold weather footwear, bags, and clothes.
Keen grew quickly since it began. Footwear News named the company 2003's "Launch of the Year". In 2009, the company had sales of $130 to $140 million. By 2011, revenue was about $240 million. Now Keen has around $347 million in revenue.
The company has values aimed at improving the outdoors for all. In 2004, Keen joined a relief effort for the Asian tsunami. They used their $1 million advertising budget to help with the tsunami relief. 
Keen partners with groups who share the company's vision to improve the outdoors. Groups Keen supports include:
Keen also helps veterans provide protective footwear for those in need. The partnerships support conservation corps work across America too.
Keen – Men's & Women's Voyageur Mid  Boot
Description
Enjoy these versatile hiking boots on day hikes or for much longer overnight hiking trips.
Keen uses water resistant leather and mesh to keep help keep your feet dry and debris free.
These stable boots help you balance your backpack. The boot's tread keeps you stable on rough trails.
With shock absorption, structured heel support, and a soft, comfortable collar the Voyageur offers you a great hiking boot. This trail tested boot is ideal for day hikes and overnights.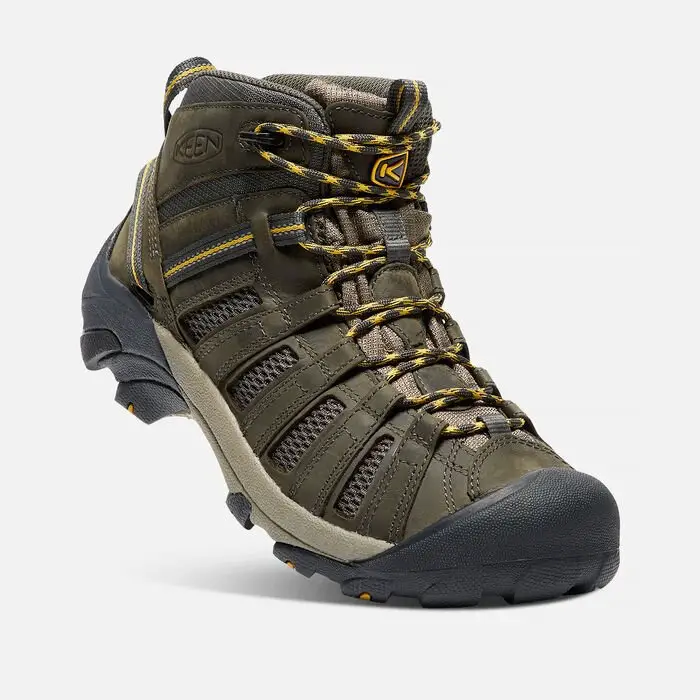 Features & Benefits
Each of the boots has leather and mesh uppers to give you a sturdy comfy boot.

The boots resist water to help keep your feet dry.

The women's and men's boots each have a soft, comfortable, removable midsole that keeps your feet feeling great as you hike.

Each boot provides good traction and foot support to keep you steady.

MSRP

$155
Lowa – Women's and Men's Renegade Mid Waterproof
Description
Lowa pioneered boots made for women's feet. Their women's boots are not just a smaller man's boot!
Lowa uses gender specific lasts (shoe molds) to construct their women's boots. Lowa makes their women's narrower in the heel and in the ball of the foot area. 
Making their boots for a woman's foot gives you a snug, comfortable fit. Read about why you want a boot made for women's feet.
Even though the Lowa boots have a premium price, you get a premium boot. The Lowa Renegade's comfort, fit, and durability set a hiking boot standard.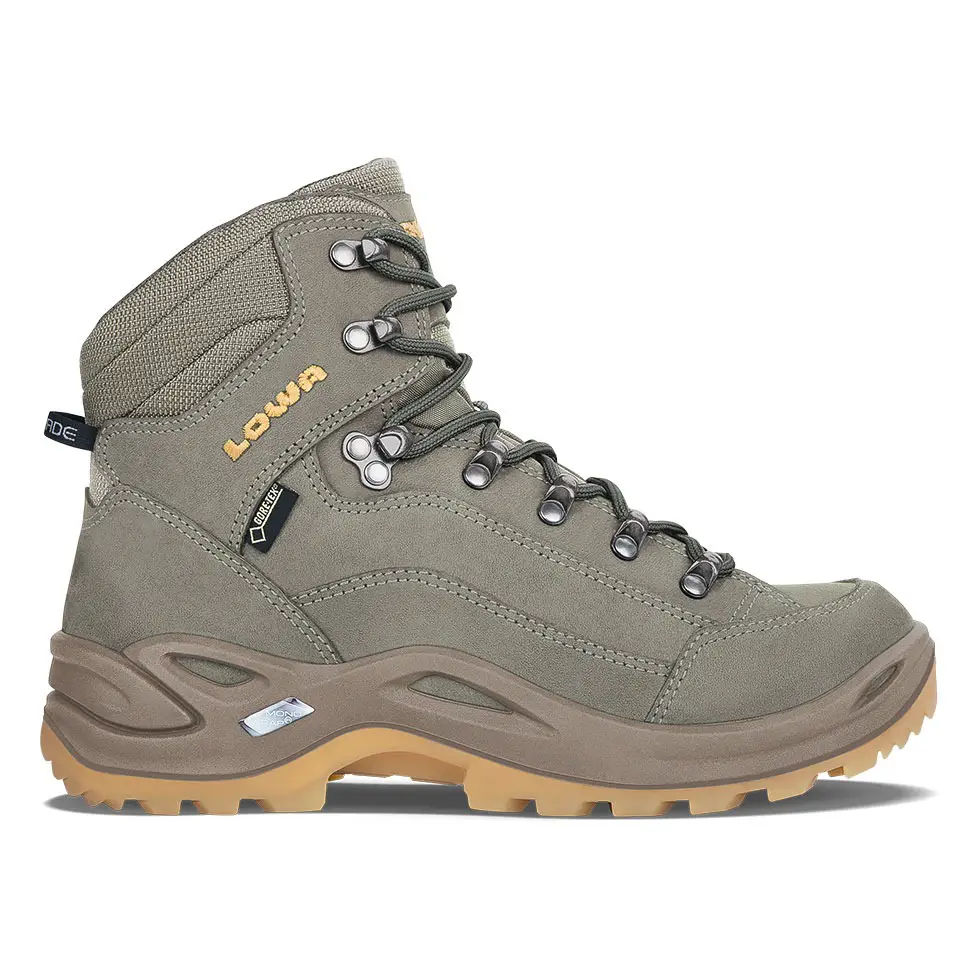 Features & Benefits
The women's and men's boots both have nubuck leather uppers for comfort, durability, and a great look!
A GORE-TEX lining for dry feet
Women's boots made with female specific features
MSRP $245
Lowa – The Company
Lowa began doing business in 1923. A Barvarian cobbler made sturdy work boots for his neighbors. Funding for the company came from a side business with his brothers. Their side business was the Wagner Orchestra.
The company's original founder, Lorenz Wagner, was replaced during WWII since he did not support the Nazis. After the war, the business grew until it slowed in 1953. In 1955, the founder's daughter took over and helped the company begin growing again.
In 1970, Lowa was the first company to use dense foam for high volume production. Also, the foam Lowa uses has the durability of wood but does not crack or rot. The company was also the first to make boots with tough rubber soles.
Lowa supports many outdoor nonprofit groups. Some of the groups include:
Merrell – Moab 2 Mid Ankle Men's and Women's Boot
Description
Out of the box, enjoy a very comfortable hiker. These men's and women's boots offer durable leathers and footbeds with strong support for a pleasant hike. Include outstanding traction, and you understand why Moab stands for Mother Of All Boots™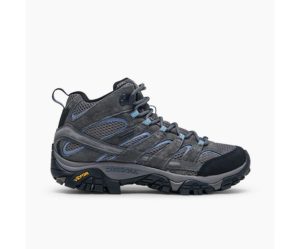 Features & Benefits
The women's and men's hiking boot have waterproof suede leather and mesh uppers. You have dry feet and a strong, comfy boot.
Both of these boots have a comfortable midsole that gives you good traction.
MSRP $145
Merrell – The Company
Since their beginning, Merrell made hiking boots. Two of the first founders partnered with a custom boot maker. The boot maker was R.I. Merrell. When they partnered in 1981, Merrell made custom hiking boots that sold for $500.
The partners wanted a more affordable boot. So, in 1982, Merrell designed that boot. In 1986, Merrell sold his part of the company so he could return to making custom boots.
Wolverine Worldwide bought Merrell in 1997. Now Merrell also sells trail running shoes, sandals, and outdoor clothes.
Merrell's partnerships reflect the company's values. Merrell supports:
Timberland – Men's & Women's Mt. Maddsen Mid Waterproof
Description
The Timberland Mt. Maddsen Mid Waterproof women's boots have good looking outdoor styling. In addition, the boots offer you complete protection from the rain and from water crossings so your feet stay dry.
When you wear these boots, hiking the trail seems effortless! The Mt. Maddsen Mid Waterproof has a shock absorbent cushion for your hiking comfort. Rubber soles give you great traction on tricky trails.
All of these features come with Timberland's well known stylish look.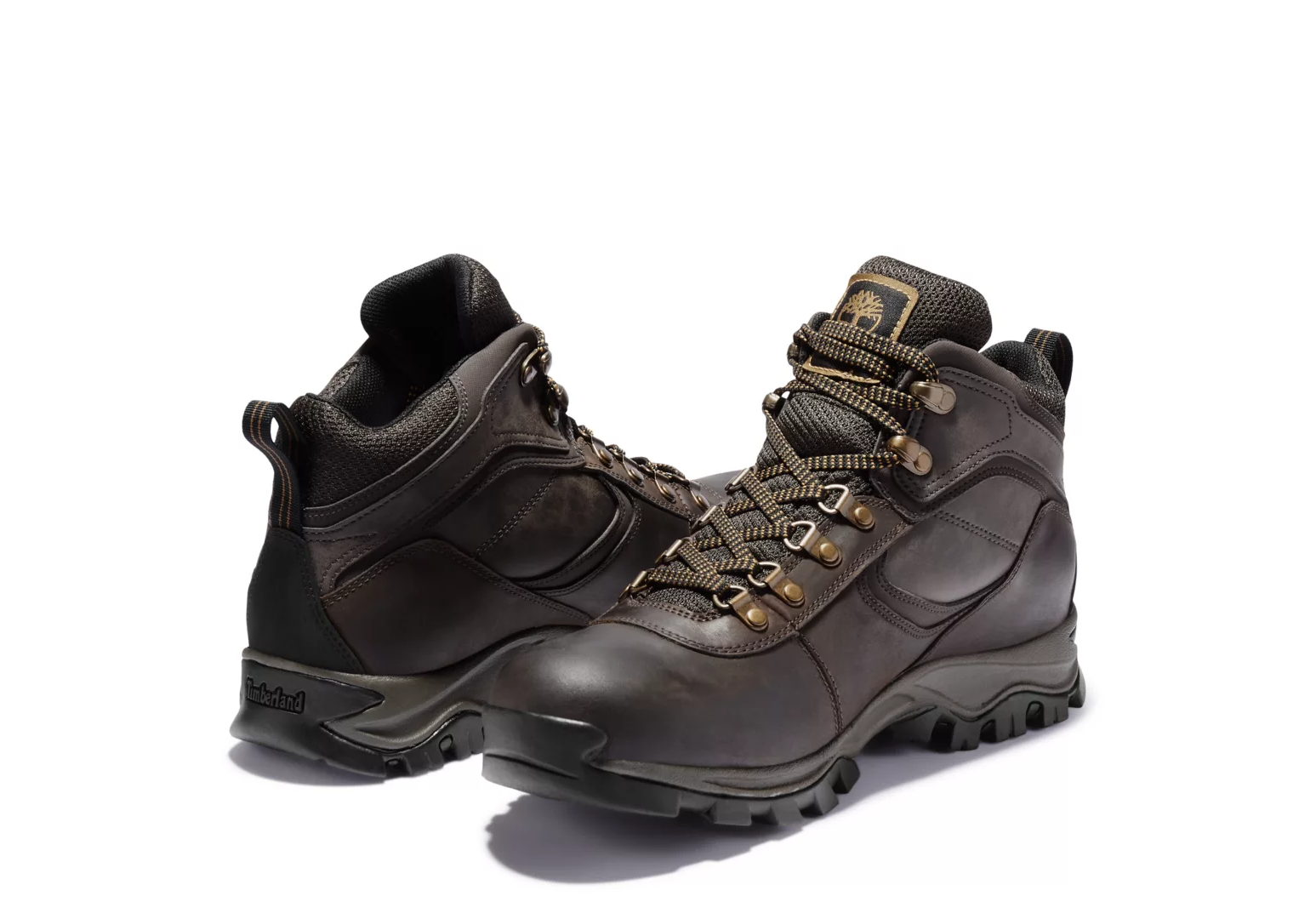 Features & Benefits
Outsole up to 34% recycled rubber for a cleaner environment
A waterproof upper that keeps your feet dry
Waterproof lining made with 50% recycled plastic bottles for a clean world
Sustainable leather (The Leather Working Group) for less waste
Rubber lugs for traction on the trail
Molded foam footbed absorbs shock; helps keep you from getting tired
MSRP $115
Timberland – The Company
The company began as a family business. An immigrant, Nathan Swartz, bought one half of the company in 1952. He soon bought out his partner and brought his sons into the business.
The Abington Shoe Company, as Timberland was first known, moved to Newmarket, New Hampshire. Newmarket is known for its majestic mountain ranges, rocky shorelines, dense forests, rivers, and lakes.
In 1973, the original waterproof boots called the "Timberland" was invented. The boots were rugged, well made, and could be worn in all kinds of weather.
Those who loved the outdoors and needed protection in all weather wanted the boots. Also, trade workers who needed rugged boots loved them. Many people liked the boots just because they wanted a great looking pair of boots!
These boots defined the brand. They were so popular that in 1978 the entire company was named Timberland!
Timberland wants a greener world and wants to help feed the world. The company partners with these groups to plant 50 million trees by 2050 and help feed the world:
Conclusion – Best Hiking Boots
Boots protect your feet when you hike a rugged trail. The protection your feet get with a pair of the best hiking boots keeps your feet from feeling every rock and hole on a trail.
The best hiking boots also support your ankles and help you keep your footing. A good pair of hiking boots keep your feet dry too.
You have a more pleasant, fun hike when you wear high quality boots. Consider one of these best hiking boots brands!
Learn more about what you want to look for when you consider new hiking boots!
Also, be sure you invest in a well made pair of hiking socks. Well made socks keep your feet comfortable, and help you avoid blisters. Before you go, learn more about hiking socks!