We may earn money or products from the companies mentioned in this post.
Why Should You Pick Trail Shoes for Hiking?
Let's look at some reasons why you would pick one of the best trail shoes for hiking. What do you want to think about when you decide whether a trail shoe meets your hiking needs?
You might want to consider trail shoes unless you need the added traction you get from hiking boots.
What kind of trails do you want to hike? An easy to moderate, scenic trail makes a good fit for a trail shoe.
If you want to hike at a fast pace, a trail shoe makes a good choice.
Do you usually need support from your everyday shoes? If you need no support or not too much support, pick a trail shoe.
Do you plan to carry a heavy backpack with a lot of gear? If not, consider a trail shoe.
Trail Shoes For Hiking
Shoe
Model
Women/Men (each)
Material
Waterproof
MSRP
Altra
Lone Peak 6
W 8.7 oz
M 10.5 oz
Mesh
Resistant
$140
Hoka
Speedgoat
W 9.2 oz.
M 10.8 oz.
Mesh
Resistant
$145
Keen
Targhee
W 1 lb. 8.7 oz.
M 1 lb. 13.6 oz.
Mesh
Resistant
$130
La Sportiva
TX4
W 10.4 oz.
M 13 oz.
Leather
Resistant
$140
Merrell
Moab 2
W 1 lb. 11 oz.
M 1 lb. 15 oz.
Leather/Mesh
Yes
$135
North Face
FUTURELIGHT IV
W/M 12.7 oz.
Mesh
Yes
$159
Each of these 6 men's and women's trail shoes helps you have a comfortable hike!
If you decide you prefer a boot for your time on the trail, you might want to consider one of these hiking boots.
Altra – Lone Peak 6 – Women's & Men's
Description
The updated Altra Lone Peak 6 trail shoe offers more flexibility and comfort. Enjoy a simpler lacing system. You can easily make small lacing adjustments using the system. The shoe's update includes a new midsole foam. The new foam gives your foot a springy feel as you hike.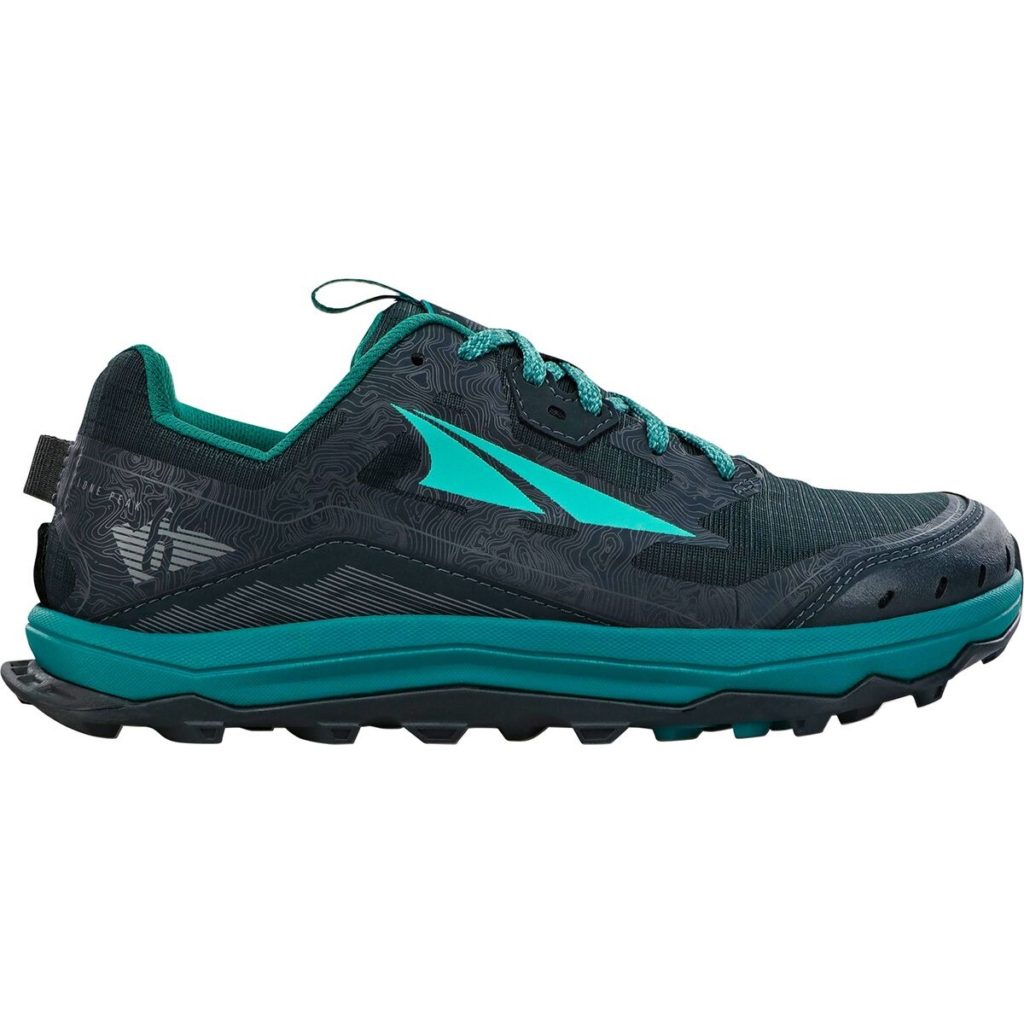 Features & Benefits
FootShape toe box – Lets your toes spread out naturally and relax. This gives you more comfort; Addresses differences between women's and men's feet
Balanced Cushioning™ – Places your heel and forefoot equal distance from the ground to help with better alignment, better form, and a low impact landing; reduces waist, lower back, knee, and foot pain
Gaitertrap – Offers a hook and loop tab. The tab allows a strapless gaiter attachment. A gaiter prevents trail trash from building up inside the shoe.
Upper: Water resistant, durable, quick dry mesh; Long lasting shoe; Feet stay dry
Weight: Women's 8.7 oz. Men's 10.5 oz.
MSRP $140
Hoka One One – Speedgoat 4 – Women's & Men's
Description
Named for HOKA Athlete Karl "Speedgoat" Meltzer, the Speedgoat 4 is part of a product family known for making it easier to run on difficult trails.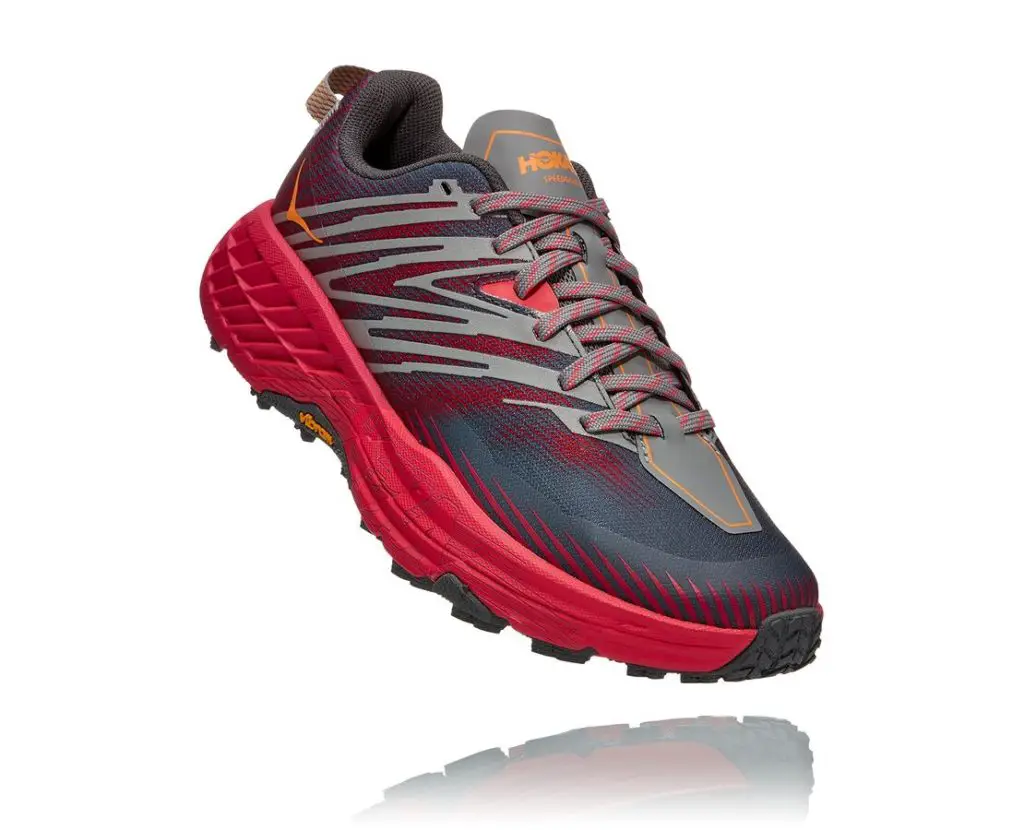 Features & Benefits
The Speedgoat 4 has:
New design, breathable, rugged mesh for comfy, durable shoe
Updated mesh upper allows your feet to "breathe" for more comfort
3D printed overlays included for better midfoot support and a more secure feel
Adaptable fit in the toe box for a more comfortable hike
Grip on the uphill and secure footing on the downhill trail
Gusseted tongue features well placed cutouts for more breathability
3D printed overlays for more midfoot support and lockdown so your foot feels more secure
Lacing eye rows with small winged part for a secure fit
Midsole features new lightweight foam for nimble feel as you hike
Wider forefoot for more stable step and helpful fit
Rubber outsole for better grip in wet & dry conditions
5 mm lugs for additional support and stability
Zonal rubber placement adds support and stability
Water resistant for dry feet
Weight: Women's 9.2 oz. Men's 10.8 oz.
MSRP $145
Keen – Targhee Low Vent – Women's & Men's
Description
Cut right through the heat on any trail. The fit, stability, and grip of the award winning Targhee shoes and boots were carried over to this trail shoe. The shoe has an updated upper with mesh panels. The new panel design keeps the air flowing when you explore the world's warmer trails. The air flow keeps your feet cooler.
ECO Anti-Odor_ Keen turned to nature to keep harmful pesticides and biocides out of the environment. Keen filled their shoes' footbeds with probiotic technology. The technology naturally breaks down the odor in sweat. The odor breakdown happens without heavy metals or unsafe chemicals.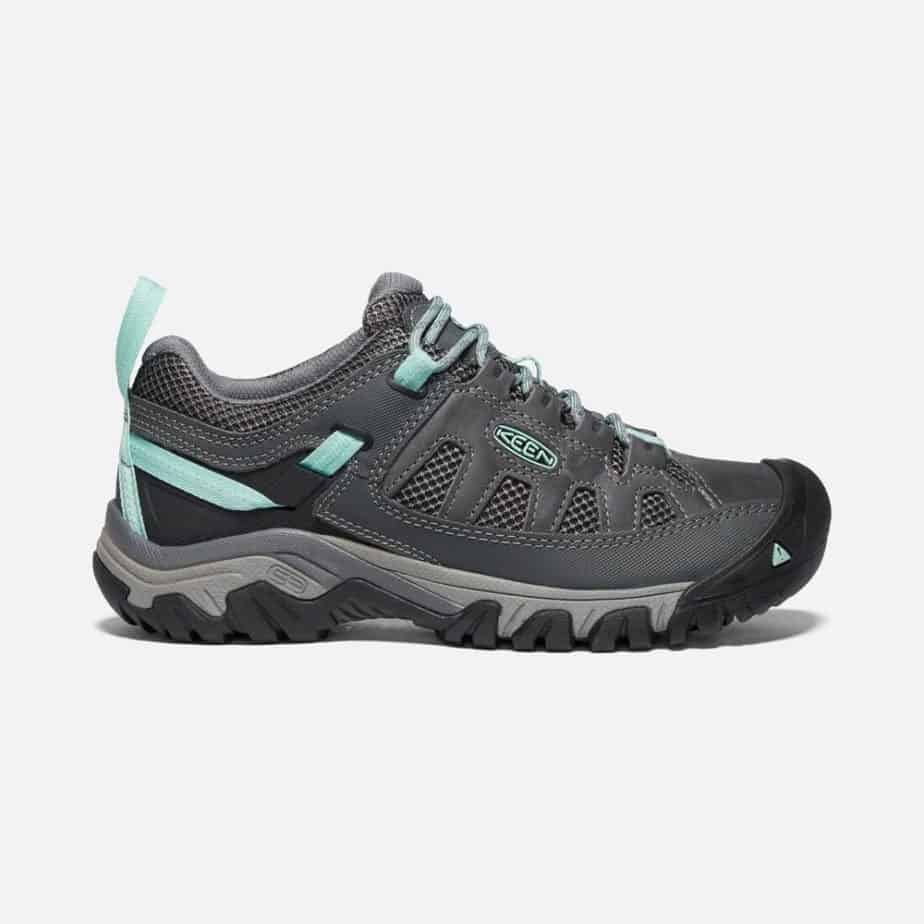 Features & Benefits
The shoes also include:
Mesh panels for breathability
Reinforced eyelets for easy adjustment
A heel system that keeps your foot stable
A springy internal shank for lightweight support
4 mm lugs give more traction when you hike
Environmentally preferred premium leather from Leather Working Group certified tannery for a cleaner world
Metatomical Footbed Design to give your foot better support. Better support comes from the design that matches your foot's shape. The design also pays special attention to your big toe for more comfort.
This support design provides great arch support by cradling the natural outline of your foot.
Upper: Leather with mesh panels for breathability
Water resistant, oiled, nubuck leather upper
Weight: Women's 1 lb. 8.7 oz. Men's 1 lb. 13.6 oz.
MSRP $155
La Sportiva – TX4 Approach Shoe – Women's & Men's
Description
An "approach" shoe gives you the benefits of both a hiking and climbing shoe. The La Sportiva TX4 Approach Shoe helps you easily hike to where you want to climb.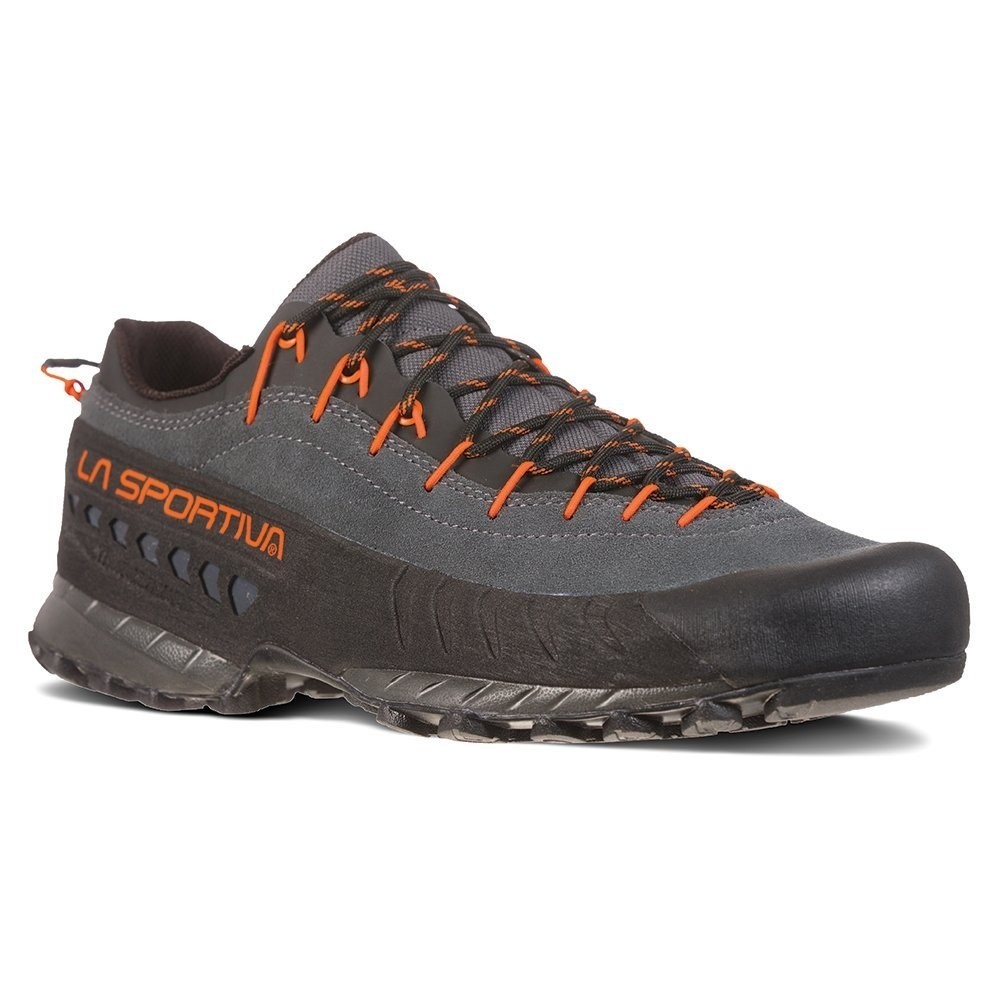 Features & Benefits
The TX4 Approach Shoe has:
A leather constructed upper for durability and comfort. The TX4's design lets you easily make long approaches on rugged trails.
The TX4 has a "Climbing Zone" toe with a strong grip rubber. The shoe also has a Trail Bite heel. Together the toe and heel help you grip the trail and keeps you stable on the trail.
The TX4's long lasting leather upper comforts your foot as you hike. The tough leather also resists wear and tear on rugged trails.
In addition, the wide forefoot fit gives you all day comfort and stability.
Lining: Non-slip mesh
Upper: Leather with a Vibram rubber toe
Water resistant
Weight: Women's 10.4 oz. Men's 13 oz.
MSRP $140
Merrell – Moab 2 – Women's & Men's
Description
Experience out of the box comfort in ventilated hiking shoes. With durable leather, a supportive insole, and Vibram traction, the Moab has been worn on the feet of nearly 20 million people since it was first made!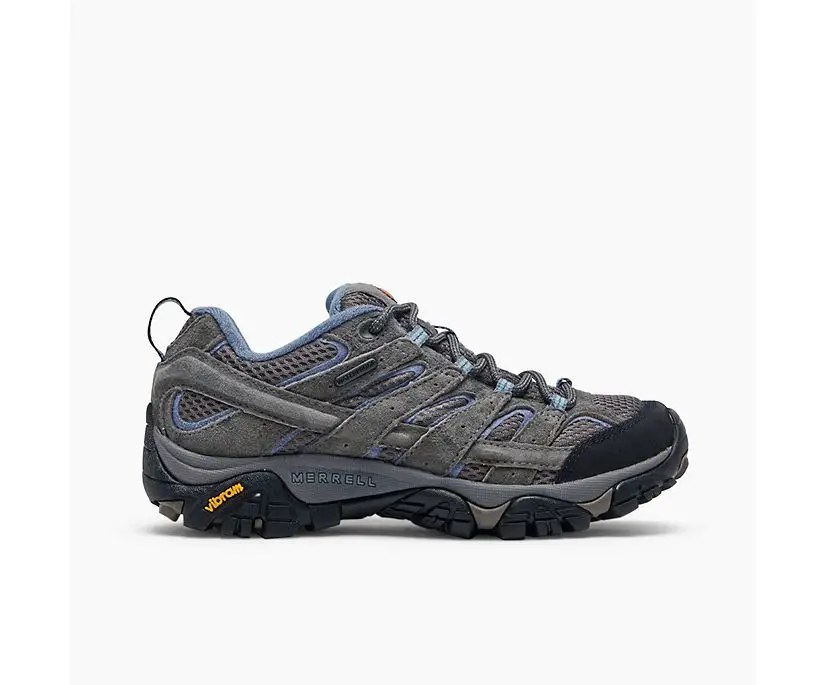 Features & Benefits
Closed cell foam tongue; keeps moisture and debris out
Protective, hard rubber toe cap protects from trail
Breathable mesh lining for comfort
An insole that comfortably fits the shape of your foot with extra arch and heel support
Molded nylon arch piece between the insole and outsole; arch piece take the pressure off your feet and calves. Less foot and calf pressure makes it easier to hike up trail hills.
Air cushion in heel absorbs shock and adds stability
EVA midsole; stability and comfort
Vibram sole for grip and traction
5 mm lugs on the shoes' soles for better traction and grip
Upper: Performance suede leather and mesh for long lasting boot
Waterproof for dry feet
Weight: Women's 1 lb. 11 oz. Men's 1 lb. 15 oz.
MSRP $135
The North Face – Ultra Fastpack IV FUTURELIGHT Woven – Women's & Men's
Description
The North Face Ultra Fastpack IV FUTURELIGHT Woven hiking shoe is an update of a trail proven shoe.
The North Face made the new FUTURELIGHT lighter and faster. The FUTURELIGHT IV combines a seamless engineered upper with a major new FUTURELIGHT fabric. The new fabric is both breathable and waterproof.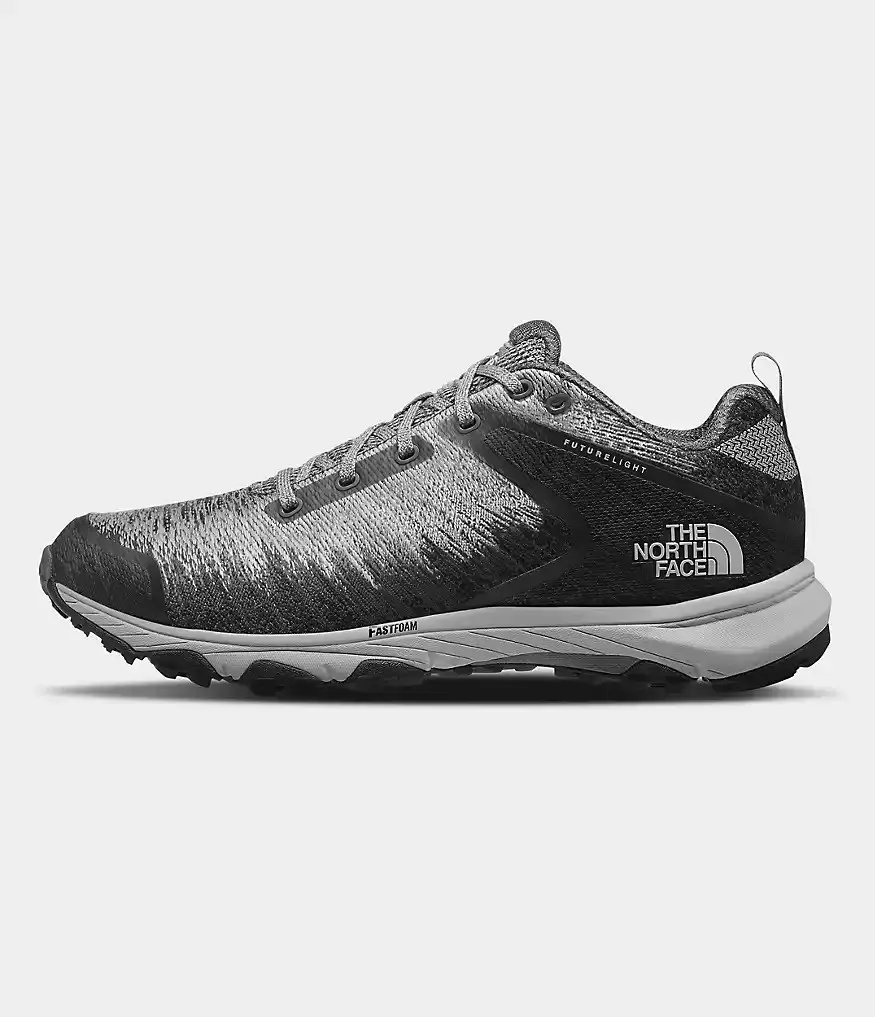 Features & Benefits
Stairstep lug design for better footing on the trail
Vibram Megagrip outsole helps keep you steady on the trail
OrthoLite Hybrid footbed for comfort
ESS Midfoot shank adds to comfort
Sole: Energy returning FastFoam midsole system keeps foot comfy all day
Woven upper for even more comfort
Protective TPU toe cap and heel overlay to protect your foot from rough trail
Breathable waterproof FUTURELIGHT membrane keeps foot dry
Gusseted mesh tongue for comfort and keeps trail trash out of shoe
3M reflective heel webbing for safety
Weight: Women's 12.6 oz; Men's 12.7 oz each
MSRP $159
Conclusion – Trail Shoes For Hiking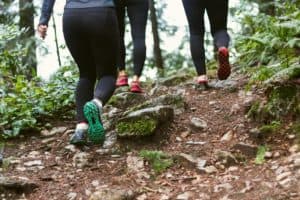 When you decide whether you want trail shoes for hiking, consider a few things. Some good reasons for trail shoes include:
Hiking an easy to moderate, scenic trail makes a good fit with a trail shoe.
Choose a trail shoe if you want to hike at a fast pace.
Pick a trail shoe if you usually only need a little support from your shoes.
Finally, consider a trail shoe if you plan to carry a light pack with a modest amount of hiking gear.
Any of these 6 trail shoes for hiking make a great choice!
If you decide you prefer a boot for your time on the trail, you might want to consider one of these hiking boots.
Trail Shoes For Hiking
Shoe
Model
Women/Men (each)
Material
Waterproof
MSRP
Altra
Lone Peak 6
W 8.7 oz.
M 10.5 oz.
Mesh
Resistant
$140
Hoka
Speedgoat
W 9.2 oz.
M 10.8 oz.
Mesh
Resistant
$145
Keen
Targhee
W 1 lb. 8.7 oz.
M 1 lb. 13.6 oz.
Mesh
Resistant
$130
La Sportiva
TX4
W 10.4 oz.
M 13 oz.
Leather
Resistant
$140
Merrell
Moab 2
W 1 lb. 11 oz.
M 1 lb. 15 oz.
Leather/Mesh
Yes
$135
North Face
FUTURELIGHT IV
W/M 12.7 oz.
Mesh
Yes
$159
Pin this for later: