We may earn money or products from the companies mentioned in this post.
Best Hiking Socks
The best hiking socks treat your feet well during your hike. When you hike, you take a lot of steps. You often walk around rocks and roots as you hike. The small detours increase the number of steps you take.
There are about two thousand steps in a mile. That is a lot of steps when you take a five-mile hike! 
The best hiking socks keep your feet comfortable. Socks keep your feet from getting blisters. The best socks keep your feet warmer in the winter, cooler in the summer, and drier when hiking on a wet trail.
Points To Consider When Choosing The Best Hiking Socks
Think about these four points when you choose the best hiking socks for your hike:
Fabric
Sock height
Fit
Cushioning
Fabric
The best hiking socks use Merino Wool. Some hiking socks include cotton, polyester, nylon, or spandex. Socks that use Merino Wool or wool blend make your best hiking sock choice.
Hiking socks usually include more than one fabric. Socks are a blend of materials that promote comfort, strength, shape, and quick drying. Wool is the best sock material. You also find Cotton, Polyester, Nylon, and Spandex used in hiking socks.
Avoid cotton cotton hiking socks. Cotton holds moisture. Holding moisture makes your feet cold in the winter. The moisture makes your feet smell bad in the summer. Moisture also causes blisters.
Wool
Wool makes the best hiking sock material. There are several reasons that wool makes the best material for socks.
Keeps your foot's temperature steady so your feet do not get sweaty
Cushions your feet to keep then comfortable during your hike.
Naturally hygienic; does not hold odors like synthetic fabrics do.
Merino wool comes from the Merino sheep. This type of wool does not itch. The wool also helps keep your feet a steady temperature, pulls moisture away from your feet, and reduces foot odor.
Polyester
Polyester is a synthetic material. Polyester's benefits include drying quickly and pulling moisture away from your foot.
Sometimes sock manufacturers blend Polyester With Wool or other synthetics. The blended material provides warm, comfortable, durable, and quick-drying socks.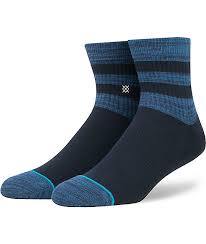 Nylon
Nylon adds durability and helps your socks dry faster.
Spandex
A lot of hiking socks have a little spandex. Spandex helps your sock keep their shape and wrinkle less.
Fit
Your socks need to fit well so you do not get blisters. Loose socks rub your feet and cause blisters.
Cushioning
Cushioning impacts your foot's comfort and warmth. You want to keep your foot's warmth and comfort balanced.
Sock Height
Hiking socks come in different heights. Use your hiking shoes or boots as your guide for choosing the sock that is the right height.
You want socks that come above the top of your shoes or boots so your foot does not rub against your shoes or boots. The best hiking sock choices are Crew and Knee High socks.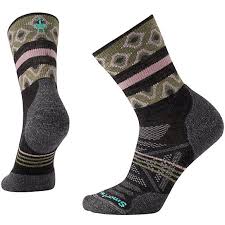 Heights include:
Crew
Micro Crew
Quarter (Ankle)
Knee High
No Show
The right height sock also protects your foot from scraping against your boot or shoe.
Crew
The Crew sock is the most common hiking sock height. This height sock comes to a few inches above the ankle and covers the bottom of your calf.
A Crew sock provides good protection against your shoes rubbing your foot. This helps keep your foot from becoming sore or blistered. A drawback is Crew socks are warm on a hot day.
Micro Crew
As you might think, Micro Crew socks fit between Crew and Ankle socks. The Micro Crew height is taller than an ankle sock but a couple of inches shorter than the average crew sock. Micro Crew socks fit just above the top of a standard pair of hiking boots.
Quarter (Ankle)
Some hikers prefer Ankle socks for the freedom they give. They are cooler and can be comfortable but provide little protection. Also, they are only suited for low cut hiking shoes and boots.
Knee High
Knee Highs are usually used for mountain hiking. They protect your feet, shins, and calves from heavier and larger mountaineering boots. They also keep your feet and lower legs warm from the usually lower mountain hiking temperatures.
No Show
These are very low cut socks. No Shows offer little protection from your boot rubbing against your skin. Some hikers like these as trail running socks. Some also prefer No Shows during the summer since they are cooler than Crew or Knee Highs.
Be Sure Your Sock Fits! – Best Hiking Socks
You need socks that fit right. Socks that fit right keep your feet comfortable during your hike.
Socks that are too big wrinkle. If your socks are too small, they can make uncomfortable pressure points on your feet. Wrinkled socks rub against your foot and can cause blisters. Socks that are too tight slip and make your hike uncomfortable when your feet blister.
It is important that you wear the right size hiking sock. You need to know your foot size versus your shoe size. If you do not know your foot size, the size guide on the sock is usually correct. Use the guide to pick the right size sock for your foot.
Your socks need to fit your foot closely. Avoid a too tight fit though. Your sock fits right when the sock heel cup lines up with the heel of your foot.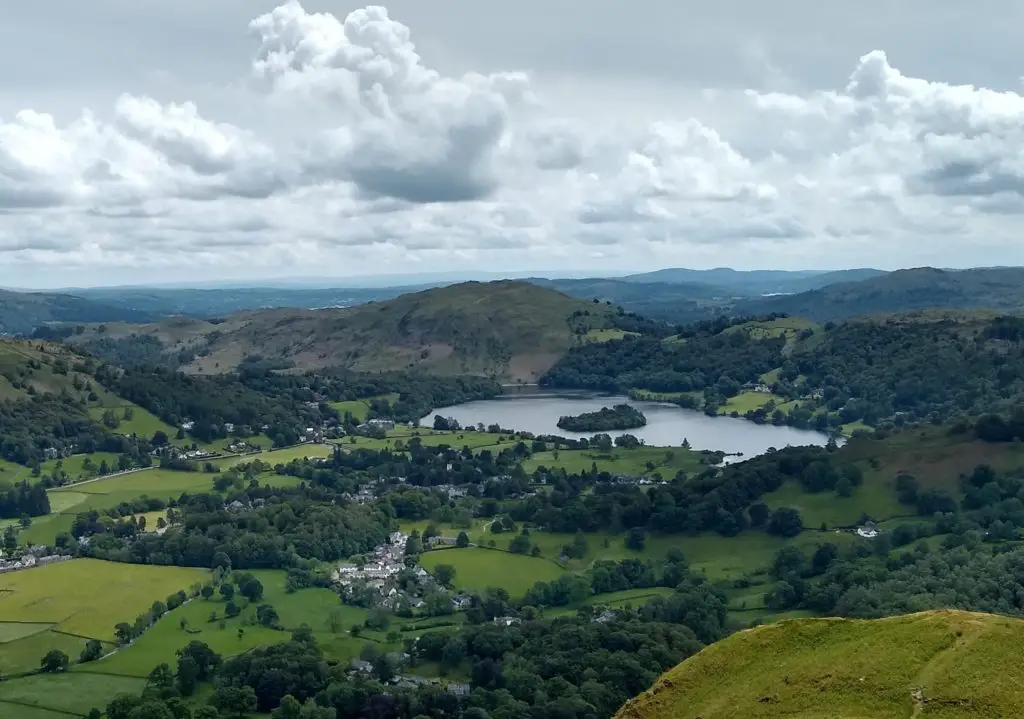 The Best Hiking Socks Cushion Your Feet
You need a sock with the right amount of cushioning. How much cushioning you need depends on the kind of weather you expect and what kind of hike you take. If you expect your feet to absorb a lot of impacts, you need some cushion.
High impact trail activities include trail running multi-day backpacking, and hiking rough trails. Thick, warmer socks cause your feet to sweat though. You should try and have several sock styles with different kinds of cushion. Trying different styles and cushion helps you find which socks you need for your hikes.
Hiking socks have four types of cushion. Light and Medium cushion socks meet most of your hiking sock requirements. You might prefer Heavy or Medium cushion socks though.
Light Cushion
Choose socks with a light cushion during warm weather. Socks with a lighter cushion pull sweat or water away from your skin.  During warm weather, the socks feel cooler. Also, light cushion socks provide a cushion for your heel and ball of your foot.
Medium Cushion
For most hiking and backpacking trips, pick socks with medium cushion. Medium cushion socks cushion your heel and the ball of the foot.  Socks with this much cushion also keep your foot warm during cool and cold weather.
Heavy Cushion
Choose heavy cushion socks for the most comfortable and warmest socks. Wear these socks for mountain and cold weather hiking. Also, choose heavy cushion socks when you take a long hike, the trail is very rough, or it is cold.
No Cushion
For very hot weather, wear no cushion socks. They let your feet have air and help keep your feet cool, but they have little or no cushion.
Darn Tough and Smartwool Make The Two Best Hiking Socks Choices
When you look for a good hiking sock, seriously consider Darn Tough and Smartwool hiking socks.
Darn Tough – Best Hiking Socks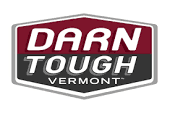 Darn Tough is a family owned business. They have been knitting socks in Vermont for almost forty years. Their mission is to make the world's best socks and stand behind them.
Fine gauge Merino Wool keeps Darn Tough socks cool in the summer and warm in the winter. Seamless construction makes them very comfortable.
Darn Tough has socks for all of your hikes. All their socks offer benefits your feet will appreciate. Benefits include:
No slipping, bunching, and no blisters
Outstanding durability
Pull moisture away from your feet for cooler feet.
Fast drying keeps feet fry
Cool in the summer for comfort
Warm in the winter; also for comfort
Odor resistant for a more pleasant hike
Invisible seams for an ultra-smooth fit.
Guaranteed For Life for peace of mind
Darn Tough values diversity, sustainability, hard work, honesty, family, and customer service.
The company backs their socks with a lifetime guarantee! "If our socks are not the most comfortable, durable and best fitting socks you have ever owned, return them for another pair. No strings. No conditions. Socks guaranteed for life."
Women's and Men's – Light Hiker Quarter (Ankle) and Micro Crew – Best Hiking Socks
Description
The women's and men's socks have all the benefits of the Darn Tough Light Hiker line of socks. You can get the benefits of these socks in either a Quarter or Micro Crew fit. These socks are the BEST choice for most hikers.
Features & Benefits
Fit: just above the ankle (Quarter) or just below the calf (Micro Crew) for comfort
Lightweight for added comfort
Low profile for low cut hiking shoes (Quarter) for the right fit
Just above the top of hiking boots (Micro Crew) for a good fit
Comfortable as you hike
Smooth cuff feels great
Material: 54% nylon, 43% merino wool, 3% spandex
MSRP Women's & Men's Quarter $19
MSRP Women's & Men's Micro Crew $22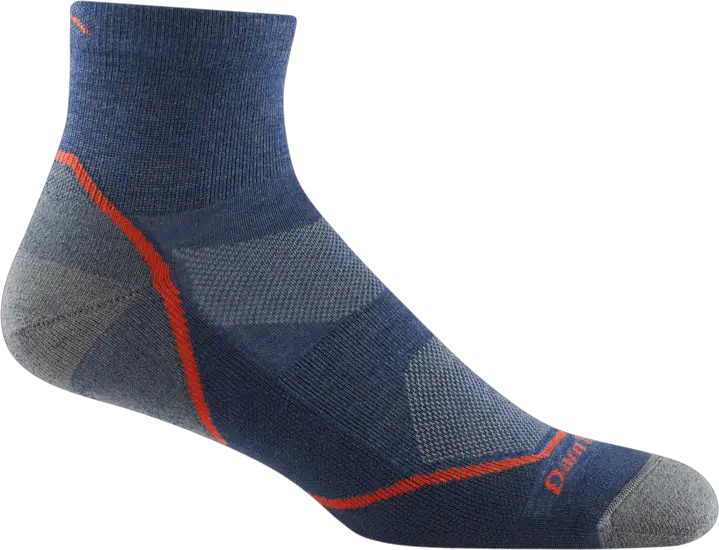 Women's
Men's
Men's – Hiker Micro Crew
Description
For thru hikes to day hikes, take care of your feet with this sock. Darn Tough made a sock that can take any trail. I wear these socks and like them very much!
Features & Benefits
Fit: mid-calf
Material: 61% Merino Wool, 36% Nylon, 3% Spandex
More warmth
Better protection
MSRP $24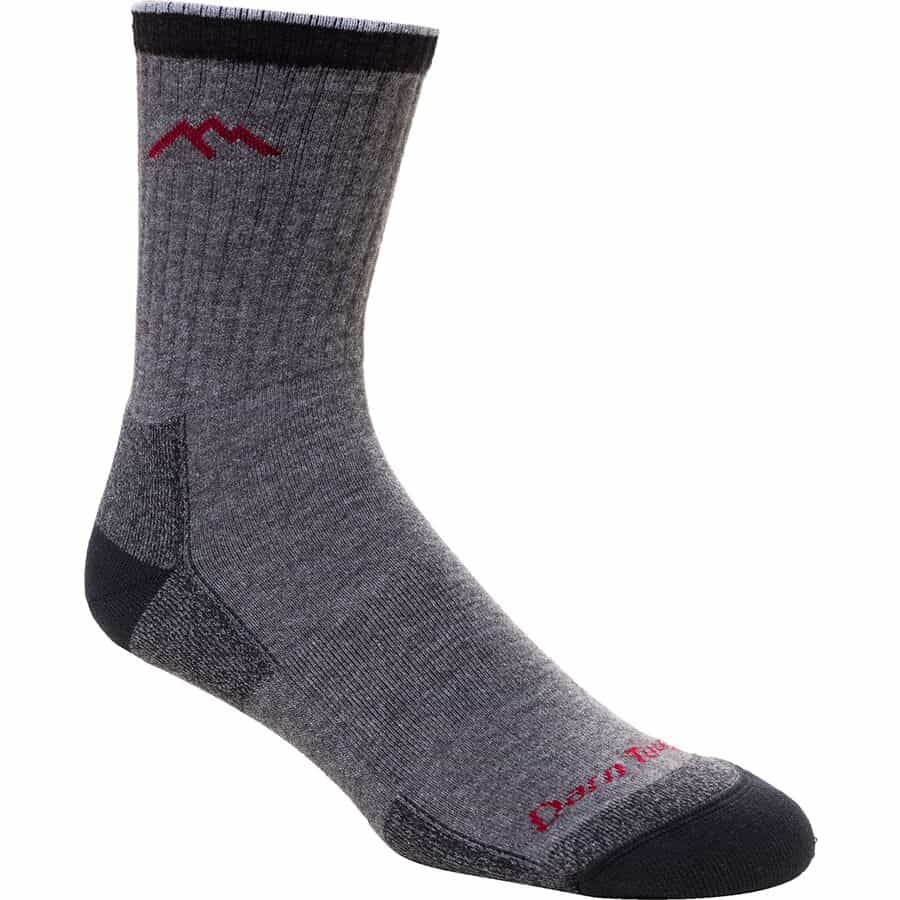 Women's – Treeline Micro Crew
Description
With its free spirited style, the Treeline gives you a fun look when you take a hike.
Features & Benefits
Fit: mid-calf
Materials: 57% Merino Wool, 41% Nylon, 2% Spandex
More warmth
Better protection
MSRP $24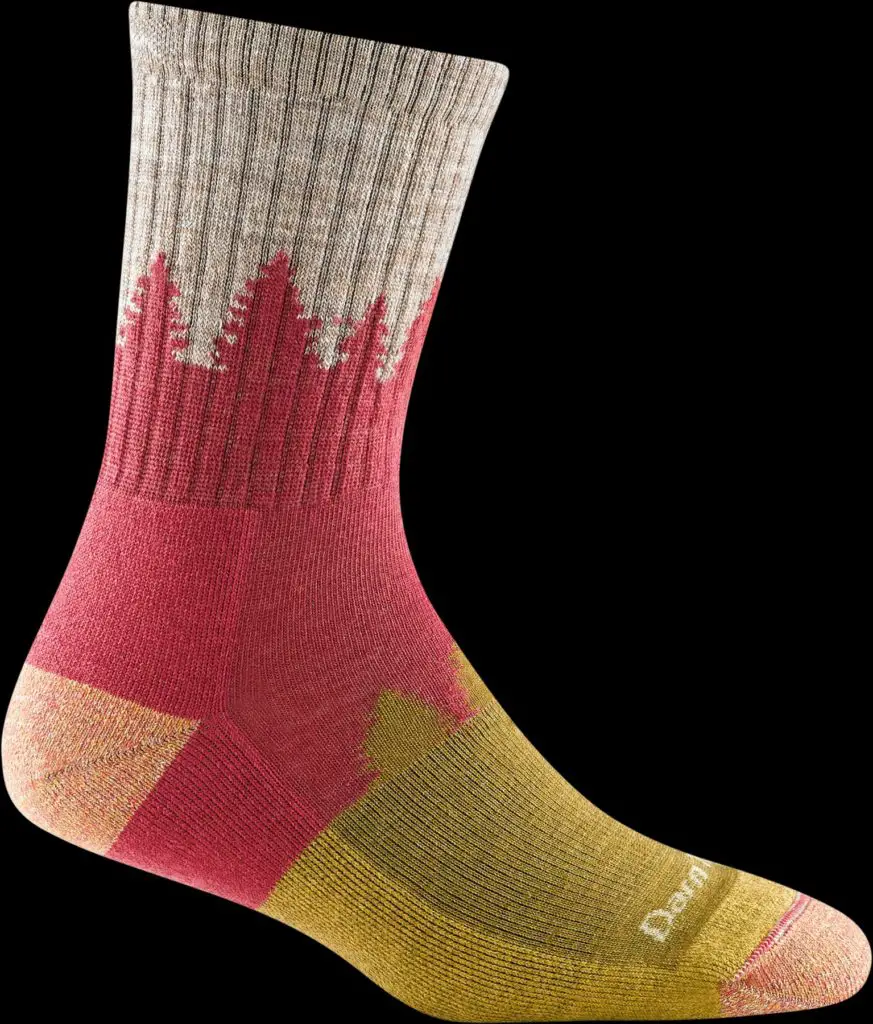 Women's & Men's – Scout Boot
Description
Buy the Scout if you want Darn Tough's softest sock. The sock's added softness gives you long wearing comfort.
Specifications:
Fit: mid-calf
More warmth
Better protection
Materials:

Women's: 64% Merino Wool, 34% Nylon, 2% Spandex
Men's: 65% Merino Wool, 33% Nylon, 2% Spandex

MSRP Women's & Men's $28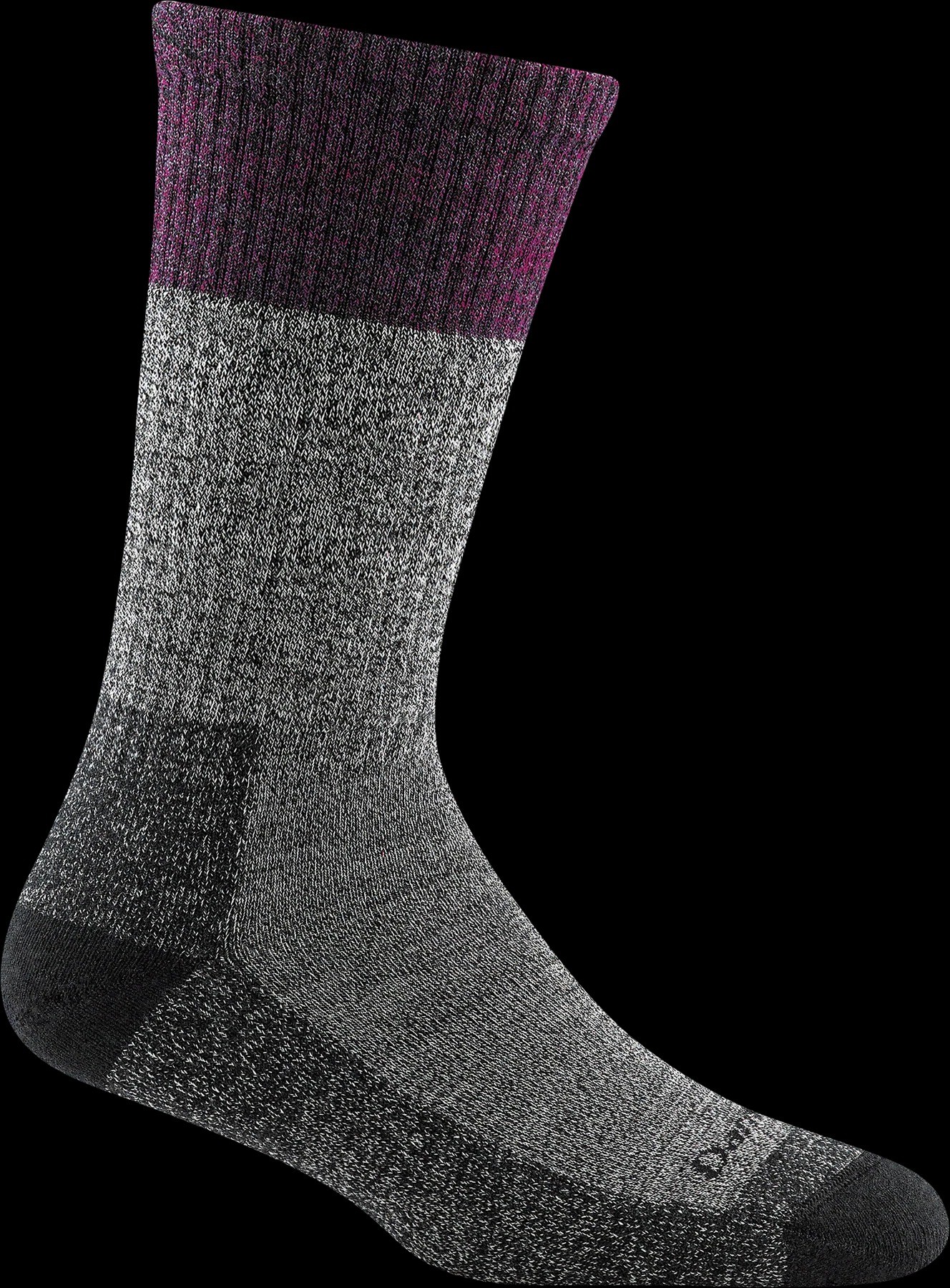 For More Women's & Men's Darn Tough Best Hiking Socks Choices, Shop Here:
Smartwool – Best Hiking Socks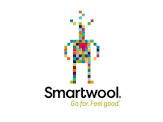 Smartwool uses high grade Merino Wool. The wool keeps your feet dry and regulates your body temperature. Smartwool offers a cushion range from ultralight cushioning to heavy cushioning. 
The Smartwool women's and men's hiking socks make a good all around choices. The company has a broad range of socks to choose from. Below, see two of Smartwool's best women's and men's hiking socks.
Smartwool values openness, advocacy, action, inclusiveness, justice, sustainability, and fun.
Smartwool has a two year guarantee. "… if, for any reason, you aren't completely happy with your Smartwool® gear within two years of purchasing, we'll get you into some new gear. No problem."
Women's – Hike Light Cushion Broken Stripes Pattern Crew – Best Hiking Socks
Description
Enjoy the trail with these women's Smartwool socks. Your feet will feel great with the fit made just for women's feet. For women, these socks have a narrower heel and slimmer fit.
Features & Benefits
Crew height for a great fit on all trails
Extended durability zones for longer lasting sock
Performance oriented fit helps your feet feel better on the trail
Mesh zones for added breathability
Virtually seamless toe for enhanced comfort
'Stay put' fit for comfort
Women's specific fit feels great
Height 7″
Materials: 53% Merino Wool, 12% Nylon, 32% Recycled Nylon, 3% Elastane
MSRP $24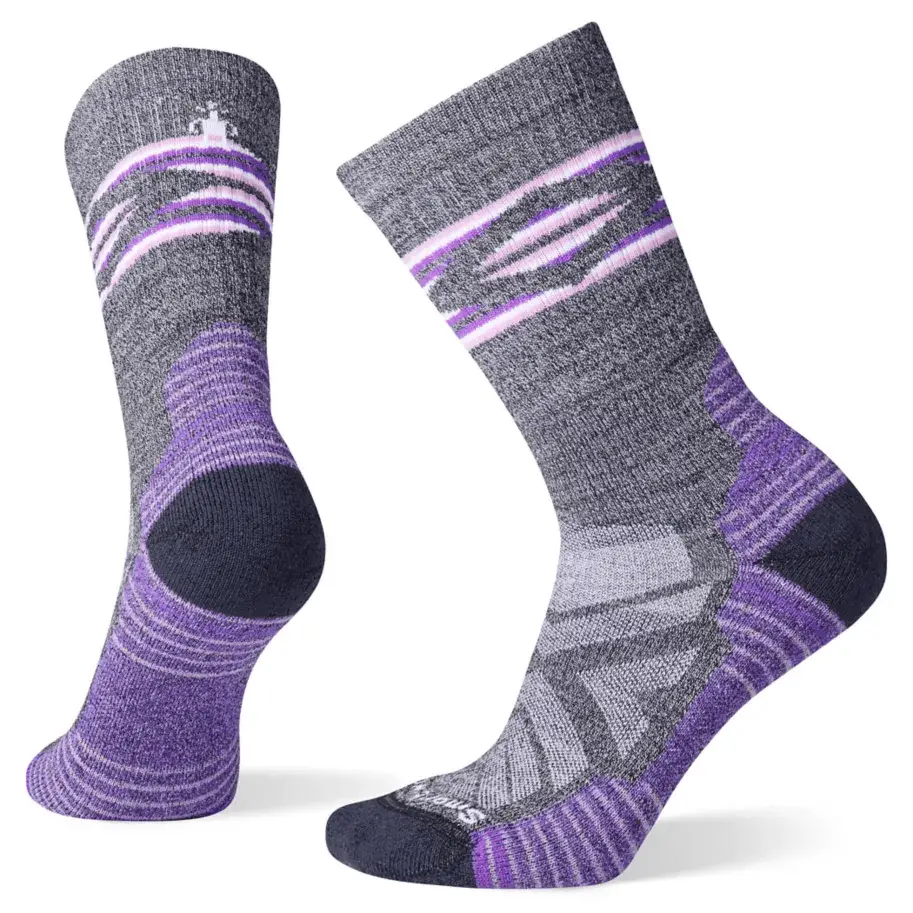 Men's: Performance Hike Light Cushion Mountain Range Crew
Description
The Performance Hike Crew Sock Makes a great warm weather go to for hikes after work, overnight wilderness hikes, or even nights out with friends. The lightweight cushioning offers support for hiking miles on the trail and also offer breathable comfort.
Features & Benefits
Performance hiking socks; suited for hiking and backpacking
Hybrid merino and synthetic fabric wicks moisture as you hike.
Crew height fits well with hiking boots and covers just the right amount of your skin.
Elastane offers stretch for a hiking friendly fit and feel.
Partially recycled fabric blend limits environmental impact.
Alpine graphic for stylish look
Materials: 56% Merino Wool, 11% Nylon, 31% Recycled Nylon, 2% Elastane
MSRP $23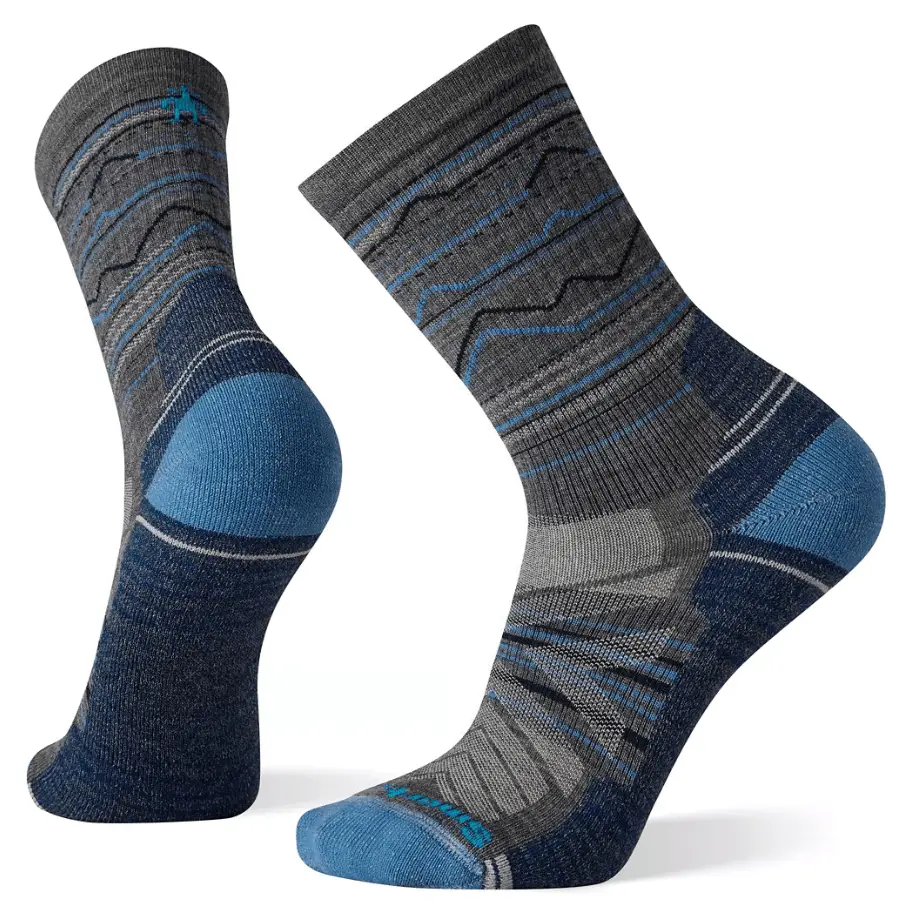 For More Smartwool Best Hiking Socks Choices, Shop Here:
Summary: Best Hiking Socks
I own and wear both Smartwool and Darn Tough socks. I prefer Darn Tough socks. Darn Tough socks are:
Still, Smart Wool socks make a great choice for your hiking comfort. Many hikers prefer Smart Wool.
The best hiking socks are just as important as your hiking boots! Your socks do a lot of "work" when you hike.
Socks pull moisture away from your feet.
Your hiking socks promote good posture.
The socks keep your feet at the right temperature.
Your socks absorb shock
… and more.
That is a LOT of work to help your feet feel better!