We may earn money or products from the companies mentioned in this post.
When you decide which of the best hiking poles to choose, first decide whether you want to hike with two poles or with one pole. Most hikers prefer to use a pair of hiking poles. Two poles offer more benefits even though some hikers prefer using one.
Read more about the benefits and features of the best hiking poles below.
5 Best Hiking Poles
Contents
Read this to learn about the 12 Hiking Gear Essentials for Your Day Hike.
How Do You Benefit From The Best Hiking Poles?
Keep Your Balance
When you have a heavy, fully loaded backpack, you want a pair of the best hiking poles to help you balance. Also, when hiking on a difficult trail, you want the benefits you get from hiking poles.
For short, few mile day hikes on an easy or moderate trail, you might not need to use hiking poles. Usually though, you're glad you have poles.
Poles keep you stable when you go around a puddle. You can easily slip in the mud near a puddle, but poles help keep you steady as you make your way around the puddle. Poles helped me avoid a fall more than one time.
Hiking poles can help you go over rocks and logs too. Poles keep you steady as you climb over a rock or log. You might use a log to cross water and hiking poles give you much better balance on a log.
Stay Out Of The Water – Stay Dry!
When you need to cross a stream or river, hiking poles help you stay on your feet as you cross the water. When you have two hiking sticks as you cross the water, the sticks help you keep your footing. You could easily slip on slippery underwater rocks that you do not see.
The hiking sticks help you find the rocks and keep you balanced as you walk over or walk by the rocks. You can stash the poles on your pack if you don't need them for a crossing.
Often you need to cross streams where you cannot see the bottom. Mud makes it hard to see the bottom. Also, you need to know the stream's depth. Using your hiking poles lets you quickly find out the stream's depth. You want to avoid stepping too deeply in a fast moving stream!
Also, your trekking poles come in handy as a way to find out whether a stream has a soft, bottom or a solid floor. You want to cross where the stream has a solid floor to avoid sinking in the stream. When the stream has a soft, muddy bottom you also run the risk falling or tiring quickly.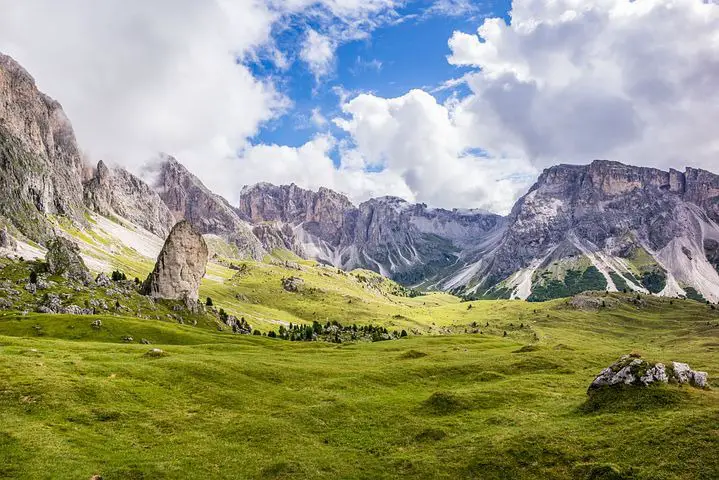 The Best Hiking Poles Help Your Knees And Hips
When you have a heavy pack on a rugged, steep trail, hiking poles provide some relief. On a steep trail, hiking up and hiking down trail, the best hiking sticks relieve knee and hip stress.
Keeping your balance can be tricky when you carry a fully loaded backpack. Hiking poles help you stay balanced.
On a trail's steep parts, hiking poles let you dig into the trail and pull yourself up. This takes the pressure off of your knees and hips.
When you hike down the trail, your poles keep you steady. They also remove pressure and strain from your knees and hips.
How Do The Best Hiking Poles Help Your Knees And Hips?
Some hikers question whether hiking poles relieve stress and strain on your knees. They question whether they help keep your knees healthy. My research and experience say the hiking poles save your knees. Hiking poles make hiking easier on your knees by removing stress on your knees and hips.
What Does Harvard Medical School Say About Hiking Poles and Your Knees?
Regarding hiking poles and whether they help your knees, the Harvard Medical School published a Harvard Health Letter that says:
"Research confirms that hikers probably benefit from using hiking poles. Hiking uphill may be the more satisfying and metabolically challenging part of hiking, but descents are physically more difficult in many ways. Going downhill is much harder on the hip and leg muscles and puts compressive forces on the knees that are three or four times higher than the forces experienced when walking on level ground."  
"A variety of experiments … (showed) that hiking poles significantly reduce (the downhill) forces, as well as movement in the joints that create strain. Other studies (showed) that hiking poles keep people more upright while hiking, help with stability, and are associated with a reduced risk of ankle fracture."
Harvard Health Letter (2011, March). Talking of walking in 3 easy pieces [Web log post]. Retrieved June 4, 2019  https://www.health.harvard.edu/staying-healthy/talking-of-walking-in-three-easy-pieces
More Benefits From Using Hiking Poles!
The Harvard Health Letter also lists benefits including:
Stronger bones

Healthier heart

Better mental outlook
Furthermore, the letter says that moving your arms while using hiking sticks might improve your heart's health even more.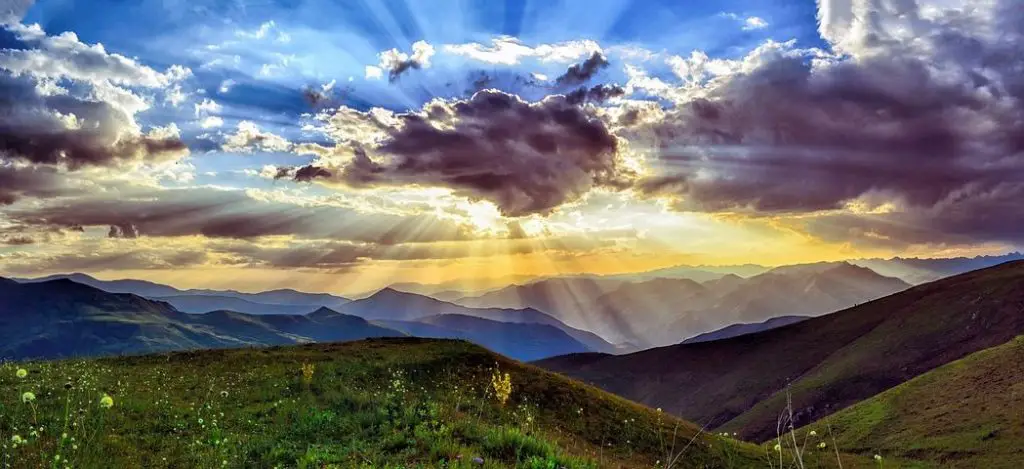 Clear the Way!
Another hiking pole benefit includes clearing the way where sections of the trail became overgrown. The overgrown trail sections might have poison ivy, poison oak, or briars. Your poles come in handy to move the poison or sharp plants out of your way.  
Self Defense?
Hiking poles probably offer only a modest defense against large animals like wild cats or bears. You can use your hiking poles to scare away smaller creatures like snakes though. Even though you prefer not to use them for protection, your poles might be nice to have if needed.
Walk the Walk
In addition to using hiking poles, be mindful about how you walk. When you put your foot down, Let your weight fall on the front and middle of your foot. This lets your hamstring muscles work. Your hamstrings help your knee joints flex. The flex reduces strain on the joints.
Best Hiking Poles Features
The best hiking poles have several features that you want including:
Strong

Lightweight

Adjustable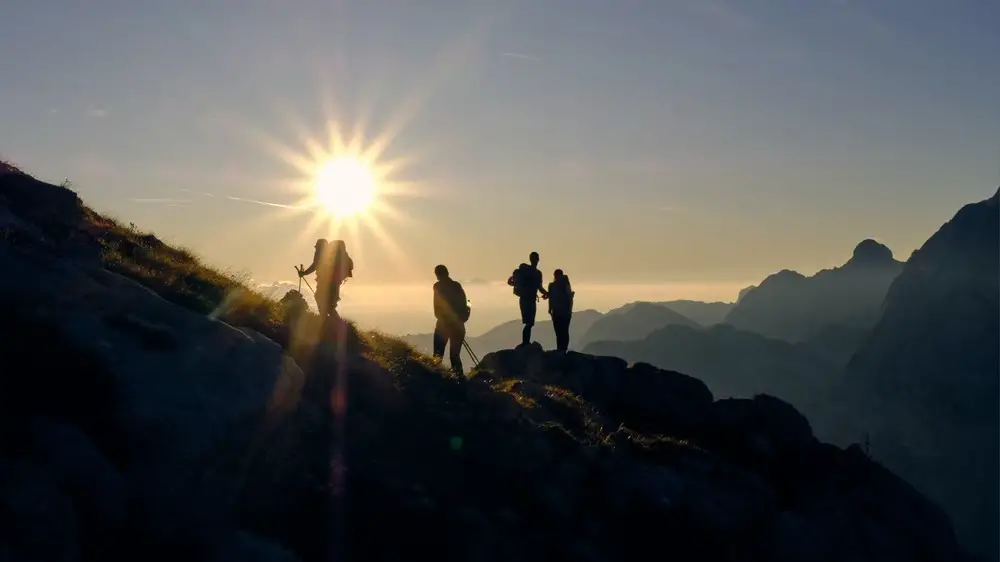 Quality Costs
If you want the best quality hiking poles, you have to pay for that quality. Some poles cost close to $200.00! When you pay that much for hiking poles, you get your money's worth.
Still, you can have good, more than adequate poles for less money. You can have a pair of good budget poles for less than $70.00. See the Cascade Mountain Tech and Kelty poles described below.
For a little more than $100, you can have affordable, very good poles. See the Black Diamond Women's Trekking Poles.
Best Hiking Poles Materials
You need to decide whether you want hiking poles made from aluminum or carbon fiber. Both have benefits. Both materials give you the benefit of a lightweight strong hiking pole.
Two different methods are used to make carbon fiber and aluminum. The material found in hiking poles is an aluminum alloy and comes from a chemical process. Carbon fiber comes from a mechanical process.
Aluminum – The best aluminum hiking poles are lightweight and strong. Aluminum is combined with other elements so you have a stronger pole. Choose aluminum if you expect to be rough on your poles. Aluminum is also cheaper.
Carbon Fiber – The material found in the best carbon fiber hiking poles results from a mechanical process that combines carbon fibers with plastic. Carbon fiber poles give you flexibility and resist shock.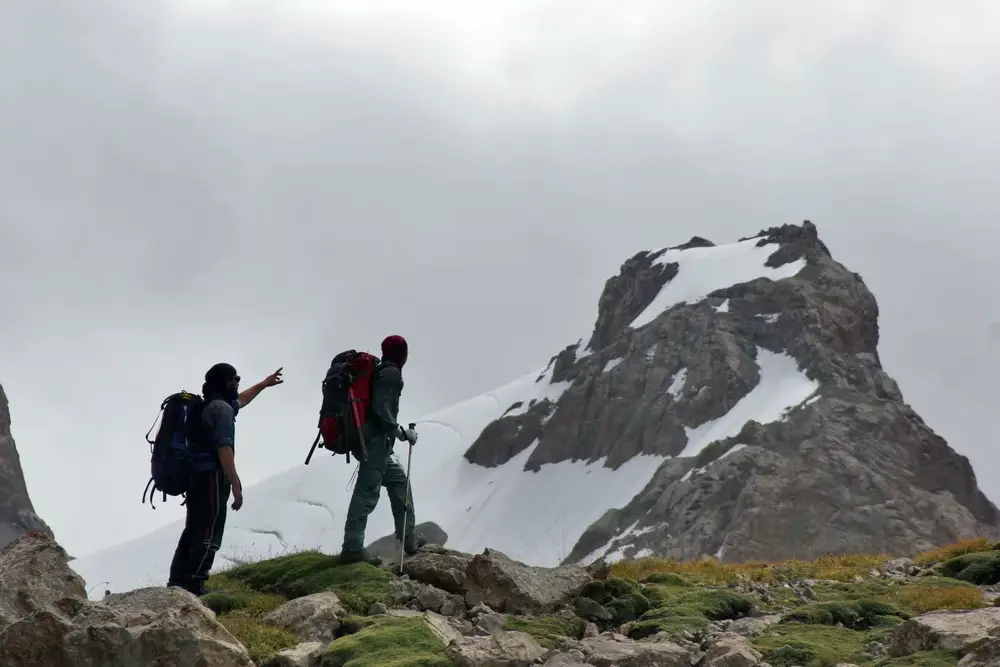 More Features To Consider
In addition to material, you need to decide whether you want the following features:
Adjustable Poles
Locking System
Packability
Grip
Weight
Tips/Baskets
Women's vs. Men's Poles
Adjustable Poles
Decide if you want adjustable poles. Adjustable trekking poles offer more flexibility. Shorter poles help when you hike uphill. Longer poles help when you hike downhill.
Adjustable poles offer the benefit of lengthening or shortening your hiking pole depending on the trail's incline. You might want nonadjustable poles for flat hikes since nonadjustable poles are usually lighter.
Locking System
Decide what kind of locking system do you want? The most popular locks:
Flip – uses a lever you can easily adjust

Twist – uses a screw or just twists; strong and long lasting
Packability
Usually shorter is better so you can pack your poles for a trip or easily store them in your backpack if you do not need them. Look for foldable poles and poles you can easily shorten.
Grip
What kind of pole grip do you want? 
Foam – soft and absorbs sweat, breaks down faster, lighter

Cork – absorbs sweat, a good choice for hot weather, durable

Rubber- Protects from the cold, durable, slippery when wet
Weight
Lighter is better.
Tips/Baskets
Carbide tips dig into loose dirt and rock to give you better traction. Rubber tips offer some traction and cause less trail damage. Replace your tips every 2,000 miles.
You only need baskets if you hike snowy trails.
Women's vs. Men's Best Hiking Poles
There is only a slight difference between women's and men's hiking poles. Women's poles are slightly shorter. They also have slightly shorter handgrips.
Usually, a unisex pole works very well for women and men. Just choose the hiking pole that meets your requirements whether it is a woman's or man's pole.
5 Best Hiking Poles
1. Black Diamond – Distance Carbon Z
Description
Black Diamond's Distance Carbon Z makes an ideal hiking pole for hikers who want lightweight gear. The Carbon Z weighs 4.6 ounces each.
The pole has a three section foldable design. The design allows you to quickly open and use your poles.
The pole features rubber tips and a lightweight foam grip.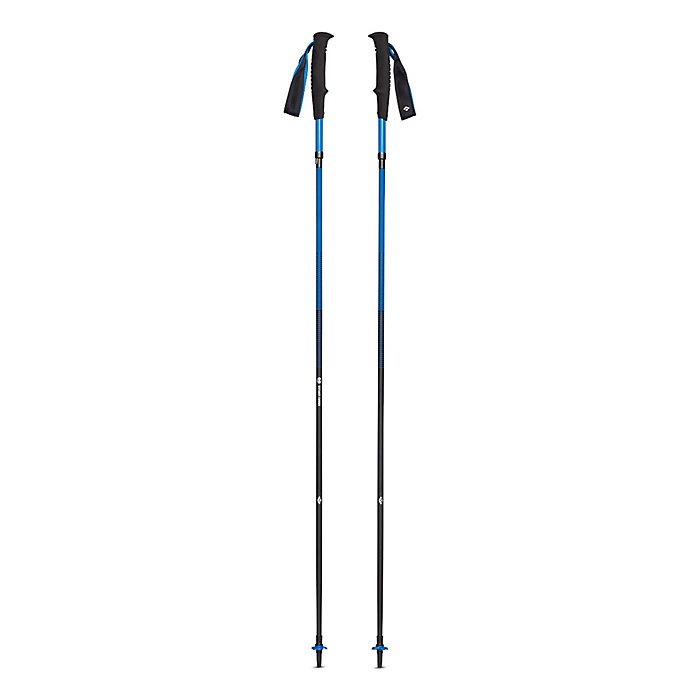 Features & Benefits
Carbon fiber for a lighter pole 

4.6 oz. each

for your comfort

EVA grip

(feels like rubber) for added comfort

Flip lock

to easily adjust
MSRP

$179.95
2. Black Diamond – Women's Trail Trekking Pole
Description
The Black Diamond Women's Trail Trekking Poles has an updated EVA foam grip for added comfort. The pole has a fusion comfort strap for added security. The strap makes it easier to handle your pole.
The Trail Trekking Pole makes a great choice for any trail!

Features & Benefits
Aluminum for a lightweight, sturdy pole 
EVA grip (feels like rubber) for your hand's comfort
Flip lock for a tight latch
8.5 oz. each for easy to carry poles
MSRP $109.95
Black Diamond – Trail Ergo Cork
Description
When you hike with the Trail Ergo Cork, you easily take on tough, rocky trails. The miles feel effortless when you hike with these poles.
When you choose the Trail Ergo Cork, you get a reliable, high performance hiking pole. These poles have a natural cork grip that feels soft in your hand. The cork also wicks away sweat on hot days so you avoid that discomfort while you hike.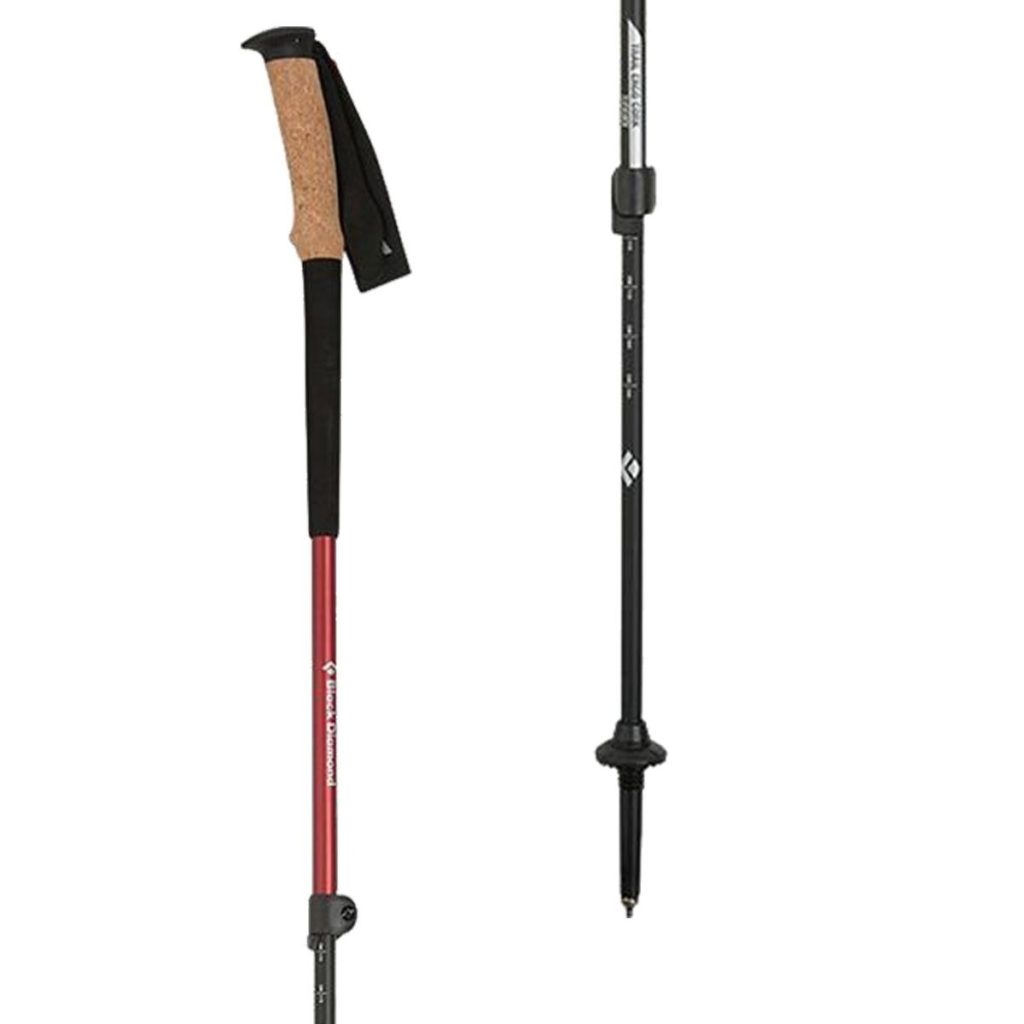 Features & Benefits
Lightweight for comfort on the trail
Ergonomic cork grip offers natural feeling support and comfort in your hands
Lightweight, durable aluminum
Easy to adjust for your height with 2 adjustment points
Steady grip on the trail with the pole's carbide tips
Nonslip grip extension for steep inclines
9 oz. each for your comfort
MSRP $139.95
Cascade Mountain Tech – Carbon Quick Lock Cork
Description
Cascade Mountain Tech makes a great budget carbon fiber trekking pole. They are useful for hiking uphill, downhill, and on flat terrain.
The Carbon Quick Lock Cork carbon fiber poles weigh only 7.8 ounces each. The poles will not slow you down on the trail. They will improve your hiking endurance to help you hike farther and longer.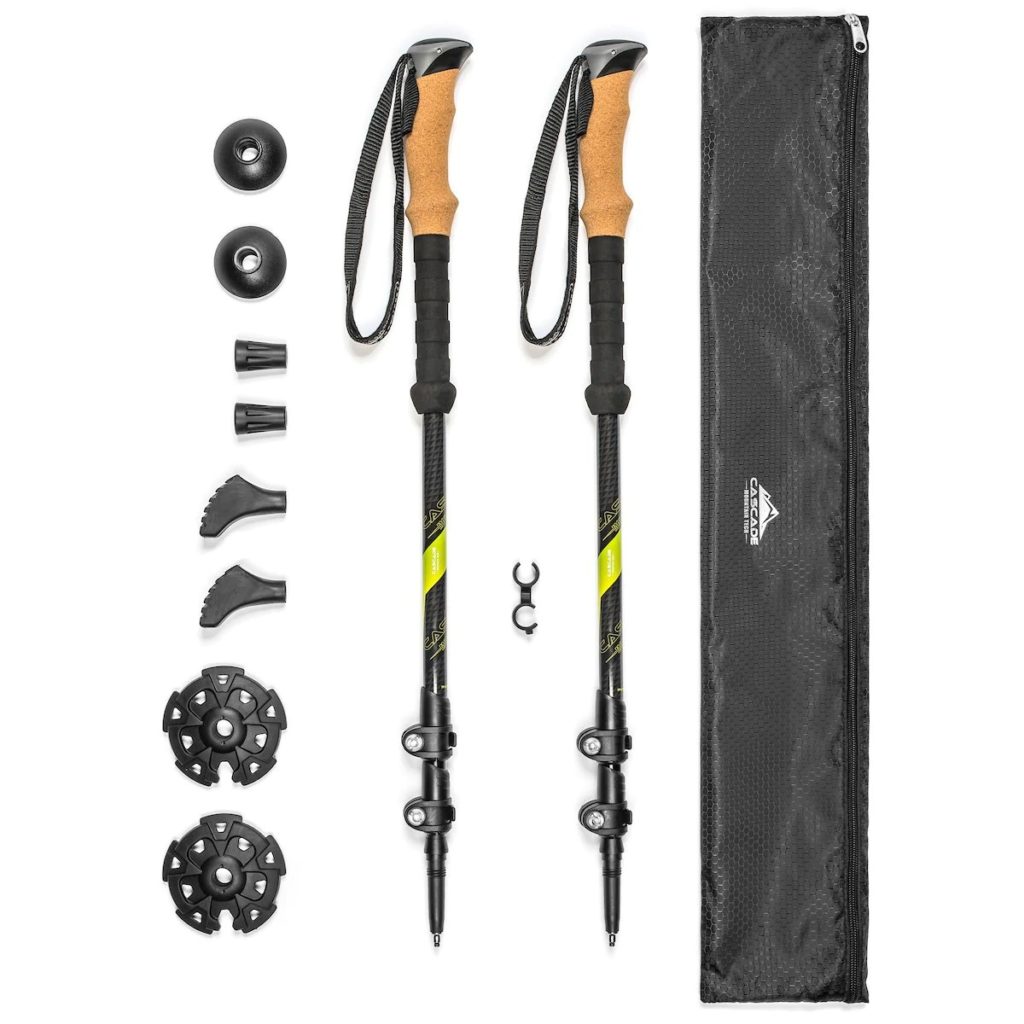 Features & Benefits
Carbon Fiber

for strength and light weight

7.8 ounces each (without rubber tips)

for comfort

Cork grip

for added comfort

Flip locks to easily adjust pole length

Tips and baskets included to customize as you want
Carrying case included for easy storage
MSRP

$64.99
Kelty – Range 2.0
Description
Enjoy a stable, smooth hike with the Range 2.0's internal shock feature. The shock feature absorbs the trail's rough spots as you hike. You stay fresh so you enjoy the trail's beauty.
The cork grips feel great in your hands and wicks away sweat on warm days to help your hands stay dry. The poles also have a soft EVA foam grip below the cork to help with a trail's steep inclines.
You can easily adjust the pole's length with the twist lock for your comfort. You can also adjust the wrist straps to keep the poles secure.
The Range 2.0 poles come with other handy features. Features include carbide tips to keep you steady on the trail. They also come with rubber tips to help avoid damaging the trail.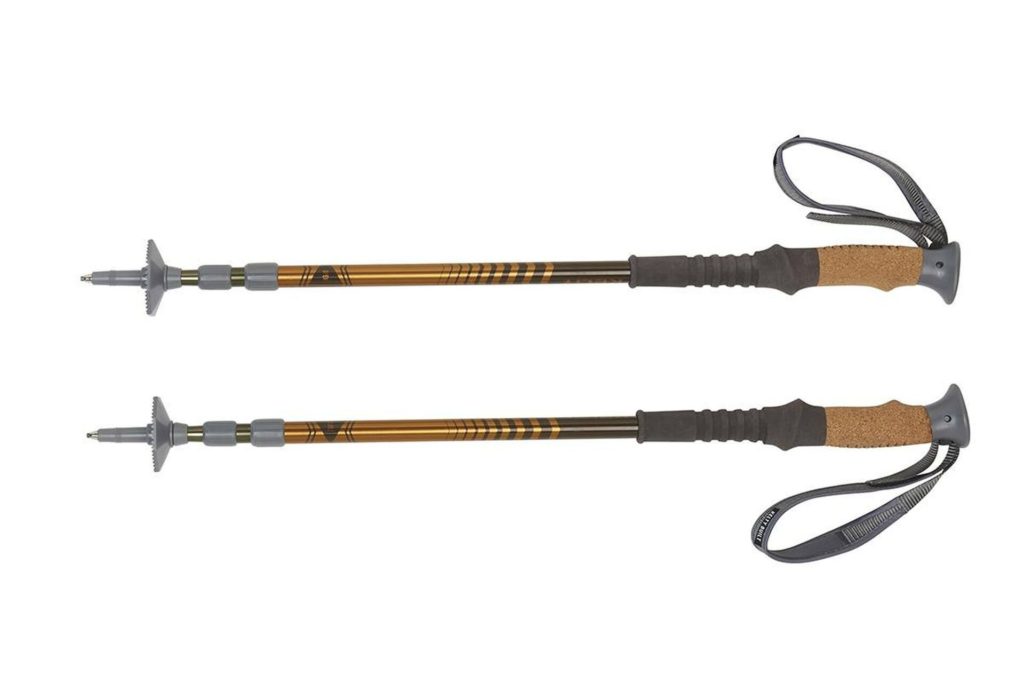 Features & Benefits
Strong and durable aluminum alloy for a lightweight, strong pole

Both

Cork and EVA foam grips; comfort and stability on any trail

Reliable twist lock adjustment

; easily adjust pole length
8.4 oz. each
Single poles available
MSRP

$59.95
5 Best Hiking Poles
All of these poles make excellent choices and offer you a lot of value. We chose Black Diamond. We chose the Black Diamond Trekking Poles for Women and the Black Diamond Back Trekking Poles (no longer available from Black Diamond).
Conclusion
Many hikers enjoy the benefits hiking poles offer. Major benefits include:
Keeping your balance
Relieving stress on knees and hips
Important features to consider include:
Poles materials
Grip materials
Locking system
Price
A well made hiking pole offers benefits that help you enjoy your hike and make a useful addition to your hiking gear.
If you are uncertain that one of the poles above meet your requirements, shop one of these Amazon budget choices.
Before you invest in high end poles, consider some of these very good budget priced poles. You can try a pair of budget friendly poles to decide if you really want hiking poles.
Amazon has budget hiking poles you might want to consider.