We may earn money or products from the companies mentioned in this post.
Fair Trade Practices
Some hiking gear companies use Fair Trade practices when they produce their gear. They use these practices when making their hiking boots, hiking shoes, clothes, backpacks, and other hiking gear.
What does Fair Trade practices mean?
What do the practices have to do with hiking clothing and gear?
Does it even matter how a company makes their hiking gear and clothing?
Or, does it matter how companies trade with their partners?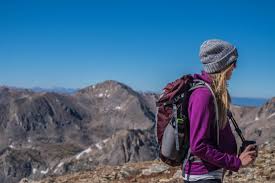 Osprey is just one example of a company with defined Fair Trade and social responsibility practices. Read about the Osprey commitment to social responsibility.
What is Fair Trade?
These trade practices mean a product meets certain rules. Companies that follow the rules want to help developing country's companies.
Fair Trade companies have a goal for their trading partners. Partners must have more equal trading conditions to meet the goal. Trade rules include fair pay and a safe workplace.
When a company sells a product that meets the rules, workers earn money. Workers spend their money. They spend money to improve how and where they live.
Fair Trade's Three Main Ideas Include:
First, the producer and the consumers act as partners.
Second, world trade does not pay everyone fairly.
Third, fair prices provide a way to have a higher standard of living than giving aid or charity provide.
Companies that use the system to make hiking clothes and gear show they want to pay fair prices. The companies also want to pay workers a fair wage. Fair pay allows workers to have more material comfort and protect where they live.
The system also looks at the products a developing country sells to developed countries. Developing countries also buy products. Some of the products include crafts, coffee, cocoa, sugar, fruit, chocolate, flowers, and gold. So, everyone gains with this system.
Fair Trade Benefits?
Workers earn fair pay.
Workers have a safe workplace.
The workers have a clean place to live.
Workers invest in where they live.
Sustainability (Why Does It Matter For Fair Trade?)
According to the Outdoor Industry Association (OIA), important sustainability issues include supply chain issues like:
Chemicals management
Animal welfare
Social responsibility
Factories' fair labor practices
Microfiber pollution in oceans and waterways
Carbon reduction strategies
In the OIA July 2018 report about the outdoor industry's sustainability status, the report outlined these goals:
No Impact
Companies need to understand their environment and social impacts. By understanding their impact, companies can make informed decisions to reduce negative impacts.
An index called the Higg Index offers companies a way to check the impacts of materials, products, and supply chains.
The Sustainable Apparel Coalition developed the index. The index's information helps companies make manufacturing strategies and design decisions.
This data also lets companies move toward longer term goals.
The goals cover a closed loop economy. This type of economy keeps materials in use for as long as possible.
This kind of economy also lets outdoor companies move toward zero impacts. Yep, a grand goal and the index's data helps decide how to move forward.
The report found that outdoor companies want to use sustainability practices because they believe the outdoor industry has a role to play in environmental and community stewardship!
Protecting the places we play
Outdoor industry companies need access to public lands. Water and air pollution, less snowpack, and more wildfires threaten outdoor spaces and recreation.
Lessening harmful results connected with manufacturing is an important way to care for our environment and protect where we play.
Legislation Compliance
Laws and regulations that impact materials continue to increase. Not meeting this legislation may mean those products cannot be sold into certain countries or states.
Sustainable Production Benefits
Increase company profits.
Reduce the company's energy costs.
Lower the company's taxes.
Improve worker morale and get more worker ideas to improve manufacturing.
Fairtrade America's Sustainable Goals
In addition to the OIA's goals, Fairtrade America's Sustainable Goals 2020 Update listed eight goals that help farmers and workers. Some goals overlap with the OIA's goals.
Decent incomes for farmers and workers
Combat hunger with sustainable agriculture
Close the farming gender gap
Decent work and decent conditions
Rethink production and consumption
Changing trade in a changing climate
Democracy in action
Working together for trade justice
Decent incomes for farmers and workers
Fairtrade's mission focuses on eliminating poverty. Around 80% of the people living in extreme poverty live in rural areas. A unique pricing mode protects farmers from pricing swings. Still, the goal is for living incomes.
From 2015-2018, farmers and workers received $713.25 million more income due to the benefits of Fairtrade.
Combat hunger with sustainable agriculture
Zero hunger starts with paying farmers a fair price. Small scale farmers provide 70% of the world's population with food and have a big role to play in ending world hunger. Farmers can play their role only when they can get fair prices for their crops and the right support for their farms.
Producers need financial stability to invest in their businesses. They need stable finances to ensure long term food security for their families and communities. They also need stability to pay their farm laborers a decent wage.
Close the farming gender gap
According to UN estimates, closing the gender gap in agriculture could cut the number of hungry people by up to 150 million.
Fairtrade helps women to share equally in decision making, earn better wages, and diversify their income.  Standards also forbid gender discrimination, sexual harassment, and gender-based violence.
The standards set rules for parental leave, and rights for pregnant and breastfeeding women. The group runs gender leadership schools and facilitates seed funding for women's initiatives.
Decent work and decent conditions

Millions of farmers and workers need to earn more. They need more to pay for their basic household needs. Also, they need to save for retirement or a failed harvest.
Human rights abuses in supply chains are widespread. Abuses include child and forced labor, sexual harassment and abuse, trafficking and bias. Fairtrade standards prohibit child and forced labor, promote better working conditions and better work terms.
Rethink production and consumption

The trading network covers more than 100 countries. It connects 1.7 million farmers and workers, 4,000+ businesses and countless shoppers.
Fairtrade is the only ethical label with a standard to promote fair actions by traders and buyers. Fair actions include:
Clear contracts
Fair prices
Openness about sourcing and market prospects
Pre-financing for producers
Compliance with labor and environmental laws
Changing trade in a changing climate
Climate is a current reality for farmers.
Fairtrade helps farmers to better resist climate shocks and stresses through:
Environmental and climate standards
Carbon credits
Climate academies
Farmers have help to protect the environment and prepare for the future of the climate crisis.
Democracy in action

Fairtrade builds democracy from the ground up. It is the only global label 50 percent owned and run by farmers and workers themselves. Farmers decide how to spend the Fairtrade Premium.
Working together for trade justice
Global supply chains favor big business over small scale farmers. For trade justice, Fairtrade works with:
People along the supply chain
Trade unions
Consumers
Governments
Nonprofits
Conclusion
Fair Trade wants fairness between trading partners to help keep trade fair. This trade system gives companies and workers fair profits and more rights. For more information, click here, and visit Fair Trade USA   ©2018 FAIR TRADE USA.
Fair Trade provides workers many benefits. Communities also benefit from the system's methods. Worker benefits include:
Fair pay
A safe workplace
Cleaner communities
Community investments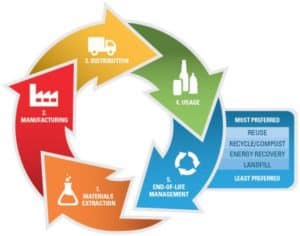 Sustainable Production creates goods and services using processes and systems that:
Do not pollute.
Save energy and natural resources.
Cost little.
Keep workers, communities, and consumers safe and healthy.
Sustainability benefits where we live, workers, communities, and people who buy products. These benefits lead to profitable and productive businesses.
Sustainable Production benefits are clear. Companies make more money, we have a better environment, and workers have a better workplace. If you want to read more, this is a good U.S. Department of Commerce article.  Five Sustainable Production Benefits
Pin this post for later.