We may earn money or products from the companies mentioned in this post.
3 Best Hiking Trails in Flagstaff, Arizona
What are some of the best hiking trails in Flagstaff Arizona? You might not be familiar with Flagstaff, but the area has a lot of great hikes that you're sure to love. Three of the best, easy to reach Flagstaff hiking trails include:
You might think that since Flagstaff is in Arizona that the area has desert all around, No, Flagstaff has:
Mountains
Pine trees
Clear, cool air (sits at 7,000 feet)
Since these trails are in national parks, read about the America The Beautiful National Park Pass.
Try these three Flagstaff hiking trails. You will love them!
Fat Mans Loop Trail – Flagstaff Hiking Trails
Description
The Fatmans Loop Trail is a moderate hike with a few short, steep sections. The trail has scenic overlooks with views of Flagstaff and the surrounding countryside.
The trail also has interesting, volcanic rock formations. One of the formations is hard to squeeze through. That is where the trail's name "Fat Man" comes from.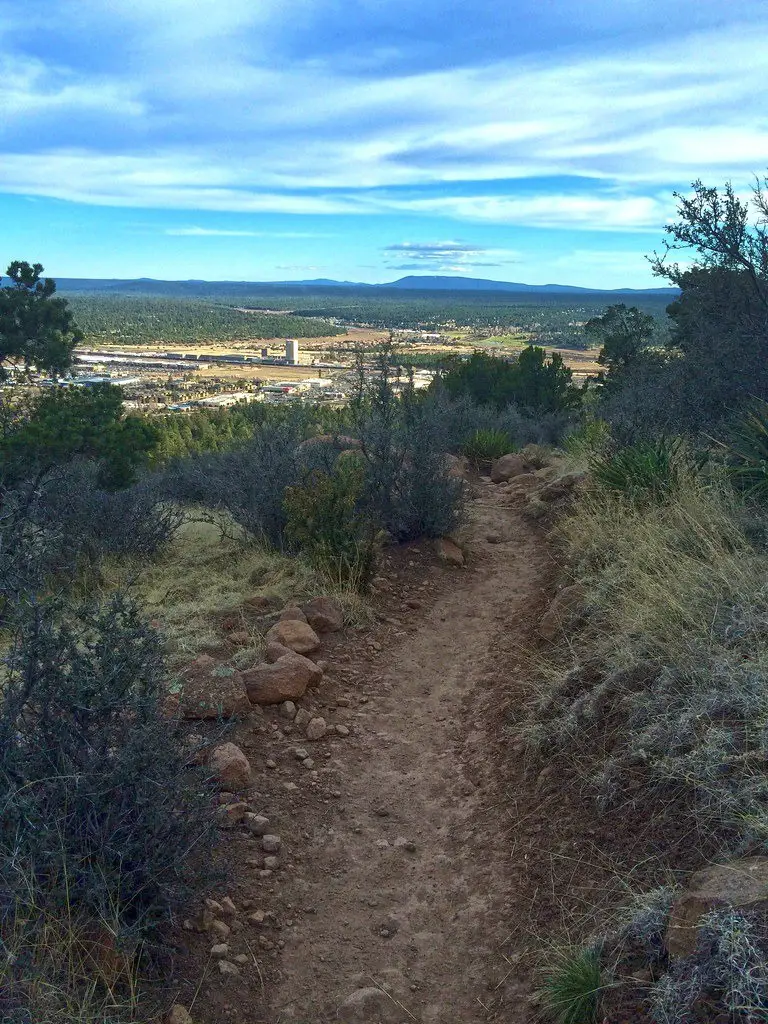 Things You Want To Know
Difficulty: Moderate
2.4 mile loop
Paved; lots of stairs
561 feet elevation gain
Leashed dogs allowed
Hiking The Trail – Flagstaff Hiking Trails
As you hike this trail, you will enjoy seeing diverse plants and trees. Some of the plants include cliff rose, alligator juniper and broadleaf yucca. Trees include white fir and ponderosa pine.
You are also likely to see Abert's squirrels, pygmy nuthatches, mule deer and grey foxes. You might also see Steller's jays and ravens.
This trail also lets you access the Elden Lookout Trail. The trail continues two miles and 2,000 feet to the summit of Mt. Elden.
Directions From Flagstaff
Humphreys Peak Trail – Flagstaff Hiking Trails
Description
This is the highest point in Arizona. You have a 360 degree view from the peak's summit.
Expect a long, tough hike. Be prepared for at least a 6-8 hour, very hard round trip hike. Be sure you bring your hiking poles to help with the steep incline and steep downhill!
Expect fallen trees and other hurdles. Heavy winds often blow down plants, trees, and rocks.
Check the weather the day of your hike. High winds and a quick change to bad weather can turn this into a dangerous instead of a fun hike.
Things You Want To Know
Difficulty: Hard
11 miles round trip re: U.S. Forest Service
Rocky, roots; some snow and ice in the winter
4550 feet elevation gain
Leashed dogs allowed
Hiking The Trail – Flagstaff Hiking Trails
Prepare For Altitude
The Humphrey's Peak hiking trail is for experienced hikers. The elevation gain could cause altitude sickness. You need to know how to handle altitude sickness when you reach the summit. If you have mild sickness symptoms simply:
If you have more severe altitude sickness symptoms, and how to avoid symptoms, read this from the Cleveland Clinic. Tips to Cope With Your Altitude Sickness.
The trail is very steep and rough with lots of rocks. In places, the trail is very narrow. When you see other hikers, you need to give one another room to pass. You might want to hike the trail with a friend since the trail can be very rough in places.
Winter Hiking Permit
You need a permit to hike the trail in the winter since the trail has a lot of ice and snow. In some areas, ice and snow can be waist high!
Back country permits, are now available at the Peaks and Mormon Lake Ranger Districts. The permit helps inform about back country hazards The permits also help rangers and sheriffs with search and rescue if that becomes necessary.
The Summit
When you reach the summit, you have a stunning 360 degree view of the area. You can even see the Grand Canyon and Painted Desert! Also, be sure to sign in when you reach the top. Only a few hikers succeed with this hike.
Hike the Humphreys Peak Trail for one of the best hiking trails in Flagstaff.
Directions From Flagstaff
Walnut Canyon Island Trail – Flagstaff Hiking Trails
Description
This scenic hike includes waterfalls, flowers, and historical sights along the trail. It's about 1 mile roundtrip so it's great for beginners or people who want something shorter.
More than 700 years ago pueblos lived in Walnut Canyon. The Canyon Island Trail leads you back in time.
The trail lets you see how the Native Sinagua people lived. You will see twenty five dwelling rooms along the trail and other dwelling rooms across the canyon.
The Sinagua came to the Flagstaff region around 600 AD. They hunted bighorn sheep, deer, and different kinds of small animals. They also grew squash corn, beans, and included many wild plants in their diet.
No one knows what happened to the Sinagua. It seems they just disappeared.
Things You Want To Know
Difficulty: Moderate
1 mile loop
Paved; lots of stairs
249 feet elevation gain (on your way back)
Dogs not allowed
Hiking The Trail – Flagstaff Hiking Trails
Walk down 240 steps into Walnut Canyon. The trail loops around a rocky butte called the Island. Buttes are tall, flat towers of rock with steep sides. Erosion creates buttes.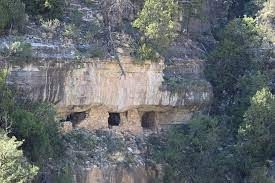 After a couple of switchbacks, another 185 steps take you to the canyon's bottom. At the bottom, take the loop around the butte island. The trail remains mostly level at the bottom except for some short stair sections.
As you walk, notice the walls have two different kinds of layers. One sandstone layer came from ancient sea sand dunes about 275 million years ago. The other limestone layer came from shells and fish skeletons that were in a 265 million year old ocean in the area.
Preserve the park's history. Stay on established trails. Do not climb or lean on dwelling walls. Do not remove or disturb any features.
Also, stay safe on the trail. During summer months, strong thunderstorms often pop up in the afternoon. Begin hiking the trail in the morning, and you will likely to avoid thunderstorms.
If you like history, this is one of the best hiking trails in Flagstaff.
Directions From Flagstaff
Summary – Flagstaff Hiking Trails
Flagstaff has a lot of fun hiking trails. The area has a lot to offer. The area around Flagstaff has mountains, evergreen forests, cool clean air, and early history sites.
Hiking is an amazing way to enjoy the scenery and get some exercise, while also getting a little bit closer to nature. Try these 3 Flagstaff hiking trails for fun, interesting hikes!
If you need boots or a backpack, read these posts: