We may earn money or products from the companies mentioned in this post.
Hiking Rain Jacket – How to Choose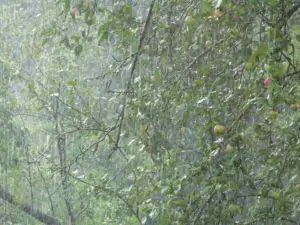 What do you want to consider when you choose a hiking rain jacket? When you hike, you want a compact, light rain jacket. You want a hiking rain jacket that fits in your backpack easily. You want a jacket that does not add weight to your pack. Most importantly, you want a jacket that keeps you dry and a jacket that breathes. A breathable jacket lets you avoid getting too hot. Picking the best hiking rain jacket is an important decision that needs some consideration.
Jacket makers design their hiking rain jackets to keep you warm and dry, or just dry when you hike. Jacket makers use different fabrics and fabric treatments to help you stay dry. Long wet hikes are uncomfortable at best and unhealthy at worst.
Consider these best men's and women's best hiking rain jackets.
Hiking Rain Jacket's Features to Consider
To choose the best hiking rain jacket, first, consider the available features. Consider how useful you might find each feature. The more features, the more your jacket costs. For hiking, you want a waterproof, ventilated jacket that "breathes".
Features to Consider
Zippers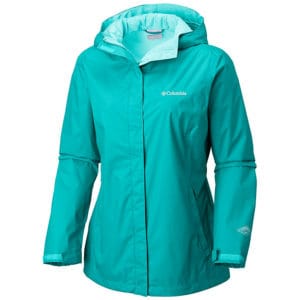 Many jackets have zippers. To keep water from leaking through, zippers require a storm flap. They need a flap over the small opening at the end of the zipper track. Jacket makers moved away from complete flaps in order to make lighter jackets.
The Hood
Many hoods have brims and drawstrings on the sides. The drawstrings let you customize how your jacket fits. Some jackets also have hoods that zip off or roll and stow in the collar. The best hiking rain jackets have these features.
Adjustment Features
In addition to the hood features above, coats usually have a drawcord at the bottom hem. Longer jackets might have a drawcord at the waist. The best hiking rain jackets also have wrist cuffs that adjust. These features let you keep rain, wind, and cold out of your jacket.
Pockets
Pockets with waterproof zippers add to the price of a jacket. Still, you want waterproof pocket zippers so you stay dry.
Does the jacket pack easily?
Ultralight, compact material makes it easier to pack your jacket. A few jackets double as a storage pouch. If a coat also doubles as storage or has a pack, it is "packable". Compact raincoats fold neatly and pack easily.
Convenience and Ease of Movement
You want a comfortable, well-fitting rain jacket. Pick a jacket that is loose enough to allow you to wear several layers beneath your jacket. You want to wear the extra layers without your jacket being tight. Make sure you can move quickly without your jacket restricting your arms.
Weight
Rain jackets keep in different amounts of heat. The best rain jackets also keep you warm in cold weather. They keep you dry in the heat too. Usually, you only need a lightweight rain jacket. Just slip on your lightweight jacket for rain or wind protection. If you only want an extra layer to keep you dry, choose a jacket with thin fabric.
Most hikers like to pack as light as possible. If you plan a long hike, weight matters.
Mainly, the outer layer provides protection from rain and wind. The outer layer does not have to keep you warm. However, protection from wind and rain prevents heat loss.
Some winter hiking jackets might come with insulation so they weigh more. Still, if you need the extra warmth, buy an insulated jacket.
Price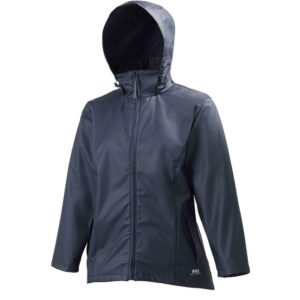 Expensive does not necessarily equal quality. Hikers want to stay dry. Hikers are willing to pay to stay dry. Some jacket makers take advantage of the willingness to pay to stay dry. So, again, price does not always equal quality.
Durability
You also want a durable jacket. Check the fabrics used to make the jacket. Also, read the reviews. Find reviews from hikers that used the jackets for years. Read reviews
Waterproof and Breathability
Waterproof
You want a jacket that keeps you dry. Also, choose a hiking rain jacket that breathes.
You want a waterproof rain jacket so you stay dry. Waterproof fabrics make sure that you stay dry and warm. Usually, a jacket has a waterproof finish on the fabric. Most waterproof jackets use durable water repellant (DWR). Water beads up and rolls off the best hiking rain jackets.
The best hiking rain jackets have a DWR coating. A DWR coating does not compromise breathability. Modern, eco-friendly DWR finishes currently in use wear off faster. The DWR coating lasts about a year with use.
Reapply a DWR treatment as part of your rainwear upkeep. When the rain stops beading up, reapply the DWR treatment. Re-apply the DWR coating at home. When you apply the DWR finish, it does not last as long as the original DWR finish. If you like, also apply a DWT treatment to shoes, backpacks, rain pants, etc.
Breathable
You want a breathable rain jacket because non-breathable clothes cause you to sweat. Sweating leads to heat loss. Sweating might even cause hypothermia.
When you become hot during your hike, you want the sweat to move out of your jacket. That means your jacket "breathes". Vents also help remove sweat from inside your jacket.
Waterproof and Breathability – Ratings
Waterproof – Rating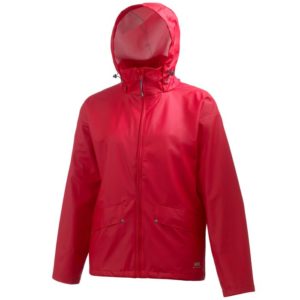 The hydrostatic head (HH) measurement is the most common way to rate waterproofing. The HH ratings indicate your jacket's ability to keep you dry. The HH rating shows you a millimeter (mm) rating. The mm rating tells you how many millimeters of water pressure a fabric resits before leaking.
Breathability – Rating
Grams (g) measures breathability. The rating measures how many grams of water vapor pass through a square meter of fabric in 24-hours. When the rating is available, most jacket makers just use g to express the rating.
Many manufacturers do not use ratings at all. Also, many manufacturers have their own breathability ratings. So, it is very hard to know a jacket's true waterproof and breathability rating.

Use reviews to help you decide the best jacket. Read multiple reviews before you make your decision. Also, the most common materials used for waterproof jackets have published ratings.
The most common materials used to make jackets include eVent and Gore-Tex. These two materials use more than one layer and more than one membrane. The extra layers and membranes keep you dry.
eVent's waterproof rating starts at 30000mm. Gore-Tex's starts at around 28000mm. eVent and Gore-Tex both have a 15000g – 25000g breathability rating.
What waterproof rating does my jacket need? Only look at jackets with a rating above 5000mm if you want to stay dry.
5000mm Hiking Jacket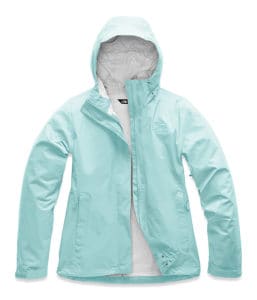 A jacket with an HH rating of 5000mm resists a moderate amount of water. Once it starts raining very hard, or it keeps on raining for a long amount of time, the fabric starts to get soaked.
Buy a 5000mm jacket if you expect mild hiking conditions. This rating keeps a day hiker dry.
10000mm Hiking Jacket
A 10000mm jacket resists a lot of water. However, if it rains for hours, eventually you get wet.
20000+ mm
If the weather is so wet that it soaks your 20000mm waterproof jacket, you need to take cover!
Finally
You want a compact, light hiking rain jacket that easily fits in your backpack. You also want a jacket that does not add weight to your pack. Basically, you want a jacket that keeps you dry and a jacket that breathes. A breathable jacket keeps from becoming too hot. You want to make a well-considered decision when you pick your hiking rain jacket so you stay dry and comfortable when you hike in the rain.
Consider these best men's and women's best hiking rain jackets.
Pin this post for later.