We may earn money or products from the companies mentioned in this post.
Find The Best Hiking Trails With Waterfalls Near Me
If you want hiking trails with waterfalls near me, Georgia is a great place to find them. Whether you just like nature, just like hiking, or you want both hiking and nature, consider Georgia.
Georgia should be high on your list of places to go hiking. In this beautiful state, there are a lot of hiking trails with waterfalls near me. These trails can satisfy your urge to explore wilderness hiking trails that have cool, sparkling waterfalls. 
You might want to think about some hiking gear for your hike:
Exciting hiking trails with waterfalls near me include: 
Emery Creek Falls Hiking Trail – Chatsworth, GA 30540
Distance: 6 miles (total) in and back; Difficult 
Highlights:
Hot summer days are cool here. Savor the quiet privacy as you get away from it all.
Enjoy the wildflowers, ferns, and cool green moss. As you hike to Emery Creek Falls, be prepared for at least 20 water crossings. Also, be ready to get wet! 
The Emery Creek Falls trail follows what were once old logging roads. The trail takes you along a watery hike through a hardwood forest. The forest includes the endangered hemlock tree. Hemlock trees contribute to our water quality, air quality, and a good home for our wildlife.  
Directions: Emery Creek Falls
Jacks River Falls – Beech Bottom Trailhead, Copperhill, TN 37317 (hiking the Beech Bottom Trail in Georgia)
Distance: 9.2 miles (total) in and back; Easy to Moderate with a medium slope  
Highlights:
Among all the hiking trails with waterfalls near me, prepare to see one of the best falls when you hike to Jacks River Falls! This is a long, stunning hike.
Even though the trailhead is in Tennessee, you hike in Georgia. The falls are in Georgia. This hike to the falls takes the Beech Bottom Trail. You can also hike the Beech Bottom Trail and the Jacks River Trail as another route to the falls.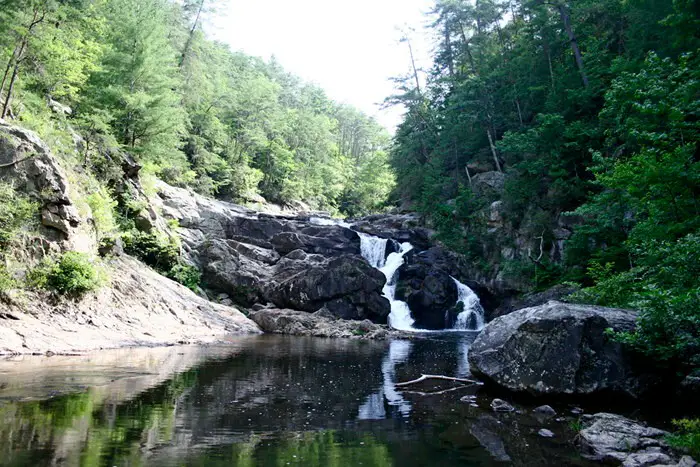 On a hot summer day, jump into the cool pool below the upper fall. Follow the path about 30 yards away from the falls, and enjoy the fall's beautiful view from the ground.
If you hike the trail during the late spring look for the pretty white, pink, and red mountain laurel. Also, look for the colorful pink, yellow, red, and white wild roses. Enjoy this untamed, rugged wilderness in Georgia's remote, rolling hills.
Be careful, wet and SLIPPERY rocks! Also, watch out for poison ivy, LOTS of it on each side of the trail.
Directions: Jacks River Falls
James E. Edmond Trail – Black Rock Mountain State Park, Mountain City, GA 30562
Distance: 6.9 mile loop trail – Difficult with steep slopes
Highlights:
Located at Black Rock Mountain State Park, the trail covers some of Georgia's most stunning landscapes. When you hike the trail, expect a steep 6.9 mile trail. The hike offers you a worthwhile experience.
The trail's distinct landscape includes creeks, valleys, a remote waterfall, gurgling streams, and mountain top views. The trail also has several small waterfalls.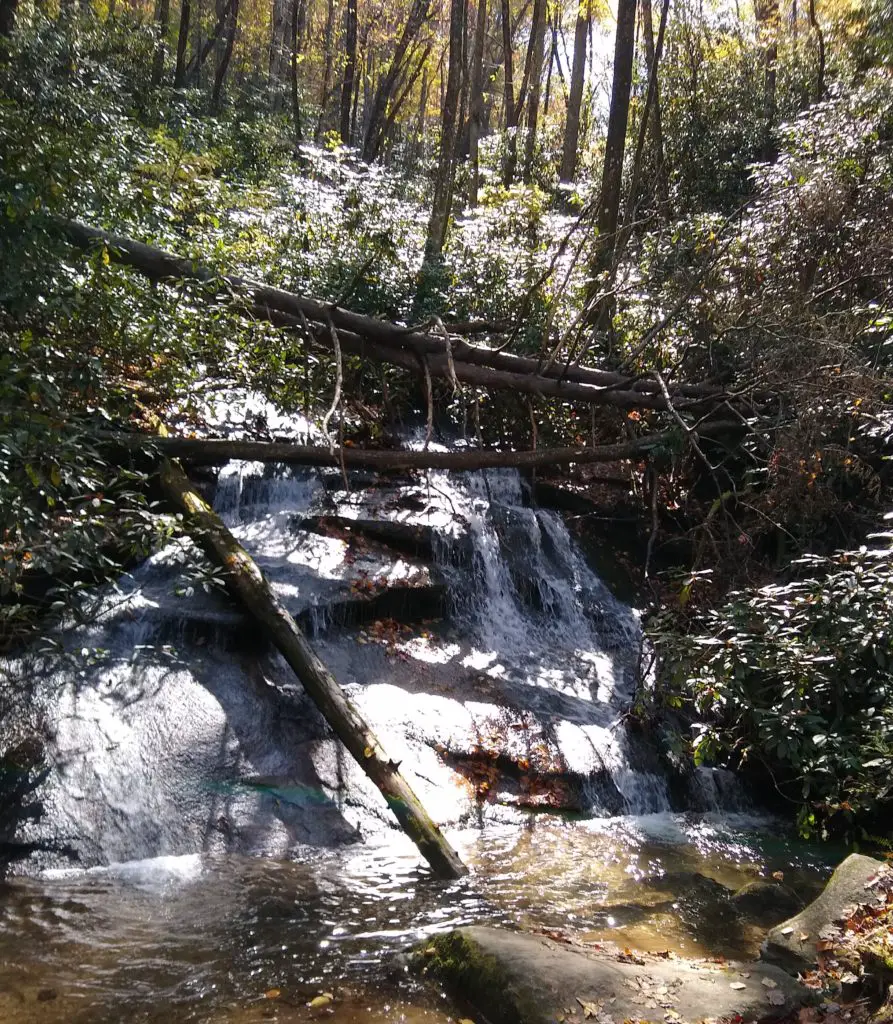 You want to be ready for the hike's difficult, steep slopes. Each mile you hike, the trail climbs higher!
Of course, the trail goes downhill in places. Still, after a little more than 4 miles, the trail slopes uphill until you reach the top. When you reach the top of the trail, you hiked uphill for 2,020 feet.
The James E. Edmond is best for hikers with experience. I hiked the trail with my son. We both have a lot of hiking experience. For an older hiker, I am in very good health and shape. I had to work to hike the trail. The work was worth the effort too!
Directions: James E. Edmonds Trail
Raven Cliff Falls Hiking Trail – 3000 Richard B Russell Scenic Hwy, Helen, GA 30545
Distance: 5 miles in and back; Easy
Highlights:
Relish the abundant summer wildflowers and mossy tracks! The Raven Cliff Falls Trail is easily one of the best hiking trails with waterfalls near me that Georgia offers. The walk to the top and back should be appreciated by even seasoned hikers.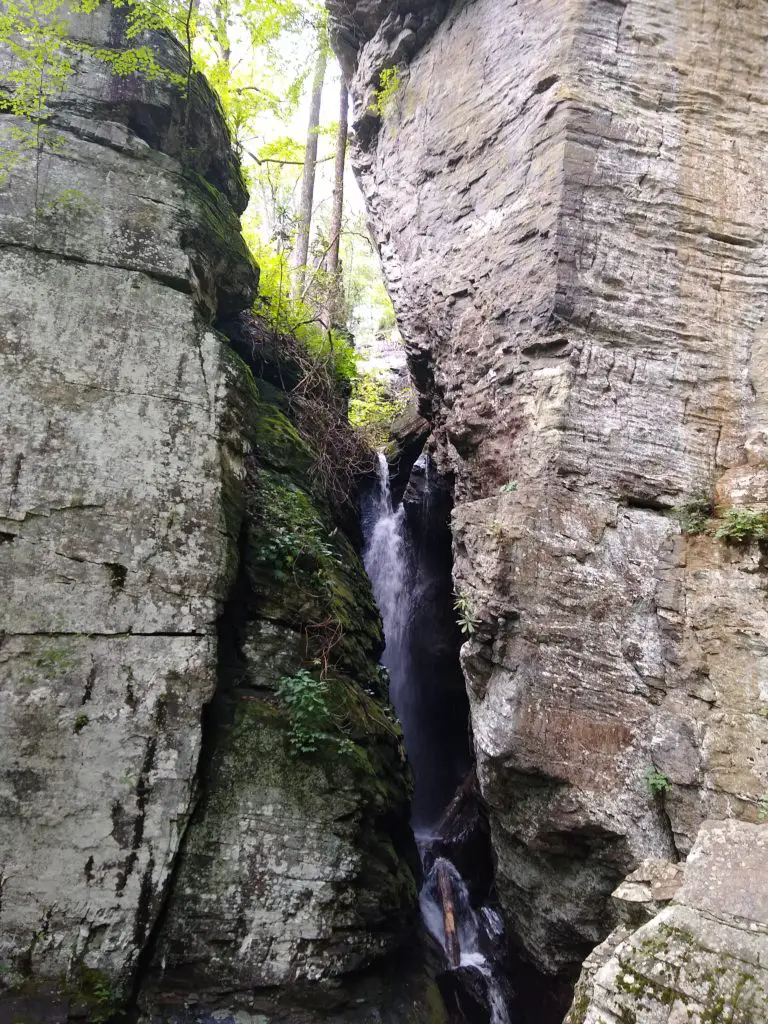 The trail takes you through a cool, green, moss-splattered forest. The hike has fresh, cascading waterfalls. Unlike many waterfalls, Raven Cliff offers you a double cascade fall with three drops.
First, enjoy a spectacular 60 foot drop. Next, be delighted by a 20 foot drop into a deep mountain pool. Finally, end with another glittering 20 foot cascade to Dodd Creek. 
Directions: Raven Cliff Falls
Hiking Trails With Waterfalls Near Me – Notable mentions:
Before you hike, you might want to consider some hiking gear:
Conclusion – Best Hiking Trails With Waterfalls
North Georgia has rolling hills and plenty of rivers and streams. The hills and rushing water combine to make the ideal home for beautiful waterfalls. Get away from it all, and enjoy these hiking trails with waterfalls.
Pin this post for later.