We may earn money or products from the companies mentioned in this post.
How To Organize Your Backpack For A Fun Day Hike
How do you pack a hiking backpack for a day trip, that is the question?
The key to packing for comfort depends on how you distribute weight. Pack heavier items in the bottom half of the bag.
Also, pack the heavy gear close to the back of the pack. This helps distrbute weight evenly.
Organizing your backpack is crucial for a comfy hike. Whenever you go on a trip, I recommend trying out different packing styles until you find the one that works best for you.
Packing for a day hike is much easier than packing for an overnight hike. You can pack very little compared to what you might need for a few days of hiking.
Consider:
How long you hike – If You are going on a five hour hike, you will need more snacks than someone who's just going on a one hour hike.
Your activity level – If you are an athlete who wants a lot of exercise, then your backpack needs different gear than someone who wants a little excersise.
Any medical conditions – Be sure to bring some of your medication in case you have to stay longer than planned.
How to Pack A Hiking Backpack For A Comfortable Day Hike
Your backpack should be lightweight and have enough gear for the length of your hike. You want a pack with comfy straps and a lot of pockets. You also want to pack items that are lightweight but give you the most benefit.
It's important that all of your equipment fits in your pack. Nothing should be too heavy or too bulky.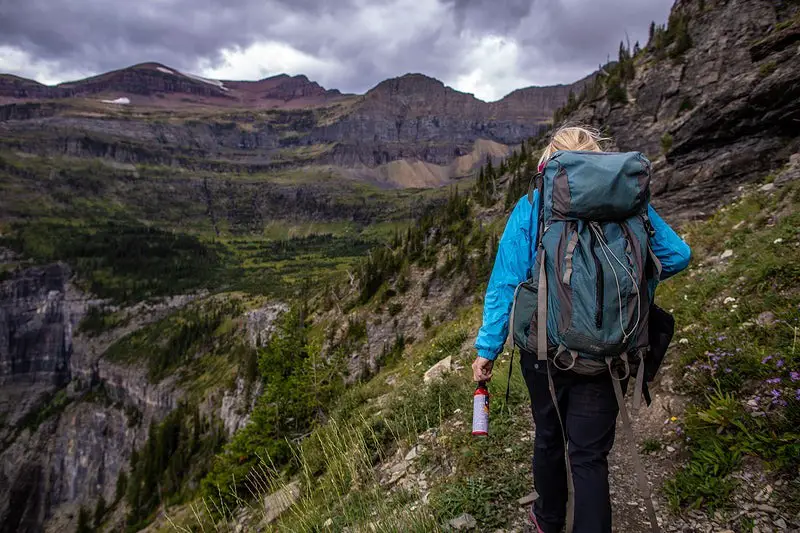 A good way to pack your gear is to packing your heaviest items closest to the back. Lighter items should be placed near the front where you can easily reach them during the hike. Keeping itemes in easy reach reduces back strain.
Avoid overpacking. Take what you need but only what you need.
Your Backpack's Upper Zipper Pocket
Pack your small, most commonly used items here. This makes an ideal, easy to reach place for items like snacks, small tools, and your headlamp.
Front Pouch
This makes great storage for your rain gear. Since storms often start quickly on the trail, you want to reach your rain gear fast. Also, if you need to store wet gear when the rain stops, the rest of your gear stays dry.
Water Bottle Pockets
Well … store your water bottles in the water bottle pockets. I recommend a pack that has a water bladder though. A water bladder lets you easily carry enough water and easily reach it.
Hipbelt Pockets
The hip pockets make a great place to store light items too. The poockets make it very easy to reach your snacks.
The Straps – Why Do You Need Them? – How To Pack A Hiking Backpack
Why does my backpack have so many straps? The straps squeeze your gear in. When your gear gets compressed, you have a tighter center of gravity. The tighter center of gravity helps you keep your balance as you hike.
What to Put in My Backpack?
The easiest way to pack what you need is to make a checklist. Make a checklist of the gear you might want to bring. Start by looking at your checklist. Make changes according to the length of your hike and other things that are important to you.
You want at least this gear on your day hike:
Hiking Pole(s)
Lunch and/or snacks
Water
First aid kit
Rain cover or liner
Lightweight waterproof jacket
Change of clothes in a waterproof bag
Camera
Also, make sure you have at least one of these waterproof items:
Waterproof pack
Waterproof pack cover
Liner that is waterproof
Dry bag
You want to stay dry as you hike. You also want dry gear.
If you use a water bladder, be careful not to pack anything sharp next to the bladder. Consider a pack with a water bladder.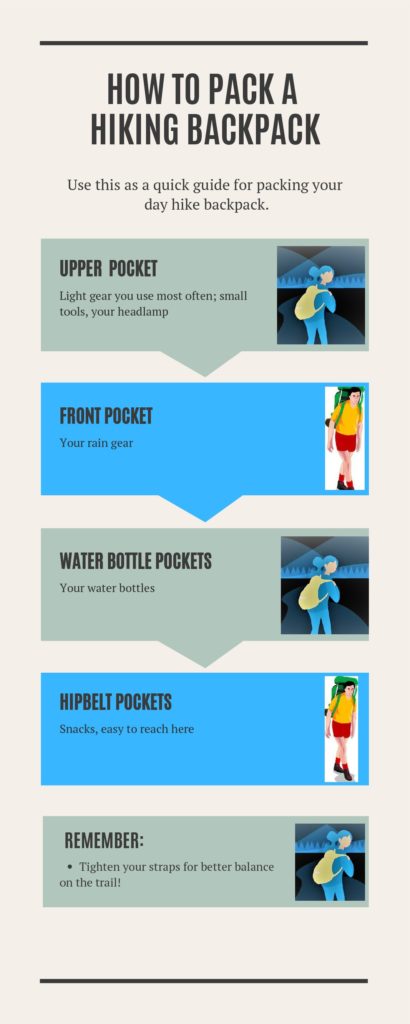 Conclusion And Tips! – How To Pack A Hiking Backpack
The first thing to consider when packing for a day hike is the length of your hike. Hikers who plan on traveling one or two hours should bring extra water, snacks, and sunscreen. If you are going on a five or six hour hike, make sure you bring more food and water as well as rain gear. If it rains, you want to stay as dry as possible!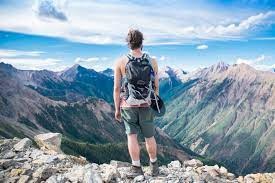 When packing your backpack for your day hike, it's important to place heavier items at the bottom so you can keep your center of gravity low. A low center of gravity helps you maintain good posture with a full pack.
Next, fill in any empty space with light items such as clothes or books. Packing like this helps balance your pack and does not hurt your back.
Do you need a women's or men's day hike pack? Consider this Osprey pack. This pack makes a great choice for day or overnight hikes. The Osprey pack has enough room for all the gear you want. The pack lets you organize your gear so your pack feels comfy. Osprey has a wide range of useful gear. This video shows some of the gear and has a quick review of how to pack your pack.
If you like, Amazon has some very good budget day hike back choices. Look at these packs (including Osprey):