We may earn money or products from the companies mentioned in this post.
Do you want a GREAT day hike? Think about hiking Yonah Mountain. When you hike this mountain trail, you get:
A lot of exercise
Beautiful Scenery
A convenient location
Contents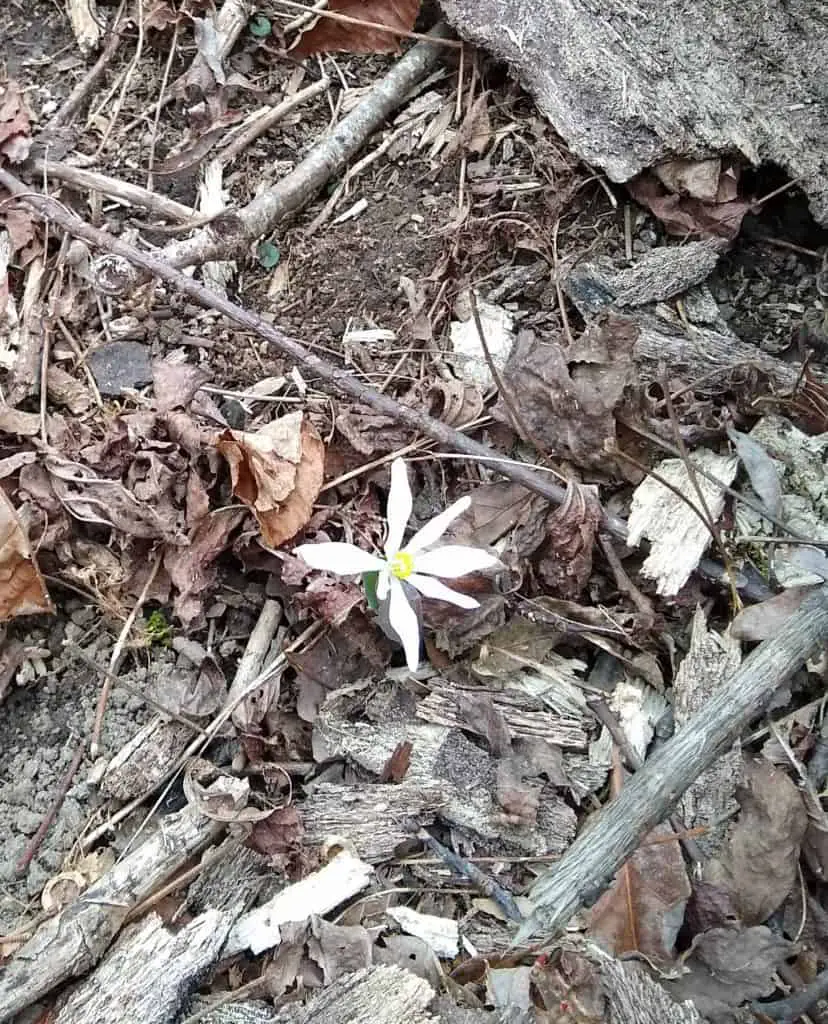 About Yonah Mountain
Yonah Mountain's name comes from a Cherokee word, yanu. The word means "bear".
Native Americans told a tragic legend about what happened to two lovers on Mount Yonah. The legend says a beautiful Cherokee maiden and a Chickasaw warrior were in love. The lovers, Nacoochee and Sautee, were members of enemy tribes.
Tribal elders forbid their love. Still, the lovers eloped. A tribal war party followed the young lovers to Yonah Mountain. The war party threw the warrior Sautee from a Yonah Mountain cliff. Heartbroken, the maiden Nacoochee followed him and jumped to her death.
Directions
From downtown Cleveland, Georgia:
Drive north 0.3 mile on Highway 129.
Take a right onto Georgia Highway 75 and go 2.2 miles.
Turn right on Tom Bell Road.
Go 0.9 mile and take the 2nd right turn onto Chambers Road.
After 0.7 mile, turn right on Forest Service Road 323.
Go 0.3 mile to the trailhead parking lot.
Free parking!
Yonah Mountain – Trail Difficulty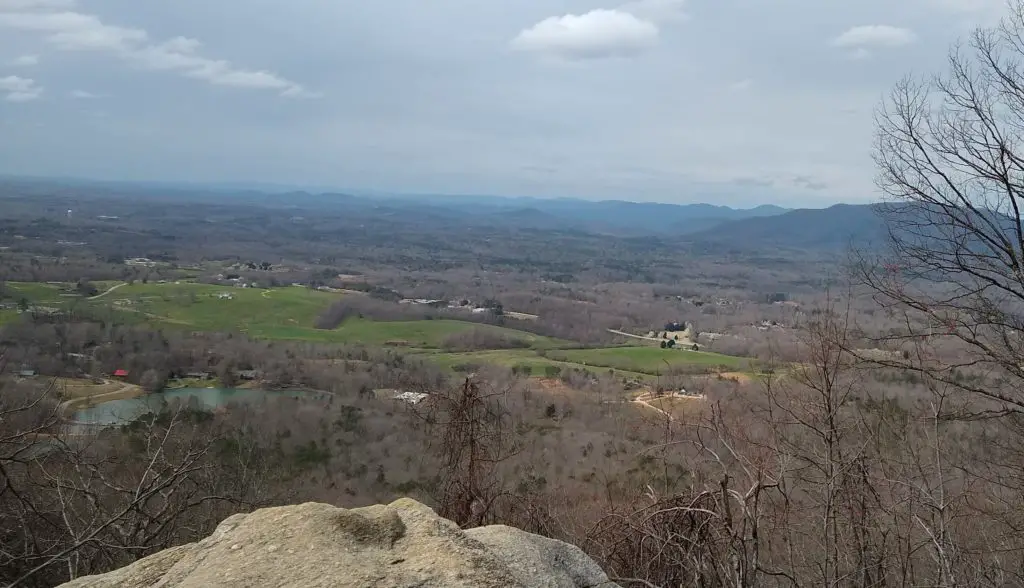 Some say this is a moderate to difficult hike. We found it to be difficult. We're in good hiking shape too. The trail has a fairly steep, steady incline from the bottom to the top. Hike to the top though, and enjoy the great views! We saw younger, older, and ages in between hikers. We also saw several friendly doggies enjoying the trail. All ages can enjoy this hike.
Yonah Mountain – The Trail
From the trailhead, the trail passes through hardwoods and mountain laurel. The incline begins right after you leave the trailhead.
Early trail landmarks include a bridge over a small stream, switchbacks, and two sets of stone steps. After about .8 mile on the trail, you will see a campsite near a huge boulder. After you hike about a mile, you begin to see large boulders all around you.
You will see many side trails. These trails also lead to the top. Stay off of these trails! Using them damages the vegetation. The side trails have steep, dangerous drop offs too. Follow the green blazes to stay on the main trail.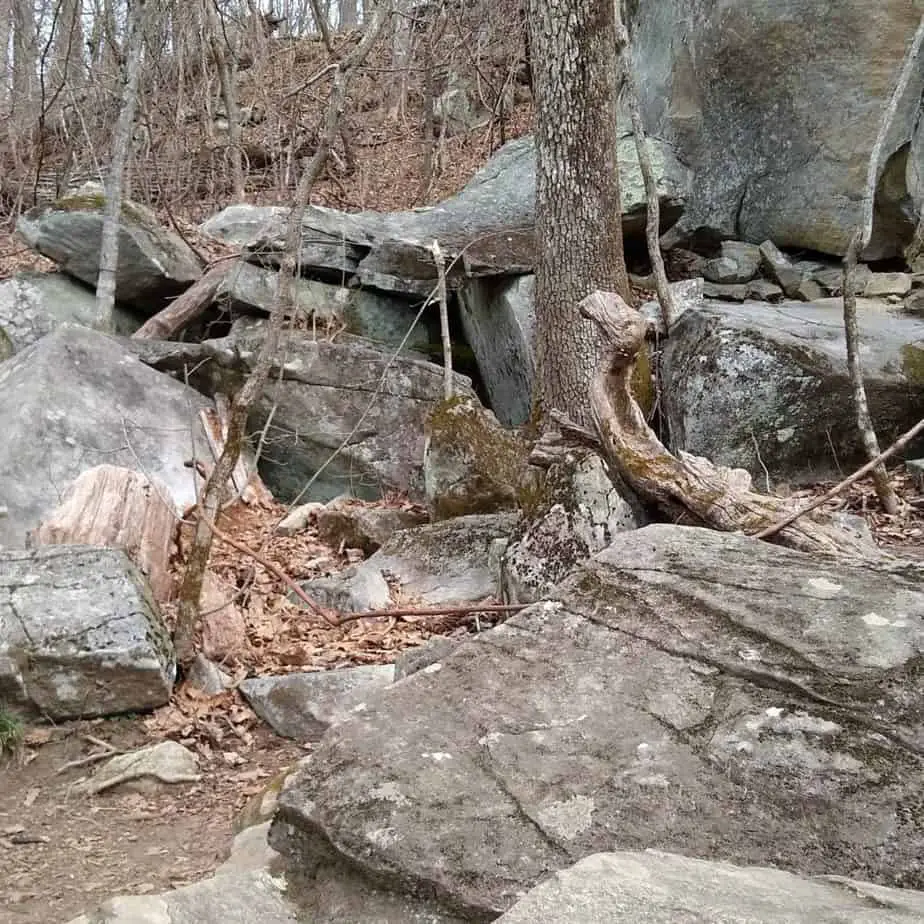 After a steep rock and boulder filled section, the trail forks. Keep right and follow the gravel road. The gravel road takes you to an Army Ranger base camp. The Rangers were training when we hiked the Mount Yonah trail. After the camp, you are almost there!
The summit is a flat grassy area. The Army Rangers use this area as a landing zone. Enjoy the magnificent views from the edges of the summit. Do not get too close to the edge though. Hikers have lost their lives getting too close to the edge here!
Restrooms
You can find restrooms at the trailhead and the Army base camp. You might want to use the trailhead restrooms instead of the ones at the base camp.
What Gear Did I Use?
Outdoor Research – Transit Sun Hat, updated and now the Bugout Brim Hat.

Outdoor Research makes comfortable, durable sun hats. I like the mesh around the top of the hat that helps keeps your head cool.

Osprey Talon 33 Backpack – If you want a well made day pack or overnight pack, then buy an Osprey Talon 33. The pack easily carries enough for gear for the day or overnight.
Black Diamond Trail Back Hiking Poles – Currently available Azurite, Dark Crimson, and Tundra colors.

Diamondback makes great hiking poles. The trail backs take a lot of pressure off of your knees and hips. They also help you keep your balance on rocky, rough trails.

Hoka One One Stinson Mid GTX Hiking Boots – Even though Hoka no longer makes or sells the Stinson, consider other Hoka hiking boots.
The Stinson's have a lot of cushion! When you hike a rough trail, your feet feel great wearing these Hoka boots.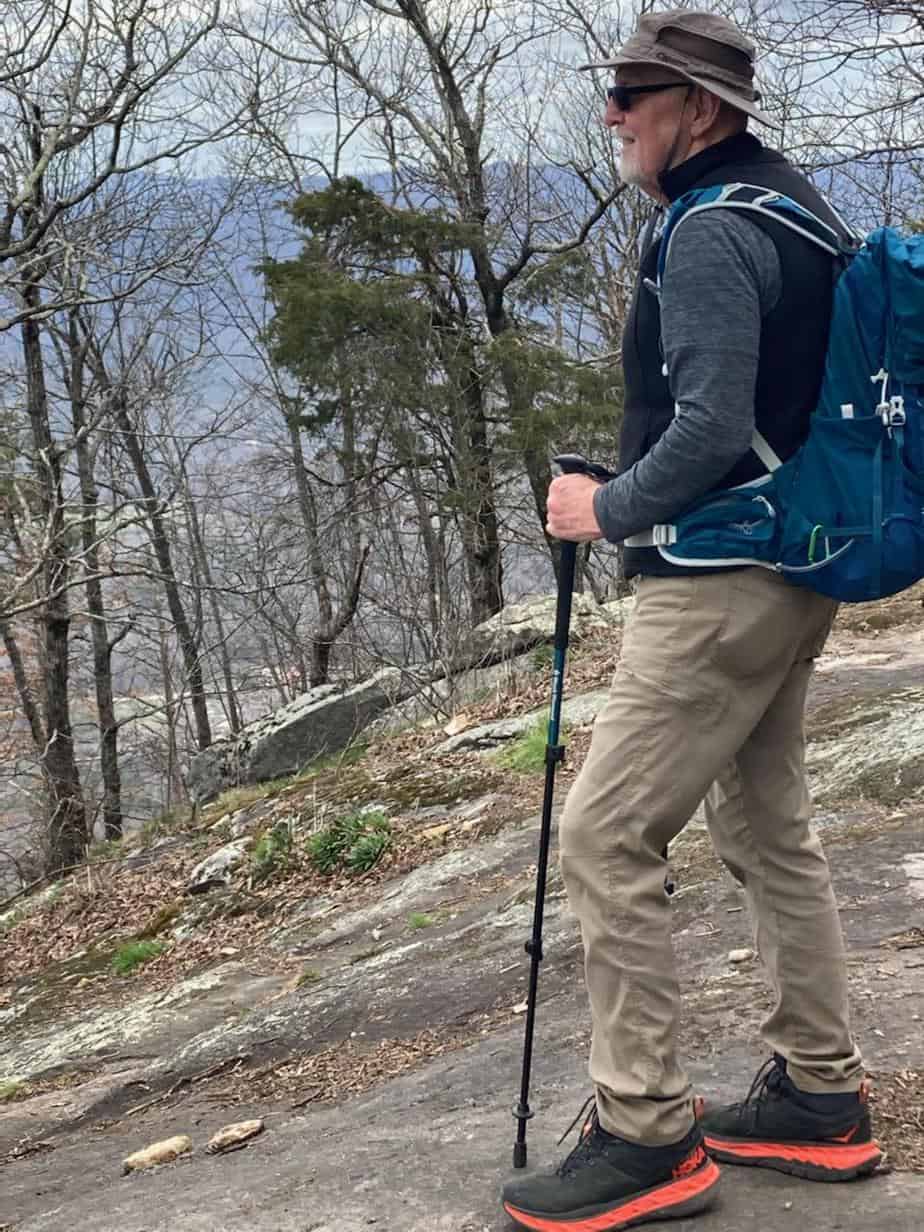 After You Hike Yonah Mountain
When you finish your hike, you can choose between Helen, Ga. and Cleveland, Ga. to relax and have a bite to eat. We stopped at Clyde's Table & Tavern in Cleveland, Ga. We enjoyed the food and Clyde's other visitors. Clyde's has great food, great service, and a friendly atmosphere.
Summary – Hike Yonah Mountain
Give yourself a treat, and hike Yonah a Mountain.
You can easily get to the trail.
The hike is a good work out.
You will see some spectacular scenery.
Be safe, and enjoy your hike!
Pin this post for later: