We may earn money or products from the companies mentioned in this post.
How Do You Choose the Best Backpack for Dogs?
Things that really matter and you need to know when you want the best backpack for dogs include:
Are backpacks good for dogs?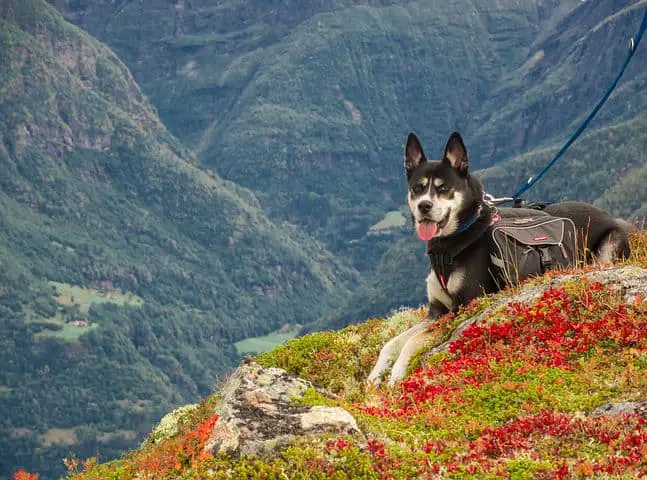 Yes, backpacks help dogs in ways that would surprise you.
When wearing a pack, a dog "starts working". She takes the job of carrying her pack. A "working" dog stays on the trail.
The pack's snug fit helps calm some dogs.
The pack gives your dog a workout and helps her train for more and longer hikes.
How Do I Buy The Right Backpack Size?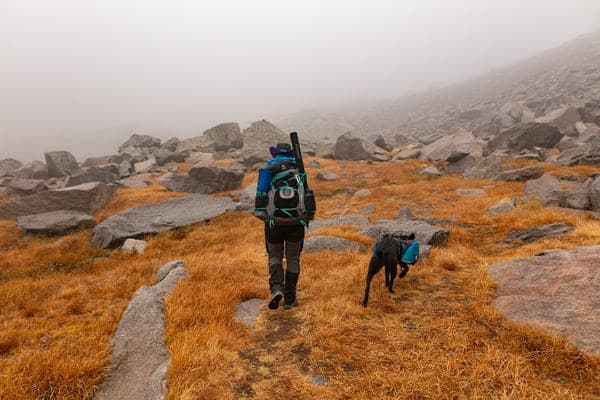 Find out how your pack manufacturer sizes their packs. Most size differently.
Next, Measure your dog's girth. Place a measuring tape around the fullest part of your dog's chest behind its front legs and back over the shoulders.
Know your dog's weight. Some packs use this as part of sizing.
Also, measure your dog's neck size.
Finally, you might need your dog's length. Measure from the back of the neck to the end of the tail.
If your dog is between sizes, you want the next size up.
Saddlebags
Almost all dog backpacks are saddlebags. Unlike the single pouch of a human pack, a saddlebag has two panniers (pouches) that fall to either side of your dog's chest. This evenly divides the weight across a dog's back and prevents injury.
Look at these 7 backpacks to find the best backpack for your dog.
EzyDog High Performance Summit Dog Backpack
The Summit Backpack combines advanced manufacturing techniques and the highest performance materials available. The pack's design along with its careful testing gives your dog the most comfortable fit possible. The Summit is built for comfort, function, and fun!
Features and Benefits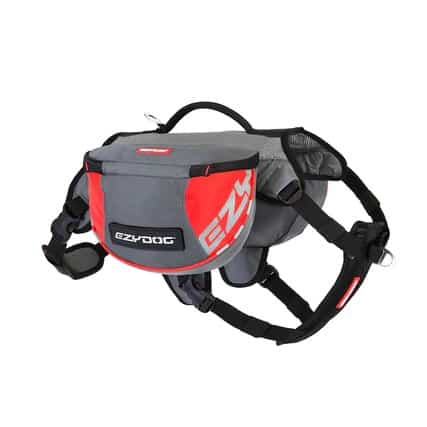 When stopping or resting, the vest can be quickly released from the leash or fully removed to give your dog a much needed rest.
Extra sturdy dog harness, your pup can easily hike rough trails.
Built-in grab handle allows you to give her a leg up in tight spots.
Keeps your dog warm on chilly nights and breaths during the heat of the day
Specifications
Breathable mesh conforms to your pup's back
Built-in padded carry handle for quick control
D-ring attachment for a leash to walk your dog
Main compartments feature:

Waterproof zippers
Coated Ripstop material with reflective trim
| Size | Weight (lbs.) | Neck (in.) | Girth (in.) |
| --- | --- | --- | --- |
| Small | 25 – 50 | 12 – 24 | 24 – 38 |
| | | | |
| Medium | 45 – 75 | 16 – 28 | 28 – 44 |
Backpack Size Chart
EzyDog – The Company
EzyDog makes a line of active dog gear that encompasses the rugged outdoor lifestyle dogs love. The product line also has the comfort and style pet owners prefer. EzyDog has unique, highly functional leash systems designed for comfort, control and safety. The leashes help teach dogs in training and control dogs that pull. EzyDog has products that help both owners and pets get more out of the great outdoors!
MSRP: $75.00
Kurgo Baxter
The Baxter Pack lets your dog share the load when you're off on an adventure. Lightweight, durable, and fully adjustable with eight different adjustment points, it features ergonomic spine support and perfect balance for even weight distribution and ultimate comfort. If you want the best backpack for dogs, look closely at the Kurgo Baxter.
The pack also features a large handle on the back, because we all need a helping hand from time to time. Fill her pack with treats, toys, first aid supplies, and anything else she might need along the way, and let her feel useful!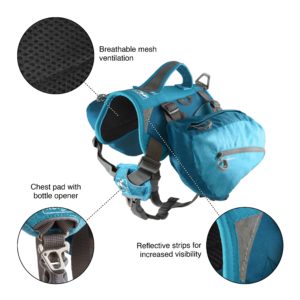 Features and Benefits
Eight adjustment points for a near custom fit
Two saddlebags offer liberal room for adventure essentials and balance the load
Reflective trim for low light visibility
Large padded handle on top for control or extraction
Rear-mounted leash hook
Ergonomic spine support contours to the dog's back for a comfortable fit
Secure straps
Machine washable gentle or hand wash and air dry
Specifications
| Size | Weight |
| --- | --- |
| Baxter Size | 30 – 85 pounds |
| Big Baxter Size | 50 – 110 pounds |
Backpack Size Chart
Kurgo – The Company
The Kurgo brand can be summed up with just one word: go! This forward motion informs everything Kurgo does including:
Their products
Causes and ideas they are passionate about
The impact Kurgo hopes to have in their customers' lives
Kurgo believes your dog is your best friend, family member, and hiking partner. The company makes products to enhance your journeys with your pup through simple, durable, and need-based designs. Kurgo backs their products with a lifetime warranty.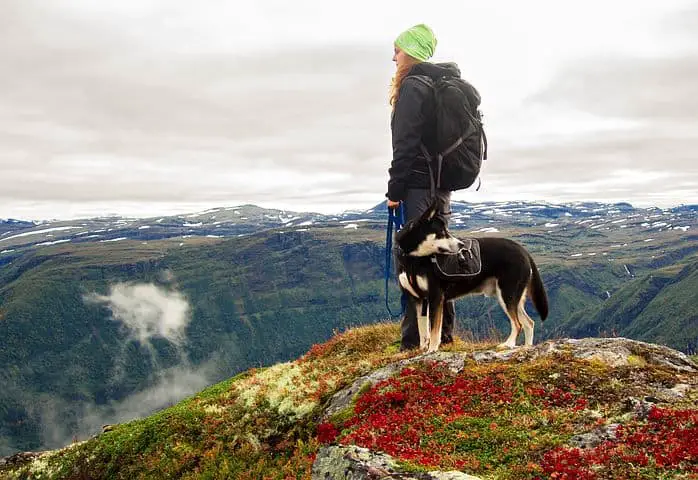 LIFETIME GUARANTEE
Kurgo prides itself in making superior quality products. There's nothing more frustrating than buying a product that breaks. If, during your product's lifetime, it does not function as it should due to a manufacturing defect, Kurgo repairs or replaces your product free of charge!!
Kurgo Foundation
The foundation is currently being restructured for 2021 to focus on encouraging underrepresented communities to go outside with their pets.
They partner with:
MSRP: $57.99
Mountainsmith K-9
In the 1980s, Mountainsmith built one of the industry's earliest dog packs. After 40+ years of continued dog pack innovation, the 2019 K9 Pack introduced the same trusted fit-designed with and approved by a local Golden, Colorado vet. This hiking season, let your dog explore the wild while carrying his own stuff. All Mountainsmith products come with the "Forged for Life Guarantee".
Features and Benefits
4-point adjustable chest harness with padded sternum pad
Independently adjustable back harness for custom fit
Two pannier compartments with zippered accessory pockets
Single adjustable belly strap
Padded tubular grab handle
Metal D-ring attachment point for leash
Ergonomically tapered torso shape (Vet approved)
Mesh panels and perforated EVA foam against canine body for increased ventilation
Reflective trim on front, rear, and side panels
Weather and water resistant interior coating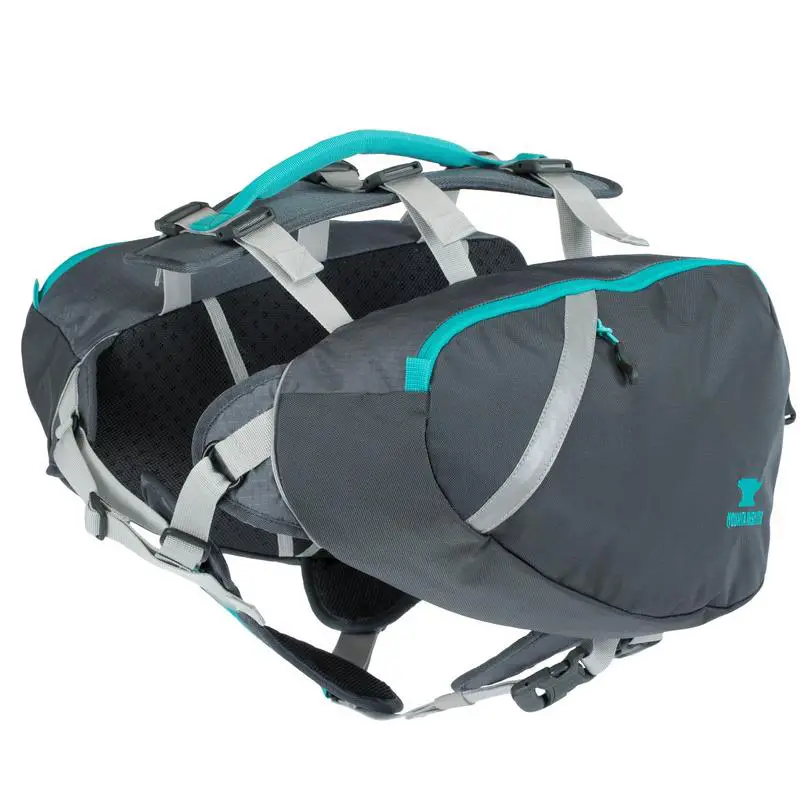 Specifications
Nylon
Small: 9.5″ x 8.25″ x 2.25″; 183 cubic in.; 16 oz.
Medium: 12.25″ x 8.25″ x 3″; 305 cubic in.; 19.2 oz.
Large: 13.5″ x 9″ x 3.25″; 549 cubic in.; 22.4 oz.
| Size | Weight | Girth |
| --- | --- | --- |
| Large | Over 80 Lbs. | Large Girth Chest |
| | | |
| Medium | 40 – 90 Lbs. | Medium Girth Chest |
| | | |
| Small | 20 – 50 Lbs. | Small Girth Chest |
Backpack Size Chart
Mountainsmith – The Company
The company believes that experiences are far more valuable than things. Making gear that lasts a lifetime is about more than durability. It is about creating smart equipment that lets you focus on what really matters: the adventure. Another great pack, the Mountainsmith K-9, when you look for the best backpack for dogs, look at the K9!
Mountainsmith commits to building the best-made, most durable and functional packs on the market. They build packs unmatched by anyone for their comfort, stability, value and performance in the backcountry. 
If a product fails in any way, Mountainsmith either repairs or replaces it … For your entire life! 
Some of Mountainsmith's partners include: 
MSRP: $69.95
OneTigris Cotton Canvas
Enjoy weekend getaways with your pup? The upgraded Cotton Canvas pack has function, style, plus comfort to offer. So, you can load up all the K9 essentials for the day. OneTigris makes the pack with quality cotton canvas fabric that has an extra soft mesh lining for breathability. The pack's structure prevents slipping. The Cotton Canvas pack has strong front and rear stainless steel leash rings and a handy grab handle with tough stitches on all stress points.
Features and Benefits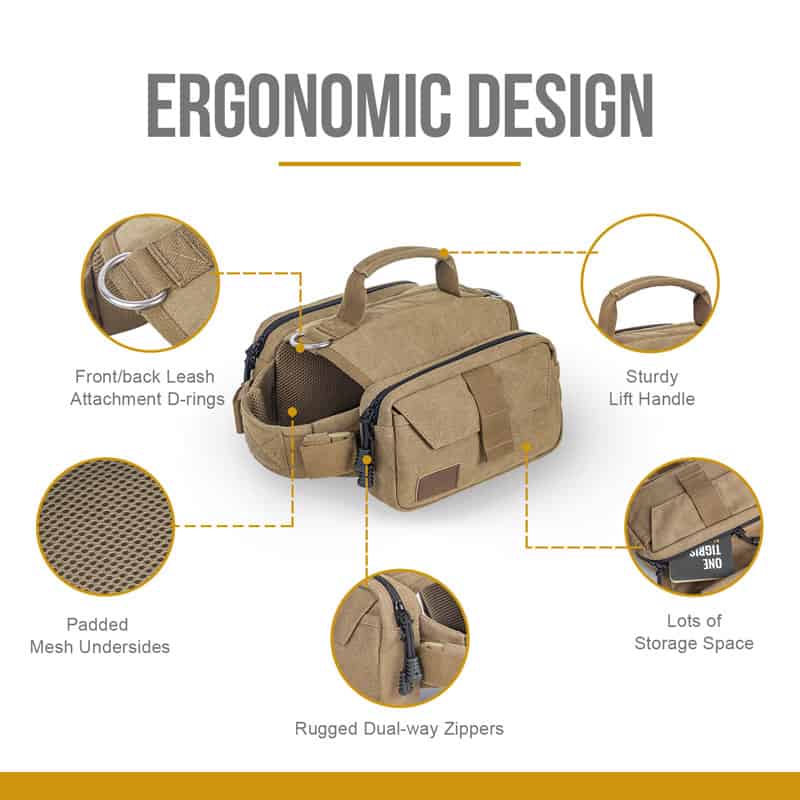 Vintage design for that dog-on-the-range look
Strength tested stainless steel D-rings at the front and rear
Anti-slip mesh lining that's lighter and offers better breathability
Made of high density cotton canvas with reinforced stitching for ultimate comfort and lasting durability
Zippered compartments on each side with extra pockets for carrying and organizing gear
Padded for comfort with fully adjustable straps for a good fit
Top grab handle for temporary mobility assistance and for hanging the dog pack on the wall when not in use
Specifications
Cotton Canvas,
UTX-Duraflex® Buckles,
YKK® Zippers,
Stainless Steel D-rings with 330 lb. pull strength
| Size | Neck | Girth |
| --- | --- | --- |
| Medium | 17 – 23.5 in. | 25 – 31 in. |
| Large | 21 – 31.5 in. | 19 – 36 in. |
Backpack Size Chart
OneTigris – The Company
OneTigris® is a group of young hearts and lovers of life. The company wants to empower you with affordable, quality gear that helps you to do more and go further. Since 2014, OneTigris products help you begin your journey with good gear.
MSRP: $49.99
Outward Hound DayPak
The DayPak, a saddlebag-style dog backpack, allows your pup to comfortably carry extra gear while on-the-go! A light-capacity pack constructed with breathable mesh and adjustable straps keeps your dog comfortable and cool on the trail.
Bright colors and reflective piping make it easy to spot your dog if they roam too far. Enjoy the convenience and storage space of 4 expandable pockets. When you are ready to hike, simply attach your pup's leash to the D-Ring and go! Available in medium and large sizes.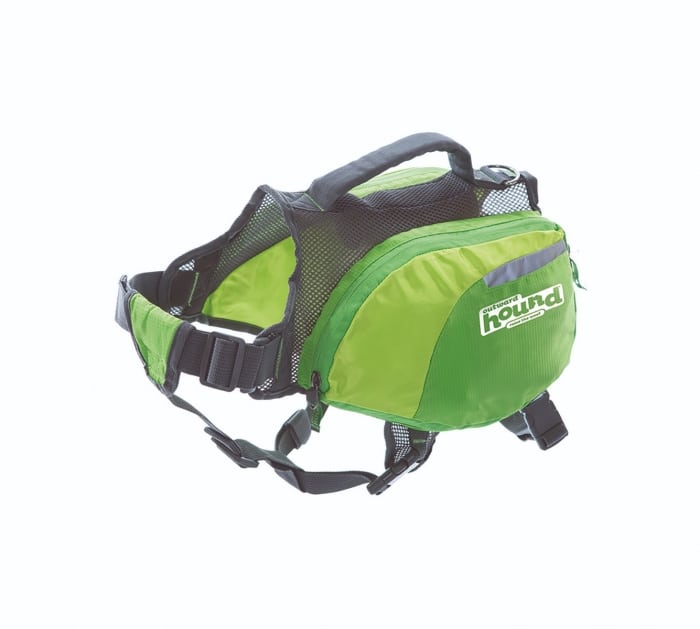 Features and Benefits
Lightweight and convenient
Fits extra essentials
Two storage compartments on each side for even weight distribution
Room for food, water, training accessories, and more
Breathable Mesh fabric
Adjustable straps
Bright colors for high visibility so you can stay worry-free day or night
Available in medium and large
Specifications
Dimensions: 13 x 1.5 x 9.38 inches
Material: Mesh, Nylon
| Size | Girth |
| --- | --- |
| Medium | "Based on girth" |
| Large | "Based on girth" |
Backpack Size Chart
Outward Hound – The Company
The Outward Hound team is made up of passionate pet lovers who love pets as much as their pets love them. Outward Hound makes other pet products. They also make toys, bowls, games, gear, chew toys, collars, and they did not forget about cats either.
The product development team carefully tests products with their office dogs and volunteer members of their Woof Pack™. Moreover, before any product goes into stores, it's also been approved by independent testing labs.
All of the products are designed in Colorado USA. Most are manufactured in China by known, trusted partners.
MSRP: $39.99
Ruffwear Approach
The Approach™ Pack, an everyday dog pack, has excellent performance, fit, and function. It provides dogs with the ability to efficiently carry a load. The pack makes your doggy want to explore! The integrated harness gives a better fit, more pack stability, and improves overall performance. The saddlebag's cut creates a form fit for better load carrying. Lightweight materials and a streamlined design allow dogs to carry everything needed on the trail. Use the pack for day or overnight hikes. Be sure to consider the Ruffwear Approach as you look for the best backpack for dogs!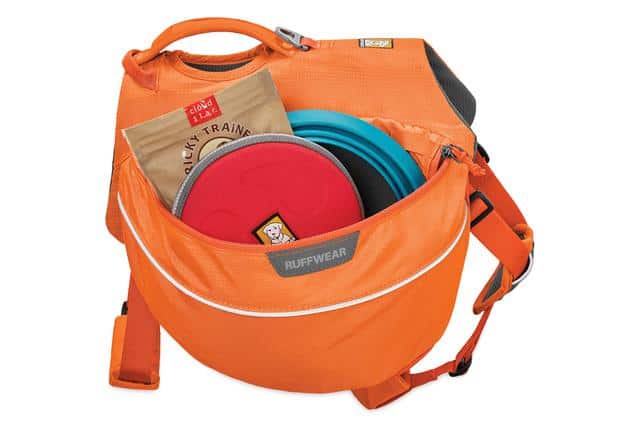 Features and Benefits
Trail-ready details: stash pockets and external gear loops
Customize your dog's fit with five points of adjustment for a full range of motion
Two points of leash connection: single-piece, anodized aluminum V-ring and webbing loop
Harness suspension system provides stability, comfort, and fit
Low-light visibility with reflective trim and light loop
Specifications
Hand wash; Mild detergent; Hang dry
Secure fasteners
| Girth | Size |
| --- | --- |
| 17 – 22 in (43 – 56 cm) | XS |
| 22 – 27 in (56 – 69 cm) | S |
| 27 – 32 in (69 – 81 cm) | M |
| 32 – 42 in (81 – 107 cm) | L/XL |
Backpack Size Chart
| Weight | Capacity | Size |
| --- | --- | --- |
| 0.8 lb. | 366 in.³ | XS |
| 1.05 lb. | 762 in.³ | S |
| 1.15 lb. | 885 in.³ | M |
| 1.3 lb. | 1465 in.³ | L/XL |
Weight and Capacity by Backpack Size
Ruffwear – The Company
The Ruffwear Mission: To build dog gear that enhances and inspires exploration for doggies who love the outdoors and their human companions.
In the summer of 1992 Ruffwear founder and owner Patrick Kruse met with a challenge. The challenge sparked a series of crucial changes in outdoor-inspired dog gear.
Biking, a doggy, and a problem with water
While mountain biking in the Los Padres National Forest with friends, Patrick's friend Liz tried to give her dog Moqui a drink. Liz emptied half of her water bottle into a plastic bag and held it while her dog took a few slurps.
Her dog walked away panting, and Liz was left holding the bag. She couldn't set it down without losing the water. She didn't want to dump what was left back into her water bottle either. "You need to do something about this," Liz said.
Patrick was the right person to ask. As a kid, Patrick constructed packs for his dog out of army surplus gas mask bags, using them on backpacking trips in Northern California's Trinity Alps. As a young adult, he sailed for several years as crew on charter boats in the Caribbean and Central America where being handy was a useful skill.
Patrick developed the Quencher™, the original collapsible food and water bowl for dogs. In August of 1994, Ruffwear made its debut at the Outdoor Retailer trade show. Since then, the collapsible bowl won praise from thirsty dogs and been in numerous publications. Pet and outdoor retailers around the world began selling the Ruffwear bowl. This inspired Patrick to develop more product solutions for active dogs.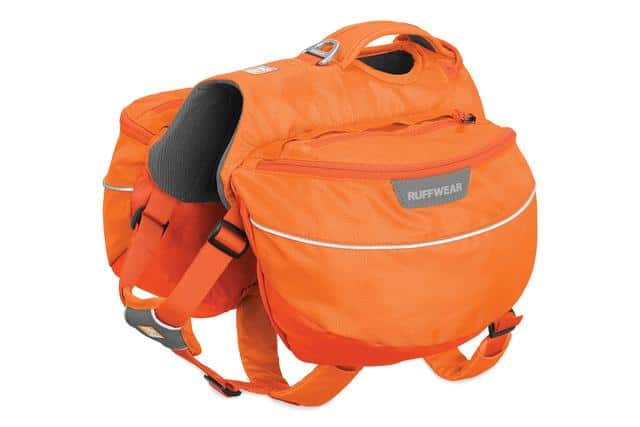 Sustainable Sourcing

Ruffwear carefully considers the materials that go into Ruffwear products for durability, sustainable sourcing, and performance.

The company uses the bluesign® system to meet the highest environmental standards.
Ruffwear only uses natural, petroleum-free, sustainable rubber in their toys.
Reducing Waste

The company's new business model allows them to respond more swiftly to market demand and produce only what is needed.
Conscious Design

Ruffwear works to be conscious of the environment in their product design.
Today, Ruffwear offers a full line of Performance Dog Gear®. In addition to three collapsible bowl options, Ruffwear gear includes dog packs, harnesses, apparel, dog boots, and dog life jackets.
"We want to enhance the outdoor experience for all dogs and their two-legged, human companions," Patrick says.
Some Ruffwear partners include:
MSRP: $79.95
Ruffwear Palisades
The Ruffwear Palisades™ Dog Pack enhances backcountry adventures with features like removable saddlebags, two collapsible hydration bladders, and a cross-load compression system. Four points of attachment securely connect the saddlebags to the frame. The connection ensures load stability and comfortable weight distribution. Also, be sure to consider the Ruffwear Approach as you shop for the best backpack for dogs!
Features and Benefits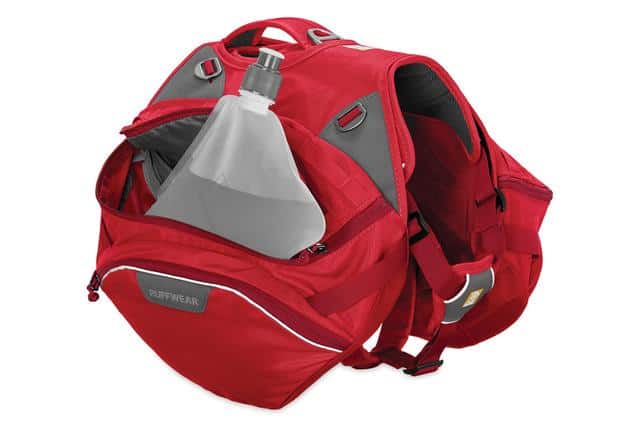 Customizable fit with five points of adjustment allow for full range of motion
Padded handle and non-slip girth straps offer good load dispersion for controlled and comfortable lifting
Two points of leash connection: single-piece, anodized aluminum V-ring and webbing loop
Trail-ready details: stash pockets and external gear loops
Low-light visibility with reflective trim and light loop for attaching
Specifications
Hand wash; Mild detergent; Hang dry
Secure fasteners
MSRP: $149.95
Summary
Remember, your doggy will like her backpack. A backpack lets her "work" while the two of you hike.
Things to know:
How to measure your dog so the pack fits comfortably.
Be sure you know how to measure your dog's girth.
Know her neck size, length, and weight.
You want the best backpack for dogs so the two of you share a fun hike!
If you need a backpack, please check here for 11 of the best.
Pin this post for later: