We may earn money or products from the companies mentioned in this post.
What do you think your doggy would most like to do all day? Be with you? Be outside? Just have fun? Yep. When you go hiking with a dog, your doggy loves it! Your dog knows you love her when you spend time together.
Before the two of you hike, what do you need to know? Consider the following:
The trail:
Know the trail rules.

Be sure the trail allows dogs!
Most National parks do not allow dogs. If allowed, they require leashes.

Follow the 7 Leave No Trace Principles.
Plan ahead and prepare.
Travel and camp on durable surfaces.
Dispose of waste properly.
Leave what you find.
Minimize campfire impacts.
Respect wildlife.
Be considerate of other visitors.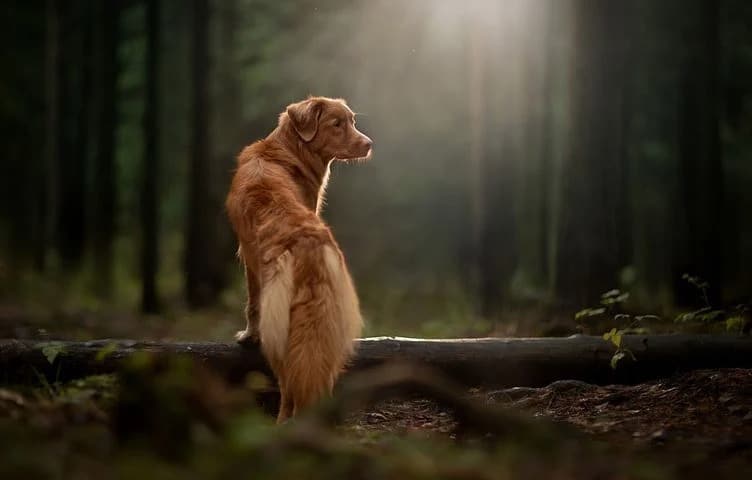 Practice the National Parks B.A.R.K. rule when you go hiking with your dog.
B.A.R.K. stands for:
Bag your pet's waste.
Always leash your pet.
Respect wildlife.
Know where you can go.
Who uses the trail?
Be sure your dog behaves if a lot of other people and dogs hike the trail too. Many trails also allow bikers and horses. These can distract your dog and make him forget his training.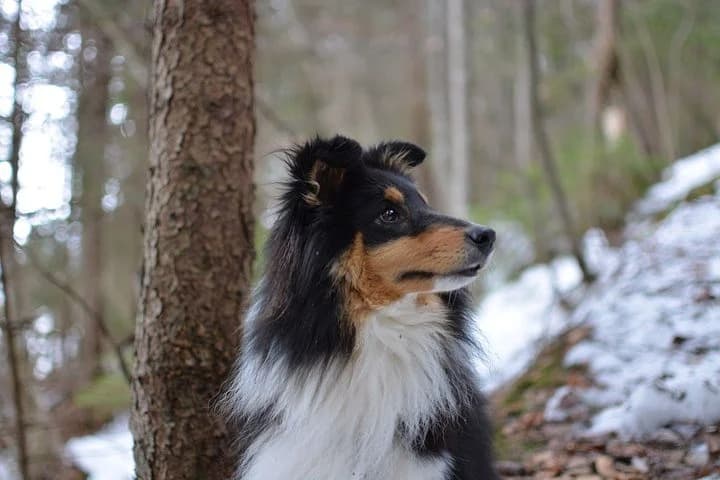 What rating does the trail have?
Be sure your dog can handle the trail. If you have an old dog look for a moderate or easy trail. Look for the same kind of trail if you have a young dog. Old or young, your dog can have a hard time if you choose a difficult or strenuous trail. You can even injure your pet.
Even if you go hiking with a dog that can handle a difficult or strenuous trail be sure that your doggy has enough water, food, and breaks during your hike together.
Be sure to know if the trail has a lot of trail debris. Think about how many rocks or roots your dog's feet need to handle. At first, look for "paw friendly" trails. Look for shady trails covered with leaves or evergreen needles.
Know the trail's altitude. Try to find more level trails without steep drops or rises. A trail with steep rises and steep drops can be just as hard on your dog's knees as your knees.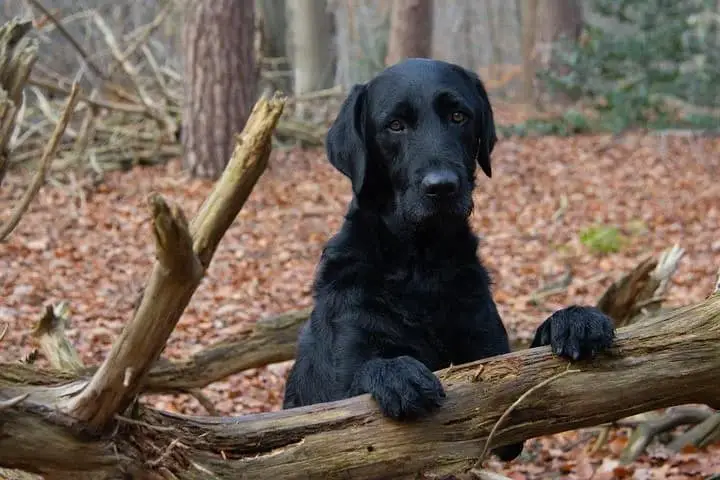 What do you need to bring when you go hiking with a dog?
Food – How much for each meal? Add an extra cup for each 20 lbs. your dog weighs.
Water:

Small dog, 1.5 oz. per lb.
Large dog .5 to 1 oz. per lb. a day
Avoid creeks, streams, rivers, ponds, lakes, and stagnant water.
Keep your dog hydrated!

Consider a water bowl.

The Kurgo Collaps a Bowl makes a good choice ($12.95 – 24 oz. bowl).
Shop For A Water Bowl
First aid:

Tweezers for ticks
Gauze and antiseptic for scrapes or cuts
Sunscreen. Your dogs inner ears and nose can easily get sunburned.

Consider Lucky Pup Sunscreen Dog Balm with all natural ingredients ($5.25 – .15 oz. tube).
Buy Sunscreen
Emergency vet – Find the closest emergency vet. You could need one.
Leash – When you go hiking with a dog, you need to keep your dog leashed. Even if your trail does not require a leash, protect your dog and the trail by keeping him on a leash.

If you want to have your hands free, use a leash like an around the waist Kurgo Quantum 6-In-1 Dog Leash ($29.95).
Shop For A Leash
Poop bags – Clean up after your doggy. Aside from it being good manners to clean up, doggy poop can make humans sick. Think about the other hikers.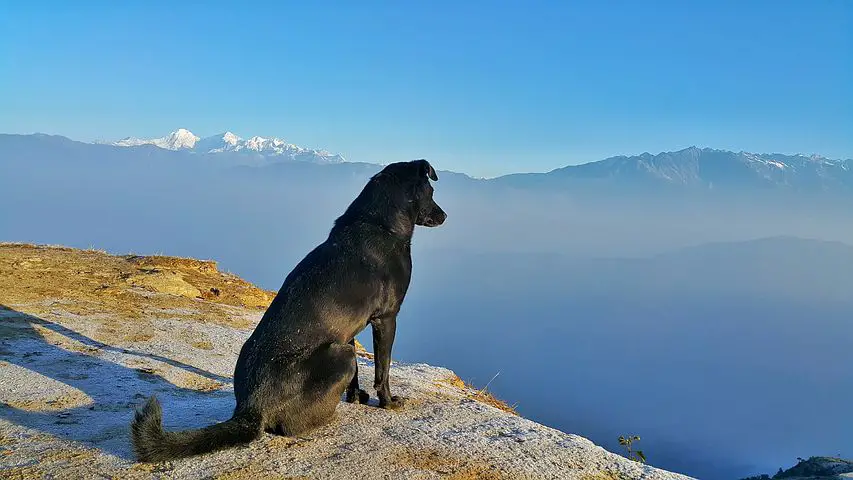 Why does your dog need her own backpack?
You do not serve your dog.

You love your dog, take care of your dog, but you are the owner. Your doggy has the ability to carry his own hiking supplies. Not only does he have the ability, he likes to help!

Your dog wants to work!

With a pack, your dog has a job that allows her to help you, and she likes that! When working, she feels better and acts better since she likes having a job.

Carrying a pack makes your doggy healthier.

A pack with some weight gives your dog a healthy work out and helps build muscle. Muscles contribute to a happier, longer doggy life.

A better workout helps him sleep better.

When he has a pack with the right amount of weight, he has a better workout and sleeps soundly.

Finally, and not least, you do not need to carry your dog's poop!

Be sure to seal the bag with the poop, and store it away from food.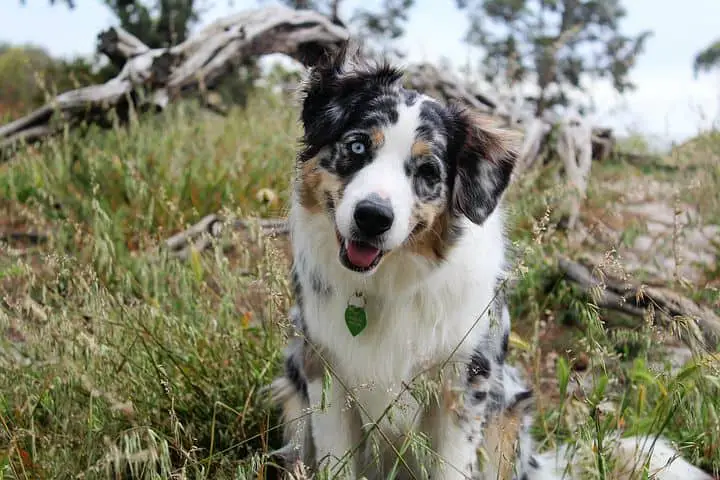 How do you fit and load your dog's pack?
Load your dog's pack with no more than 25% to 30% of their weight.
Distribute the weight evenly.
That's about it.
Be safe when you go hiking with a dog!
Make sure your dog can handle the trail you want to hike. Be careful if you have a young OR old dog. If you want to be sure your dog can handle the trail, ask your vet.
If you hike with a young dog, be careful with her growth plates. Growth plates are soft areas found at the ends of the long bones in puppies and young dogs.
The plates have to fill with cells to let your dog's bones grow longer and be denser. Growth plates close fully at 14-16 months. Wait longer if you have a spayed or neutered doggy.
Avoid hiking in weather that is too hot! Your doggy can become dehydrated just like you.
How do you get ready to go hiking with a dog?
Practice!
It might seem like common sense … but … Practice with short walks first. Work up to long walks in your neighborhood. Let her get used to walking around other people and dogs. She will likely see others on the trails.
Take her on short hikes on trails. See how your dog does. If she does well after an hour, take a longer hike next time.
You do not need to complete the trail at first. She will be excited by her new surroundings so let her get used to them. Also, her feet need to become used to being on a trail with rocks, sticks, holes, etc.
Train your dog!
Be sure your dog obeys the main commands like: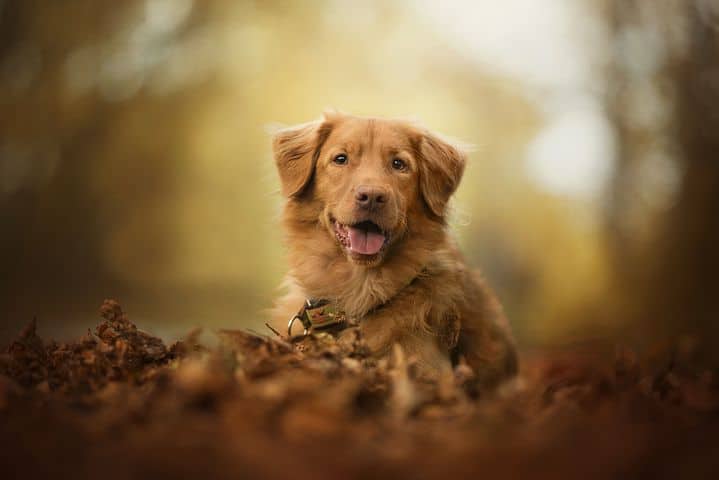 Make sure you leash trained your dog. Also, you want your dog to obey the "Quiet" command so others enjoy their hike.
When you take practice hikes, practice these commands even if your dog already knows them. Your dog will likely get excited by the trail's new scenery so she needs to obey.
Trail rules for hiking with dog include:
Always have your dog under control.
Let other hikers know you have a friendly dog.
Yield to others on the trail.
If you have two dogs, have a person for each dog.
Keep your dog on the trail to protect the wildlife, plants and animals.
Take care of your dog's feet!
Shorter hikes might toughen your dog's feet. Still, think about hiking boots or a paw salve. Many dogs, including mine, dislike hiking boots. For these dogs, a paw salve usually takes care of her feet.
The Musher's Secret Paw Protection Natural Dog Wax makes a good choice ($15.99 – 2.1 oz. jar).
Shop for Paw Protection.
Summary
Just like hiking with your friends, and your dog is your friend, being prepared helps you have a fun hike. It only takes a little time to to find the right trail, know the trail, and have your dog ready to hike.
Be sure you:
Know the trail.
Bring what your doggy needs.
Have the right dog backpack
Be prepared.
Be safe.
Have fun!