We may earn money or products from the companies mentioned in this post.
This Christmas' 6 Best Gifts For Hikers
What were your best gifts for hikers this Christmas? Which hiking gift did you really like that you gave or received?
Best Gifts For Hikers I Gave
Giving, just as much fun as getting! My wife needed some gear upgrades this Christmas. Two of the gear upgrades she needed included new hiking boots and new hiking socks.
Merrell – Women's Moab 2 Mid Waterproof
Description
The boots I gave my wife were the Moab II Mid Waterproof hiking boots for women.
The Moab 2 waterproof women's hiker gives you a comfortable hike right out of the box!. The hiking boot uses durable leather. The boot includes a supportive footbed, and a Vibram sole for better traction.
More than 20 million hikers have worn and enjoyed the Moab boot since it was introduced!
Several features make this hiking boot one of the best gifts for hikers. First, Merrell considers how a woman's foot is different from a man's foot. A woman's foot has unique physical features. A Woman's foot is not just a smaller version of a man's foot.
The Moab II gives you a lot of comforts right out of the box. The boot provides a lot of padding without being heavy. The tongue's generous padding makes the boots very comfortable on the top of your foot. The Moabs also give your heel and underfoot good support. In addition, the boots provide adequate ankle support.
For a modest investment, the Women's Moab 2 provides a lot of comfort and quality.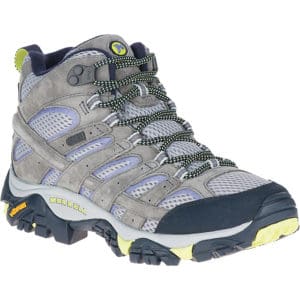 Features & Benefits
Water sealed out and moisture escapes so you stay dry when you hike.
Performance suede leather and mesh upper for a tough boot
Bellows and a closed cell foam tongue keeps moisture and debris out
Protective rubber toe cap to protect your toes
Breathable mesh lining to keep your feet from getting too hot
EVA contoured footbed with added zonal arch and heel support for more comfort
Molded nylon arch shank for added comfort
Air cushion in the heel absorbs shock and adds stability
EVA midsole for stability and comfort
Vibram sole for better traction
5 mm lug depth for better grip
Weight: 2 lbs.
MSRP $145
Smartwool – Women's Crew Hiking Socks
Description
Hiking socks from Smartwool make a great hiking sock choice. Smartwool uses Merino wool. The wool handles moisture better than cotton. Merino wool also keeps your foot comfortable in all kinds of weather.
For more details about Smartwool socks, read this post. The post also includes a Darn Tough sock review, another great sock choice!
This women's Smartwool hiking sock features heavy, full cushioning that absorbs shock as you hike. The sock also provides insulation against the elements. Additionally, this sock gives your foot support as you hike rugged trails. An arch brace holds the sock in place. The brace also gives your foot additional support. MSRP $21 – $25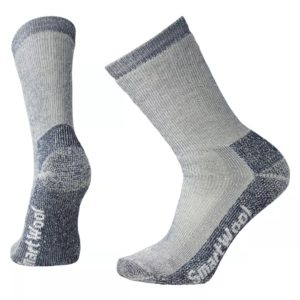 What Best Gifts For Hikers Did I Receive?
Black Diamond – Trail Trekking Poles (Updated Model Of Poles I Have)
Description
When hiking in the UK the summer of 2018, I wanted to avoid checking any luggage. I bought an economical hiking pole when we arrived. When we went home, I left the pole in the UK, again to avoid checking luggage. I really enjoyed having the poles. Still, quality hiking poles are worth thr money.
The Black Diamond Trail Trekking Poles were a thoughtful, useful Christmas gift. I like using hiking poles. If you want to know more about the benefits of using hiking poles, read … 5 Best Hiking Poles (Why Do You Want A Pair?).
The Black Diamond Trail balances comfort, features and reliability. The Trail features an updated EVA foam grip for added comfort. The fusion comfort strap ads security and better handling. With interchangeable tips and baskets, the Trail Trekking pole is an amazingly versatile pole for any trail, any season.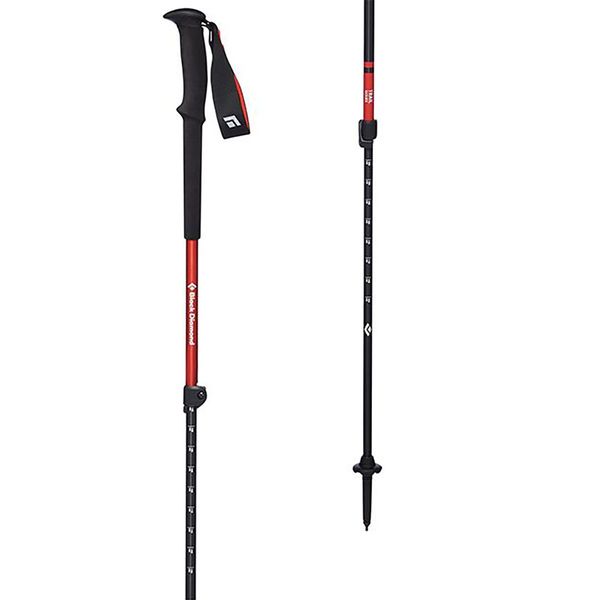 Features & Benefits
Soft touch ergonomic grips with durable, long lasting, comfortable EVA foam
The Trail feature comfortable, slightly stretchy wrist straps for an easy grip.
The Trail Trekking poles use flip locks for easy length adjustments on the trail.
The poles include baskets that make it easier when you hike trails with soft soil.
7075 Aluminum shafts for strength
Interchangeable tech tip compatible with carbide tech tips included
MSRP $109.95
What Best Gifts For Hikers Friends And Relatives Received … And Liked
Anker – PowerCore 26800 Charger
Description
The Anker Charger offers you a rugged, reliable power source for charging. Use the PowerCore to charge your power hungry laptop or phone when on the trail. When you hike, give yourself "power freedom"!
Set yourself free on the trail with 26,800mAh … enough power to keep your phones and tablets charged for a week! Also, you can give your USB-C laptop over 1 full charge.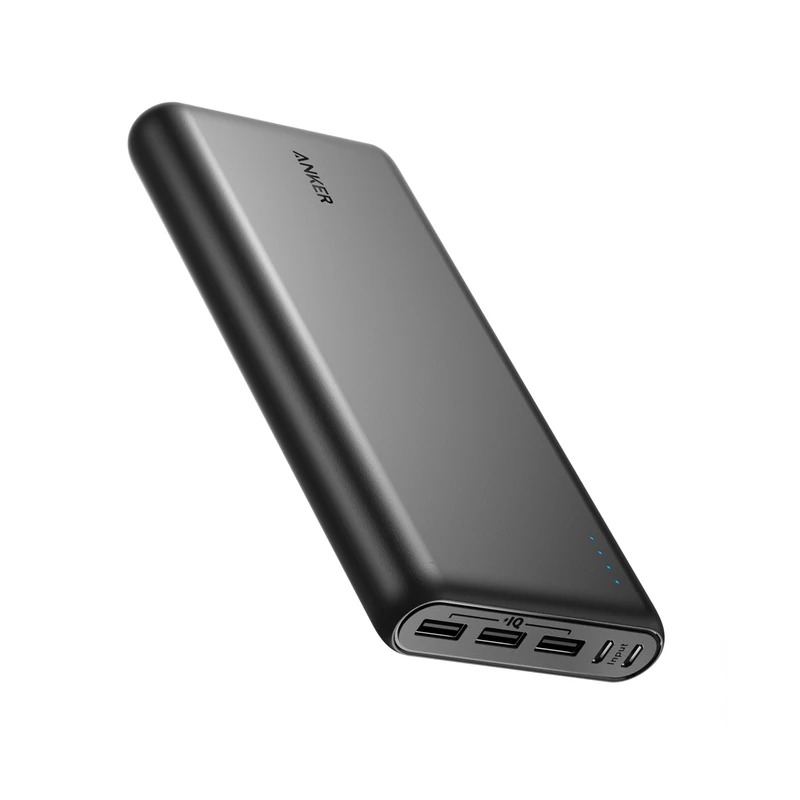 Features & Benefits
50 million+ powered by Anker technology you can trust
Huge cell capacity: 26800mAh of power for your power needs
Charges most phones more than 6 times
Charge tablets at least 2 times
Charges other USB device multiple times.
High speed charging saves your time
3 USB output ports charges 3 devices at the same time
Includes: PowerCore 26800, 2X Micro USB Cable, Travel Pouch, Welcome Guide for easy use
Worry free 18 month warranty for your peace of mind
Friendly customer service
MSRP $66.99
Brunton – TruArc Compass
Description
The classic TruArc3 scouting compass has modern updates. The compass's reliability makes this an essential for any trail you hike.
Features & Benefits
The TruArc Global Needle system that works in both the Northern and Southern hemispheres.
Metric and Standard scales
No frills reliability
Dimensions: 2.5" x 3.5" x 0.5" (6.3 x 8.9 x 1.3cm)
Weight: 1.1 ounces (31 grams)
MSRP $19.95
These helpful features make this compass one of the best gifts for hikers!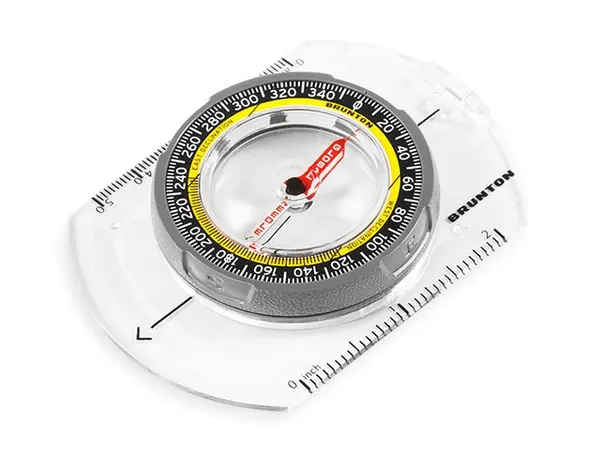 Yeti – Rambler 36 Oz Cold Bottle
Description
Yeti made the Rambler 36 oz. Bottle for a life in the wild. Hot days on the trail and keeping you hydrated when hiking rugged terrain are what this bottle's made for. This bottle keeps your drinks icy cold for when you need a cool drink. 
For easy cleaning and use day after day, Yeti made this bottle dishwasher safe. A quick twist handle comes off to expose the shatter resistant, dishwasher safe spout. The spout allows for controlled gulps on the go. When it's time for a wash or refill, remove the entire cap to expose the bottle's wide mouth.
Find a color that calls to you. These big bottles come in stainless DuraCoat and Seasonal finishes. MSRP $50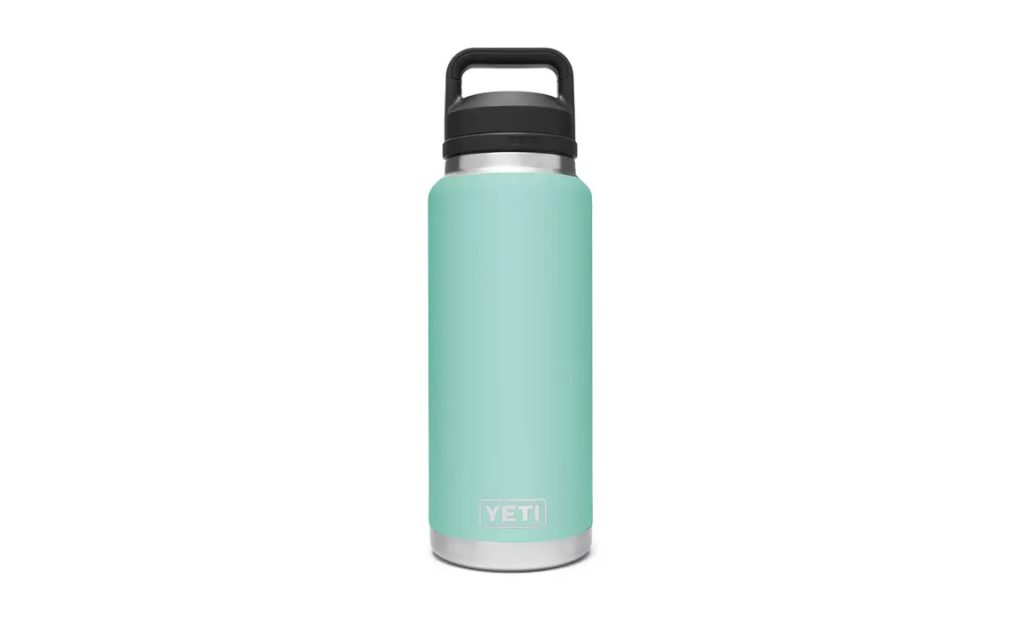 Conclusion – Best Gifts For Hikers
It is fun to give and receive! Any of these gifts make a useful addition to your hiking gear.
Pin this post for later.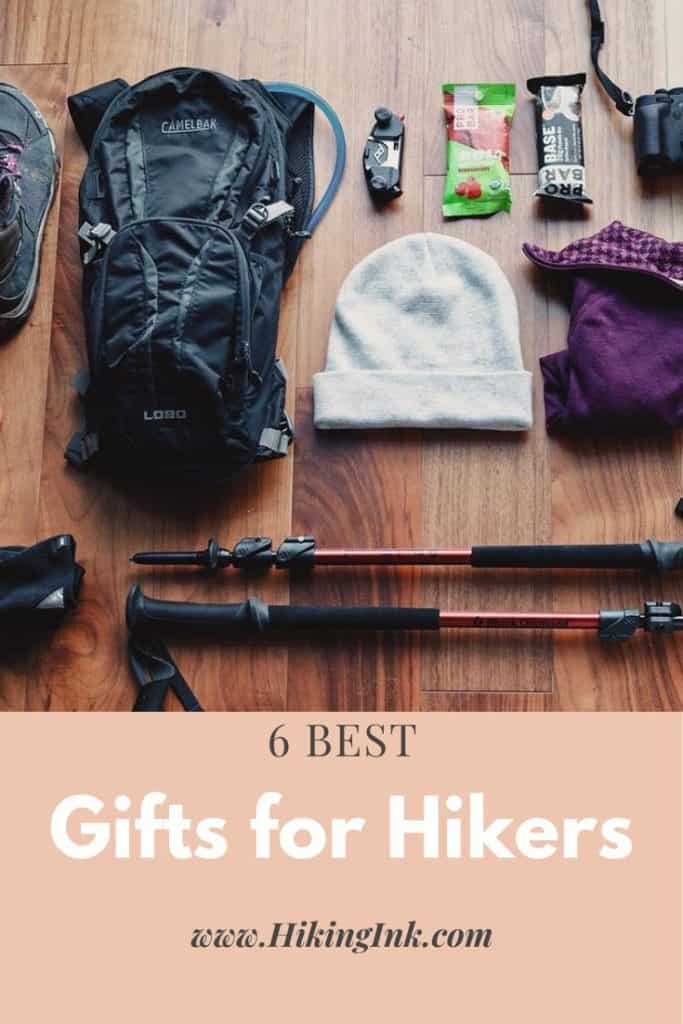 Amazon has many useful hiking gifts for Christmas or anytime of the year.